Photo courtesy NuVal LLC
Dr. David Katz is back! This time he's filling us in on the new food scoring system turning up in grocery stores: the NuVal system. You may have seen these scores cropping up your grocery store — here's how (and why) to use them.
What Is NuVal?
Here's how the NuVal system works:  Each food at your grocery store is assigned a value from 1 to 100, based on nutrition data from a panel of food experts.  The higher the number; the more nutritious the food. At participating stores, you'll see tags on grocery items all over the store, from the produce section to the snack aisle. We asked NuVal advisory board member Dr. David Katz to give us the scoop on this new healthy eating tool.
Healthy Eats: What are the top 3 things you want people to know about the NuVal system?
Dr. Katz:
It works like 'GPS' for the food supply; experts have done the heavy lifting to make finding what you want easy for you.
It is a reliable and trust-worthy measure of overall nutritional quality, developed by dedicated public health experts, and validated by research in over 100,000 people.
It is as simple as it gets: the higher the number, the more nutritious the food.
HE: What are some of the top-rated and lowest-rated foods?
DK: Top foods are spinach, broccoli, berries, oats, lentils, beans, salmon, walnuts — all of the foods experts most recommend! Lowest are soda some brands of candies spreads and dressings and chips.
HE: NuVal is launching in large chain grocery stores across the country.  Any feedback on how it is being received thus far?
DK: Mostly, consumers say: "where have you been all my life?"  The system makes shopping for better nutrition SO much easier.  The primary response is delight, and gratitude.  And, we have evidence that it is influencing choices, shifting them to higher scoring items within any given food category.
HE: Can shoppers request to have the NuVal system at their local grocery store?
DK: Sure — they should let the supermarket manager know. When enough managers get this message, corporate headquarters will get the message!
HE: How can consumers use the NuVal system to up the nutrition value in their favorite recipes?
DK: For now, by using it to choose the most nutritious version of any given ingredient, and using those ingredients to build better recipes.  But before long, we hope to offer recipe makeover tools online as well.
HE: Could you give us an example of a recipe that could be improved by using higher-scoring ingredients?
DK: A standard hamburger scores about 5, when made from lean ground turkey, it scores 20. My wife's recipe which (deliciously) blends lean ground turkey with pureed lentils scores 34.
Special thanks to Dr. Katz for another great interview! For more information, visit the NuVal Web site.
TELL US: Have you seen NuVal scores in your grocery store?
Dana Angelo White, MS, RD, ATC, is a registered dietitian, certified athletic trainer and owner of Dana White Nutrition, Inc., which specializes in culinary and sports nutrition. See Dana's full bio »
You Might Also Like:
More posts from Dana Angelo White.
Similar Posts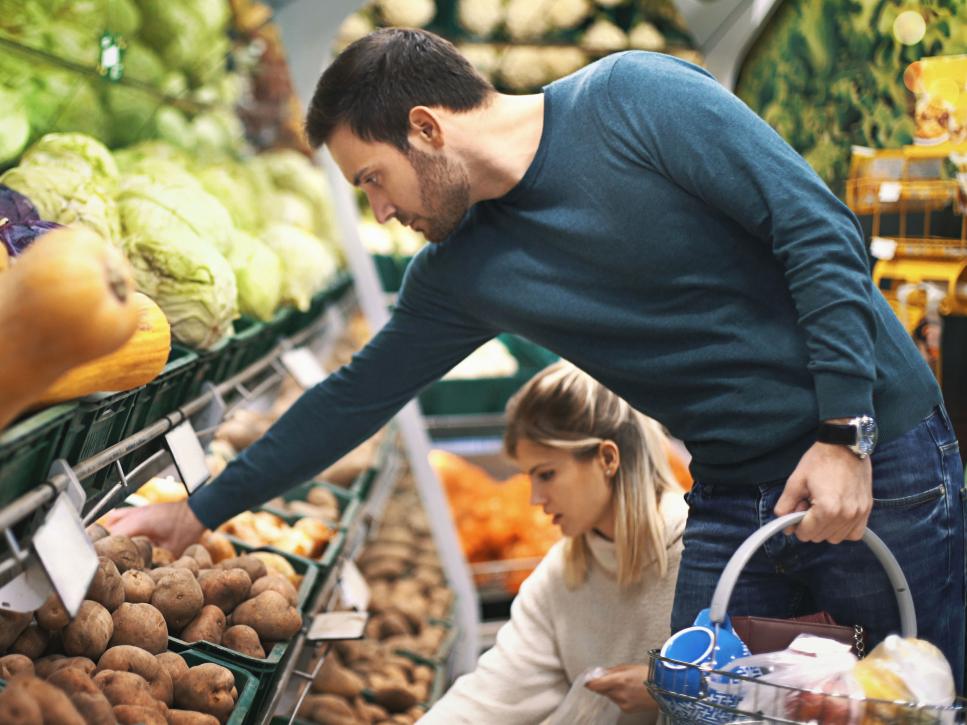 Tricks to avoid overspending at the supermarket....