Greek Salad - Photo by Con Poulos/Food Network Magazine
You might not think of ethnic cuisines as "healthy" foods, but they absolutely can be part of a healthy diet — just skip the fatty, huge,  Americanized versions.  Here are the 6 healthiest international cuisines, plus common pitfalls to avoid.
#1: Greek
The Mediterranean diet is based on traditional Greek food including lots of fish, fresh fruits and veggies, whole grains and red wine. Heart healthy omega-3 olive oil is traditionally used in Greek cooking, along with olives and nuts.
Common pitfalls:
Beware of olive oil overload — it's still 120 calories per tablespoon.
Traditional foods like moussaka, spanakopita, tiganita (deep fried veggies) and saganaki (fried cheese) are extremely high in calories. If you must indulge, share with friends.
The gyro is also high in fat and calories — we suggest you skip it.
#2: Japanese
If you look beyond the greasy offerings at many Japanese steakhouses, you'll find lots of low calorie protein and healthy fats in Japanese cuisine. Edamame, miso soup and lots of seafood are some healthier choices. Nowadays, you can also order up brown rice to up the fiber.
Common pitfalls:
Oily dishes like chicken teriyaki can be super-high in calories. Order up sauce on the side to monitor calories.
Fried dishes like tempura and spring rolls — avoid them, or share with friends.
Keep sushi portions small, as you'll rack up calories eating white rice.
#3: Indian
Those potent Indians flavors like turmeric, red chiles, ginger and Dana's favorite garam masala (a combo of spices) have been shown to have health benefits. Many have been shown to help protect cancer, while turmeric and ginger help fight Alzheimer's.
Common pitfalls:
Avoid curries made with gobs of cream, butter or coconut sauce
Watch out for fried goodies like samosas (stuffed and fried veggie turnovers) and pakora (deep-fried dough with veggies)
#4: Spanish
Spanish tapas are a collection of small plates or appetizers; one of the only cuisines where portions are controlled! There's also a wide variety of full-meal options,  from fish to beef to tomatoes and beans.

Common pitfalls:
Don't over-order! You can always ask for more.
Beware of the fried stuff like squid, battered and deep-fried olives and Spanish chorizo (Spanish-style sausage).
Keep alcohol under control– too much alcohol typically leads to over-munching.
#5: Thai
Thai dishes feature fruits, veggies, lean meats, seafood, lime, rice, noodles and coconut. Common spices include inflammation-fighting turmeric and digestion-aiding ginger.
Common pitfalls:
Watch out for dishes made with artery-clogging coconut milk or oil.
Be careful with sauces—always ask for them on the side
#6: Mexican
Love the cuisine from south of the border? Mexican food can be part of a healthy diet. But skip the fried, cheese-covered menu items — go for fajitas with grilled chicken or strips of beef, control those toppers and you're good to go. There are also lots of vegetarian choices to choose from. And don't forget all that salsa! Tomatoes contain the antioxidant lycopene that's been shown to reduce the risk of both cancer and heart disease.

Common pitfalls:
Be careful with the endless bowl of chips—15 chips are a serving.
Limit cheese, or order dishes without it.
Mind your margaritas — they're packed with sugar and calories.
TELL US: What's your favorite healthy international food?
Toby Amidor, MS, RD, CDN, is a registered dietitian and consultant who specializes in food safety and culinary nutrition. See Toby's full bio »
You Might Also Like:
More posts from Toby Amidor.
Similar Posts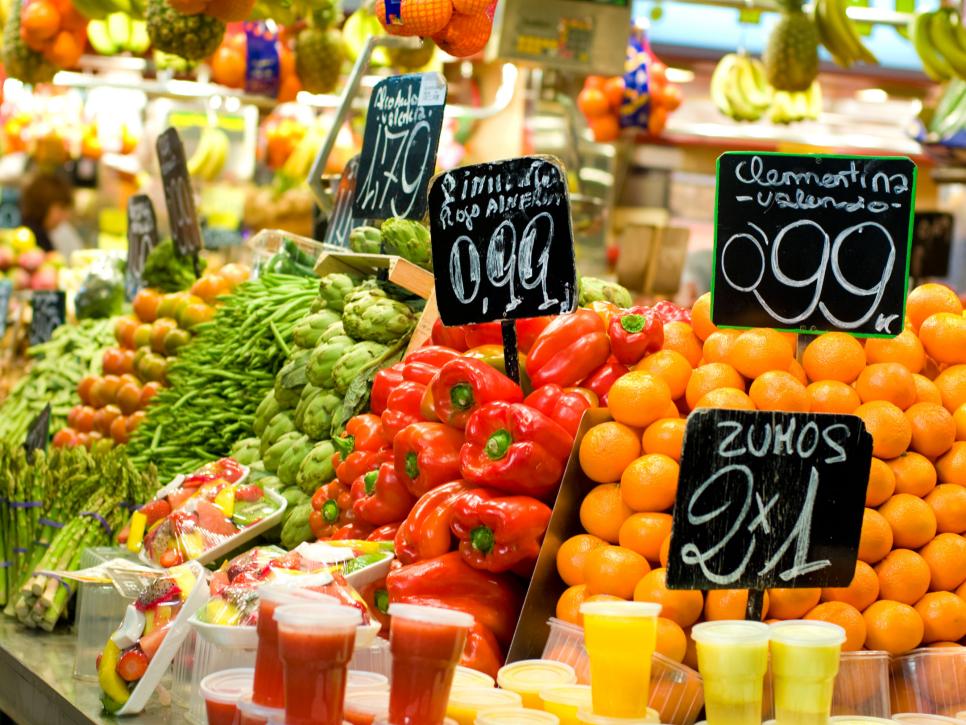 Stave off vacation weight gain with these easy, nutritionist-approved tips. ...