We're teaming up with other food and garden bloggers to host Fall Fest 2010, a season-long garden party. Each week we'll feature favorite garden-to-table recipes and tips to help you enjoy the bounty, whether you're harvesting your own goodies or buying them fresh from the market. To join in, check out awaytogarden.com.
It's sad when fresh, juicy tomatoes disappear from farmers' markets, but there is an upside: it's time to replace those tomato salads with earthy root vegetables tossed with hearty greens. Here are 5 of our favorite fall salad combinations.
Katie Cavuto Boyle, "Katie's Healthy Bites" Columnist
Favorite Fall Salad Combo: Roasted golden and red beets with dried cherries, arugula and blue cheese.
Why I Love It: I love the tart pairing of the cherries with the sweet beets and peppery arugula, then finished with a musky blue cheese crumble. This salad is rich in antioxidants and the sweet beets and cherries wonderfully curb a sweet craving.
Toby Amidor, Healthy Eats Nutritionist
Favorite Fall Salad Combo: Arugula, mesculin, apples, oranges, lentils, roasted pumpkin seeds
Why I Love It: Fall fruit topped on greens add sweetness and compliments the energy-boosting lentils. And who doesn't love the taste of roasted seeds in the fall?
Janel Ovrut, "The Veggie Table" Columnist
Favorite Fall Salad Combo: Spring mix with salted walnuts, pumpkin seeds, dried cranberries, butternut squash, shredded carrots, diced granny smith apples and balsamic vinaigrette.
Why I Love It: The sweet and tart combo of butternut squash, craisins and apples combine my favorite flavors of fall, while the salty, nutty crunch from walnuts and pumpkin seeds adds great texture along with heart-healthy fats. All of the colors combined in one salad bowl remind me of gorgeous fall foliage, too!
Dana Angelo White, Healthy Eats Nutritionist
Favorite Fall Salad Combo: Sweet potatoes, bell pepper, black beans, scallions, quinoa and feta cheese turned into Sweet Potato Quinoa Salad.
Why I Love It: The farmers' market is bursting with sweet potatoes this time of year. I make roasted fries for an easy dinner side dish and then toss the leftovers with quinoa, feta and other seasonal veggies (bell peppers and scallions). The sweetness of the potatoes along with the crunchy peppers and salty feta is scrumptious! You'll also get a healthy dose of vitamin C, protein, and more than 35 percent of your daily fiber needs.
Liz Gray, Healthy Eats Blog Editor
Favorite Fall Salad Combo: Arugula, Beets, Feta Cheese, Toasted Walnuts, Roasted Squash
Why I Love It: The bitter arugula picks up on the sweetness in the beets and squash, the feta brings a salty element and the walnuts add crunch.
TELL US: What's your favorite fall salad?
More Fall Salads From Friends and Family:
More posts from Liz Gray.
Similar Posts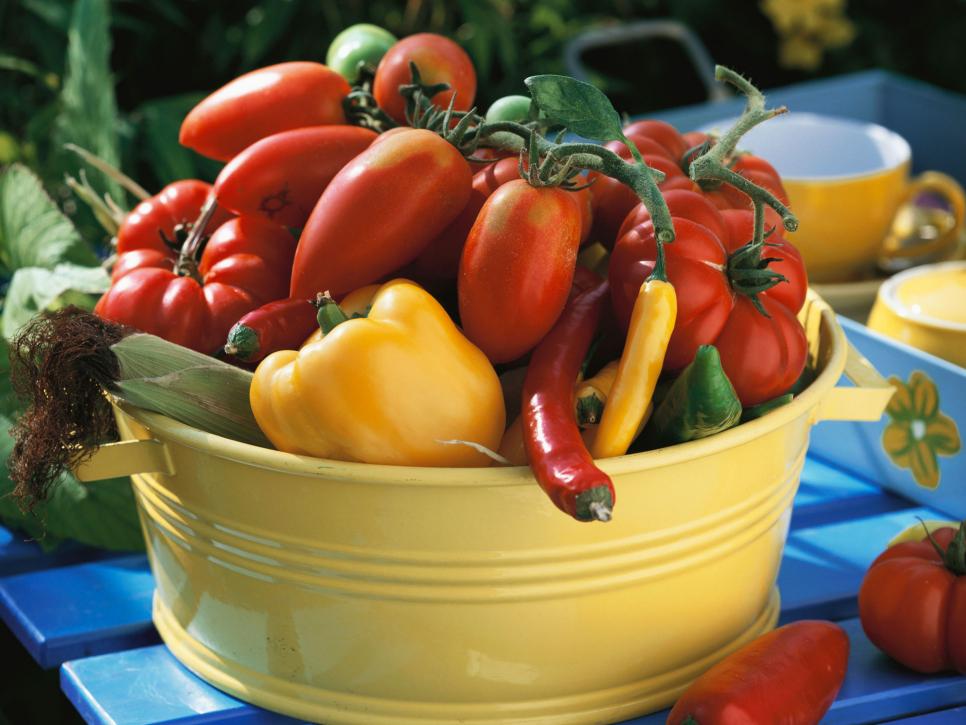 Check out these fresh ways to use an abundance of summer produce....