Spaghetti and Meatballs
The hustle and bustle of everyday life can get in the way of making healthy meals. But with a little planning, you can stock your freezer with healthy options for nights you just don't have the time or energy to cook. Here are some basic tips on choosing the right recipe and how to safely cook, freeze and defrost them.
Choosing A Recipe
If you're looking for a stand alone meal, make a double batch of meatloaf, casserole or lasagna. As these dishes contain sauces or moist ingredients, they freeze well. Just be sure to follow the proper cooling and reheating guidelines (listed below)
You can also make a double or triple batch of the following recipes that can be used in a variety of ways.
Food Safety Concerns
The most important part of cooking up these dishes is making sure you do it safely. The last thing you want is ruining the quality of your dishes with freezer burn. Or worse, contaminating your food so that it can get someone sick. There are four simple steps that must be followed properly when cooking in large batches:
Step 1:  Cook
Cooking food to the correct temperatures is essential to kill any lingering bacteria. If you don't have a thermometer, go buy one! Use it to check if the correct cooking temperatures have been met. It's also important to follow the recipe directions; if it says to add an ingredient and bring to a boil it's important to do so as boiling the food kills bacteria and makes the food safe to eat.
Step 2: Cool
Food should be cooled as quickly as possible, and shouldn't remain at room temperatures for more than 2 hours. Hot food that's placed in the freezer will raise the temperature of the unit, making it work harder and increasing your electric bills. Improper cooling can also leave the center of foods warm at temperatures that allow bacteria to grow and spoil your food. In order to cool foods quickly, follow these tips:
Divide soups, stocks and sauces into smaller containers and place in an ice bath and stir frequently (for an easy ice bath, fill a larger pot with ice and place smaller pot into it).
Cut lasagna, casseroles and meatloaf into smaller pieces.
Use stainless steel containers, as they transfers heat from food faster than plastic.
Use shallow pans to store food as they disperse heat faster than deep ones.
Step 3: Store
Follow these simple guidelines in order to keep food safe while in your freezer.
Use freezer wrap or heavy duty freezer bags to cover your frozen meals.
Make sure containers are air-tight.
Label or color-code items so you can easily identify what they are and when they expire (for prepared dishes, they shouldn't be stored over 3 months).
Don't overstuff the freezer.
Step 4: Defrost and Reheat
The most common mistake when defrosting food is leaving it at room temperature, where bacteria thrive. There are three safe methods that can be used to defrost food:
The microwave: Follow these guidelines when defrosting and cooking in the microwave.
The refrigerator: Food should be placed in the refrigerator a day or so before using it so it will have enough time to defrost.
Cool, running water: This method can be used while food is still in a container or sealed in a ziplock bag.
Cook it right up: A few meatballs or cube of frozen stock can be tossed right into the pot without previously thawing.
Once food has defrosted, cook it up to an internal temperature 165 degrees Fahrenheit. Use your handy thermometer to check if the correct temperature has been met.
TELL US: What's your favorite dish to cook and freeze?
Toby Amidor, MS, RD, CDN, is a registered dietitian and consultant who specializes in food safety and culinary nutrition. See Toby's full bio »
You Might Also Like:
More posts from Toby Amidor.
Similar Posts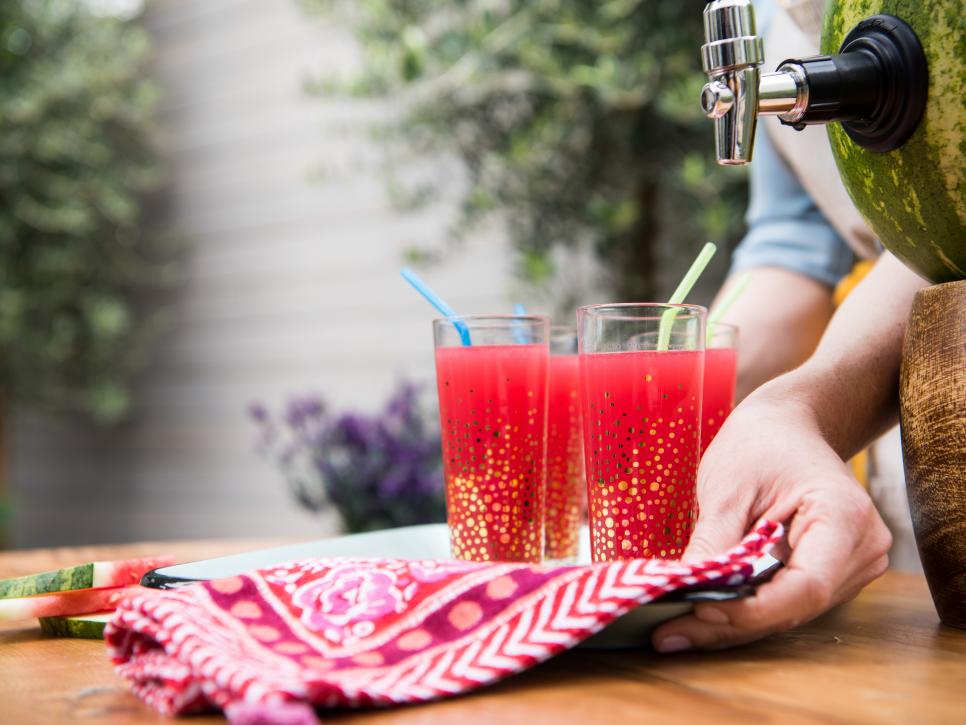 Tips and ideas for enjoying watermelon....