We're teaming up with other food and garden bloggers to host Summer Fest 2010, a season-long garden party. Each week we'll feature favorite garden-to-table recipes and tips to help you enjoy the bounty, whether you're harvesting your own goodies or buying them fresh from the market. To join in, check out awaytogarden.com.

Sweet peppers are easy to love: they're crunchy, versatile and have only 30 calories per cup. With more than 200 percent of your vitamin C needs in a serving, there's no reason not to try one, two or all 10 of these delicious pepper-filled options.
1. Stuff. Peppers come pre-equipped to be a vessel for stuffing. Ground beef and rice is the classic, but I also want to try this version stuffed with in-season tomatoes; Dana likes to stuff hers with sauteed veggies and quinoa.
2. Infuse. Instead of forking over tons of cash for fancy oils, make your own custom blend featuring bright, sweet peppers. Just heat your favorite oil (olive works well), add peppers to infuse the flavor, then strain and refrigerate. Jazz up everything from salad dressings to late night snacks to cheese-topped crostini with these flavorful infusions — and get a dose of heart-healthy fats while you're at it.
3. Skewer. Thread chopped red, green or yellow peppers on a skewer with chicken sausage, beef or pork and your favorite veggies.
Sausage Pepper Skewers/Photo Courtesy Food Network Magazine
4. Puree Add loads of flavor with few calories into your favorite dishes with pureed red peppers: try adding to hummus or blending into this Spanish-inspired almond-and-pepper dip. Peppers also add sweetness to blended cold soups like gazpacho. Traditional Spanish gazpacho is a pureed mixture of fresh tomatoes, sweet bell peppers, onions, celery and cucumbers, but don't be afraid to up the pepper flavor.
5. Shred. Slice peppers into thin strips with cabbage, celery and scallion to for a unique, sweet-and-tart bell pepper slaw.
7. Roast. Roasting peppers brings out their smoky sweetness; and gives them a soft, juicy consistency. To roast a pepper, place on a hot grill (under the broiler or into the flames on a gas stove burner works, too). Once all sides are blackened, remove from heat and place in a covered bowl and set aside to sweat. Once cooled, peel away the outer charred skin to reveal juicy, soft flesh. Use on sandwiches, salads or puree to make dips and sauces.
8. Roll. Roll up roasted red peppers and basil around bite-sized balls of fresh mozzarella, then skewer on a toothpick for a quick, delicious appetizer. Or add bright red, yellow and green peppers into veggie-filled sushi.
Mozzarella Balls - Photo Courtesy Food Network Magazine
8. Freeze. Freezing peppers for the coming months couldn't be easier: just seed, chop and containerize, no peeling or blanching required.
9. Can Save your bounty the old-fashioned way with a batch of sweet pepper relish. To make, cook down fresh and dried sweet peppers and chilies, onions, vinegar, sugar, and spices. Spread it on sandwiches or add a tablespoon to homemade vinaigrette or hummus. For a simple and delicious appetizer, pour relish over low fat cream cheese or goat cheese and serve with whole grain crackers or thin slices of crusty baguette.
10. Raw. If you just can't wait to try these recipes, munch into a pepper Iron Chef chairman-style, or slice 'em up and use as dippers for hummus, yogurt dip or salad dressing.
Shopping Tip: Choose peppers that are firm, bright, shiny and heavy for their size. Avoid those with bruises and soft spots, or peppers that are soft or shriveled. Store in a plastic bag in the refrigerator for up to one week. Red peppers are actually riper versions of green peppers that pack more beta carotene, vitamin E and sweetness than their green counterparts.
More Pepper Ideas From Friends and Family:
TELL US: What did we miss? How do you eat your sweet peppers? Let us know here, or join the conversation on twitter at #summerfood.
You Might Also Like:
More posts from Healthy Eats.
Similar Posts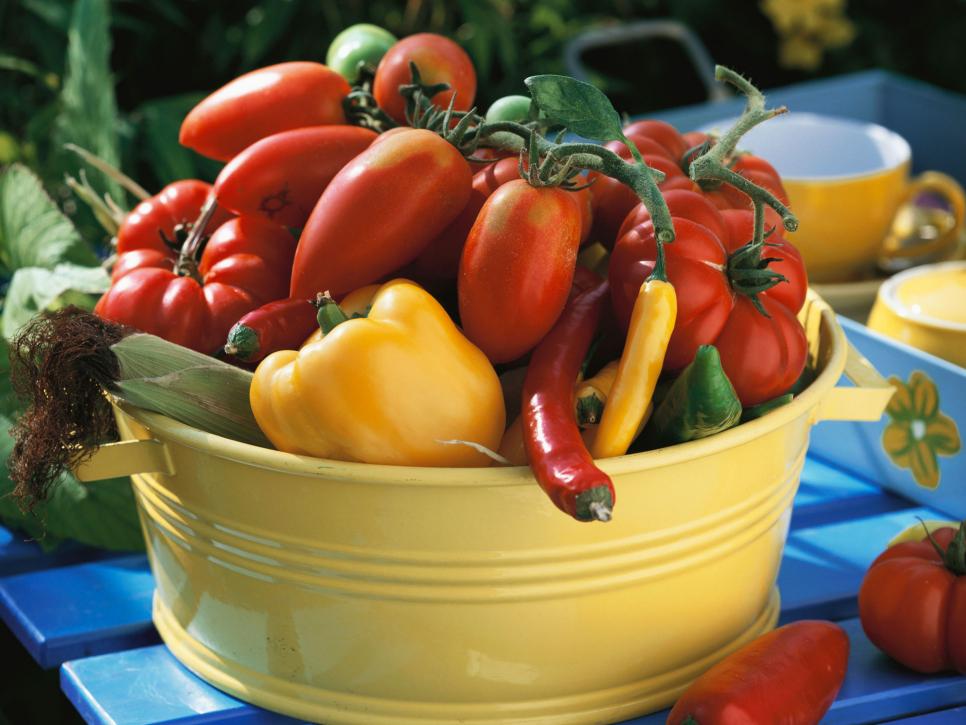 Check out these fresh ways to use an abundance of summer produce....