We're teaming up with other food and garden bloggers to host Summer Fest 2010, a season-long garden party. Each week we'll feature favorite garden-to-table recipes and tips to help you enjoy the bounty, whether you're harvesting your own goodies or buying them fresh from the market. To join in, check out awaytogarden.com.
You say tomato. I say . . . well I say tomato, too. I don't actually know anyone who says to-mah-to. However you pronounce it, I think we can all agree that tomato season doesn't last long enough. So until someone figures out how to extend fresh tomato season by another 10 months or so, here are 10 ways you can enjoy them while we have them, and even preserve some for later.
10. Make sauce. Tomato sauce is quite possibly the most popular method of tomato consumption; even self-proclaimed tomato-haters eat the stuff on pasta and pizza. So while you're up to your ears in garden-fresh tomatoes, make a pot of sauce. Eat some now and freeze the rest in individual or family-sized servings — come February when there's not a decent tomato in sight, you'll be glad you did.
9. Make a tomato sandwich. No recipe needed — just slice fresh tomatoes, layer on whole-grain bread (I like to toast mine first), sprinkle with salt and pepper and eat. I see nothing wrong with eating this for breakfast, lunch or dinner every day until the tomatoes are gone.
8. How 'bout some gazpacho? It's like salsa soup, minus the chips. Non-traditionalists should try Gazpacho Salad or Rachael Ray's Deconstructed Gazpacho.
7. Tomato salad 5 ways: Panzanella (Tuscan tomato-bread salad), tomato salad stacks, Food Network Magazine's Nectarine-Tomato Salad, Emeril's Roasted Corn and Tomato Salad, or a super-simple Cucumber-Tomato Salad.
#6, Oven-Dried Tomatoes from Food Network Magazine
6. Dry them in the oven so they last a little longer. Plan on 4 hours of inactive cooking, but every minute is worth it for these oven-dried tomatoes.
5. Can them so they last a lot longer. If you're new to canning, can along with Kitchenette, she has great how-to photos on her blog.
4. Try a Spicy Tomato Jam. It's delicious over grilled chicken or swordfish, or as an accompaniment to cheese and crackers.
3. Swap fresh tomatoes for the sauce on pizza. Fresh tomatoes are so flavorful, you won't need to be heavy-handed with the cheese, making it a sensible way to have your pizza . . . and your figure too! (Try Giada's recipe, pictured above.)
2. Cut 'em up and make bruschetta. With anchovies, or without.
1. Make salsa. Once you see how easy it is to make homemade salsa, you'll shun the jarred stuff forever. I like Alton's recipe and Giada's, but I often just make mine to taste with whatever I have — sometimes I even throw avocado in it.
What did I miss? How do you eat your garden-fresh tomatoes? Let us know here, or join the conversation on twitter at #summerfood.
More Tomatoes with Friends and Family:
More posts from Michelle Buffardi.
Similar Posts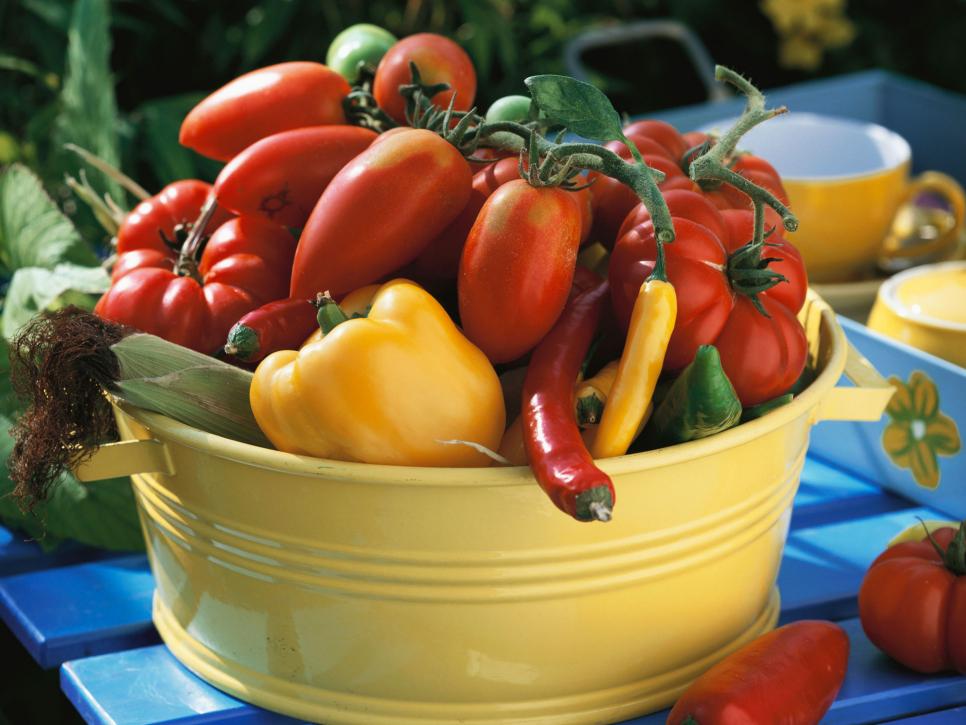 Check out these fresh ways to use an abundance of summer produce....