We've said it before and we'll say it again — herbs are an easy way to give low-cal flavor to many dishes. Better still, you add extra nutrients such as vitamins A and C, fiber and phytochemicals. With herbs overflowing in our backyards and in our patios, we're celebrating our favorites while they last! We polled all our contributors to find out what's on the top of their lists, plus our favorite ways to use them.
We're teaming up with other food and garden bloggers to host Summer Fest 2010, a season-long garden party. Each week we'll feature favorite garden-to-table recipes and tips to help you enjoy the bounty, whether you're harvesting your own goodies or buying them fresh from the market. To join in, check out awaytogarden.com.
Toby Amidor, Healthy Eats Nutritionist
Favorite Herb: Mint
Why I Love It: The refreshing smell is overwhelming and reminds me of summer!
Favorite Way to Use It: Every summer when I travel to Israel, I go to a cafe and order a cup of tea with "Na-Na" (the Hebrew word for mint). The server actually looks at you funny if you request no mint. In hot or cold tea, this is my absolute favorite way to enjoy this herb and reminds me of my many amazing summers in Israel.
Tip or Trick: Make a batch of iced tea and add a handful of mint. Leave in the fridge overnight, so the mint flavor gets soaked up.

Rachel Phillips, FoodNetwork.com Intern
Favorite Herb: Dill
Why I Love It: It's so versatile! Not only is it a comforting herb that can brighten up any dish, dill can also be used to treat upset stomachs when made into a hot tea. Its seeds are also great for freshening breath.Fresh or dried, dill's an herb as tasty as they come.
Favorite Way to Use It: Dress up crackers with a little oil and a lot of dill, then bake them in the oven. Or rub some dill on top of salmon before grilling. It's that easy! It's also a great salad-enhancer.
Tip or Trick: If you need to use dried dill, spread some fresh dill on a paper towel and place in the microwave for a few minutes. The result is much tastier than the dried store-bought variety and takes little time to prepare.
Janel Ovrut MS RD, Healthy Eats Blogger
Favorite Herb: Parsley
Why I Love It: It adds a pop of color and flavor to so many dishes, while contributing a good source of folic acid, an important B vitamin. It also helps to freshen breath after a meal!
Favorite Way to Use It: Not just for garnishes! I love adding fresh parsley to a tabbouleh salad in the summer, with bulgur wheat, chopped scallions, cucumbers and tomatoes, mint leaves, lemon juice and olive oil.
Tip or Trick: Whenever possible, choose fresh parsley over dried since it has such a great flavor. Store freshly-picked parsley in the refrigerator in a plastic bag, and eat while it is still deep green in color and crisp.
Dana Angelo White, Healthy Eats Nutritionist
Favorite Herb: Oregano
Why I Love It: My garden is overflowing with fresh oregano – it's spicy, peppery, and totally different than the dried version.
Favorite Way to Use It: It's absolutely delicious sautéed with zucchini and garlic, roasted with eggplant, or finely chopped and sprinkled over pizza and pasta.
Tip or Trick: Since you don't often see it at the grocery store, it's a fun herb to grow yourself. It's a perennial plant so you can bring it indoors in the winter and move it back outdoors in the spring.
Liz Gray, Healthy Eats Site Editor
Favorite Herb: Basil
Why I Love It: The flavor of basil just screams summer to me, and it's so versatile I manage to pinch a few leaves off my plant for dinner every night.
Favorite Way to Use It: Dubbed "the royal herb" by ancient Greeks, basil is good on almost anything, from eggs to caprese salad. I also love it in desserts — the herbaceous flavor pairs perfectly with citrus, peaches, mango and strawberries.
Tip or Trick: Grow sweet basil alongside variegated pesto basil (it has a milder flavor) for a beautiful visual contrast and a range of flavor intensities. Varieties like lemon basil, purple basil and cinnamon basil are also delicious.
Katie Cavuto Boyle, Healthy Eats Columnist
Favorite Herb: Chives
Why I Love It: Chives are crisp, fresh and their mild on flavor can brighten any dish.
Favorite Way to Use It: Make chive oil — chives pureed with olive oil, lemon and salt — and add a dollop of the bright, flavorful mixture atop vegetables, soup or fish.
Tip or Trick: Beautiful purple flowers bloom atop chive stems. Use them as a garnish for your chive-topped dishes or throw them in a vase with garden-fresh flowers.
More Greens, Beans and Herbs with Friends and Family:
You Might Also Like:
Join the conversation on twitter at #summerfood.
More posts from Liz Gray.
Similar Posts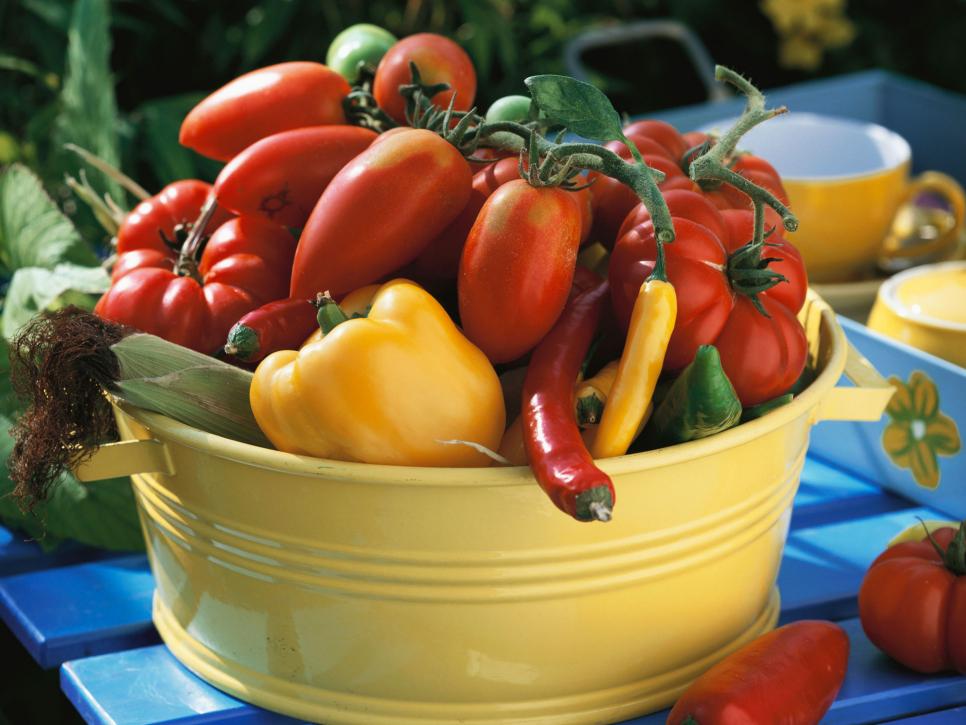 Check out these fresh ways to use an abundance of summer produce....