Dana's Lightened-Up Pina Colada
We can't celebrate frozen treats week without tackling this summer essential: the frozen piña colada. Like a tropical vacation in a glass, piña coladas can be decadent and high-calorie. But don't cut yourself off — skip the sugary mixes, break out the blender and try our slimmed-down version.
Nutrition Facts
With large glasses and high-calorie ingredients, a 12-ounce cocktail (petite compared to some I've seen) stacks up more than 650 calories and 7 grams of fat (6 grams of saturated fat). Unlike most other cocktails, these frosty libations also contain fat thanks to an ingredient called cream of coconut (a blend of coconut and cane sugar). Cream of coconut is tasty for sure, but with 4 teaspoons of sugar per ounce, the calories pile up. Bottled mixers were even worse — all the ones we checked out had high fructose corn syrup as the first or second ingredient, and many didn't contain a drop of real coconut. There's got to be a better way!
Light and Refreshing
Ice and pineapple aren't the problem, rum and coconut are. Since you can't have a colada without them, we have some suggestions. First, shrink down the portions to 8 ounces per person — that's still plenty of cocktail. Next, cap the booze at 1 shot (1.5 fluid ounces) per person and trim the cream of coconut to 1 tablespoon per serving. For some extra coconut flavor, you can substitute coconut rum for light rum, but we tried our recipe (below) with and without it and didn't think it was necessary. Frozen pineapple chunks also help make the drink creamy and frothy, and you don't have to worry about too much ice watering down the flavor.
Slimmed Piña Coladas
Yield: 4 8-ounce servings
Ingredients:
2 cups frozen pineapple chunks
3 ounces light rum
3 ounces dark rum
1/2 cup pineapple juice
1/4 cup cream of coconut
1 cup crushed ice
Directions:
Combine ingredients in a blender and blend until smooth. Serve garnished with a pineapple wedge.
Nutrition info per serving (8 fluid ounces):
Calories: 210
Total Fat: 2.5 grams
Saturated Fat: 2 grams
Total Carbohydrate: 24 grams
Protein: 0.5 gram
Sodium: 9.5 milligrams
Cholesterol: 0 milligrams
Fiber: 1 gram
Dana Angelo White, MS, RD, ATC, is a registered dietitian, certified athletic trainer and owner of Dana White Nutrition, Inc., which specializes in culinary and sports nutrition. See Dana's full bio »
You Might Also Like:
More posts from Dana Angelo White.
Similar Posts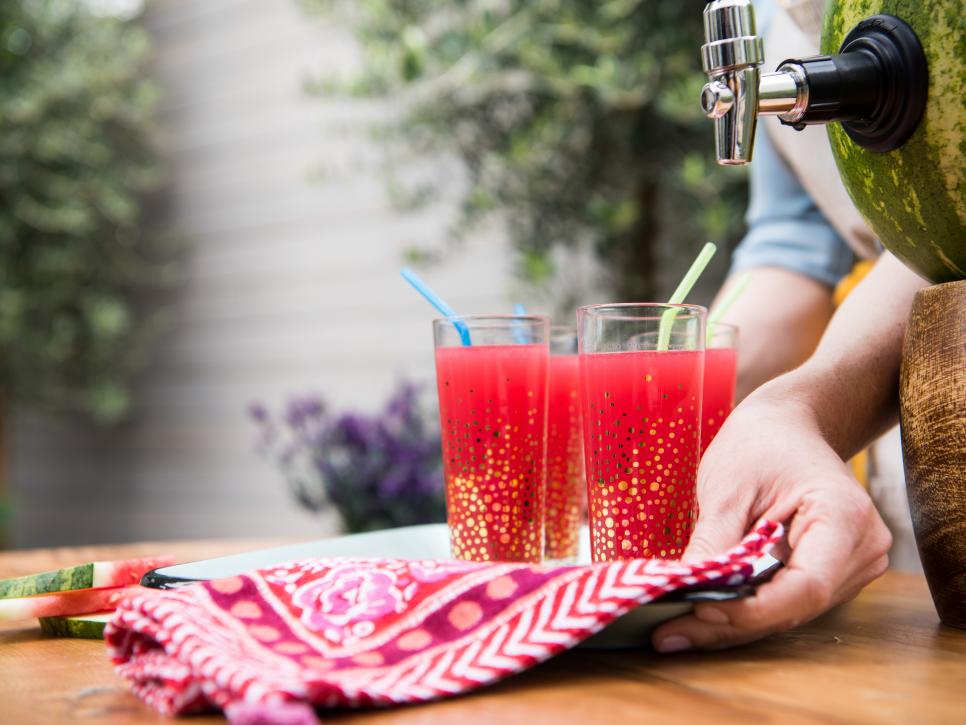 Tips and ideas for enjoying watermelon....