Tomato-Peach Salad – Photo Courtesy Food Network Magazine
Peach season has finally arrived! My 5-year old daughter has been waiting for me to bring home fresh ones ever since summer began. Read up on the different types and try some of our peachy recipes…if you don't eat all the delicious fruit first.
What, Where & When?
The peach (Prenus persica, Rosaceae) belongs to the rose family along with the plum and apricot. Native to China, the peach made its way to Europe and eventually the U.S. through Persia (and became known as the Persian apple).
The peach is a stone fruit (like cherries, apricots and plums) because it has a hard pit or seed (a.k.a. stone) in the center. They can be categorized as freestone, where the pit easily falls away from the flesh or as clingstone, where the pit is tough to remove from the flesh. The freestones are more commonly found in the markets, while clingstones are typically left for commercial use.
The sweet-tart flesh range from pinkish-white to yellow-gold, while the skin can range from a pinkish-white to reddish-yellow. If you look closely, you will see a distinctive peach fuzz.
Peaches are available from July through September. Some popular varieties include Reliances, Redhaven, White Lady, Madison, Sugar Lady, Sugar Giant, and Snow Giant. Most orchards grow several varieties, so if you're planning on doing some peach-picking or stopping by the farmers' market, don't be shy — ask the grower about what unique varieties they offer.

Nutrition Facts
A medium peach contains 60 calories, 2 grams of fiber and many antioxidants including vitamin C and A (about 10 percent of your daily needs for each). They also contain numerous other antioxidants including lutein, zeaxanthin and flavanoids.
What To Do With Peaches
Nothing beats a fresh, juicy peach on a hot summer day, but it doesn't end there. Cut them up and add to salads, cereal, ice cream or yogurt. Peaches tend to brown pretty quickly after slicing or peeling them. The trick is adding an acidic ingredient like lemon juice or salad dressing to help prevent it. Removing the pits can get tricky and is easier if you cut the peach from stem to stem, all the way to the stone. Twist the halves in opposite directions and lift out the stone.
Peaches also make a mean jam, jelly, salsa and chutney as well as baked goods like pies, cobblers and cakes. As the skin of the peach becomes tough during cooking (which can ruin your pie), it's important to peel them before cooking. To easily peel peaches, dip in boiling water for 30 to 45 seconds, turning several times. Then, transfer to a bowl of ice water. Slip the skin off with a paring knife or your fingers. If the skin is still tough, repeat the process.
If you find yourself with a few extra peaches this season, try freezing them. Wash ripened peaches, halve, peel and pit. Freeze plain, crushed or pureed in syrup or sugar — oh, the possibilities!
Shopping Tip: Look for fragrant peaches that give slightly with a gentle squeeze. Avoid blemished or bruised ones, as they spoil easily. Store in a paper bag in the refrigerator for up to one week. Brightly colored peaches that are firm take two to three days to ripen at room temperature.  For quicker ripening, place in a paper bag with an apple at room temperature, poking holes in the bag in several places.  The ethylene gas emitted from the apple makes them get softer, faster.
Recipes to Try:
READ MORE:
Toby Amidor, MS, RD, CDN, is a registered dietitian and consultant who specializes in food safety and culinary nutrition. See Toby's full bio »
More posts from Toby Amidor.
Similar Posts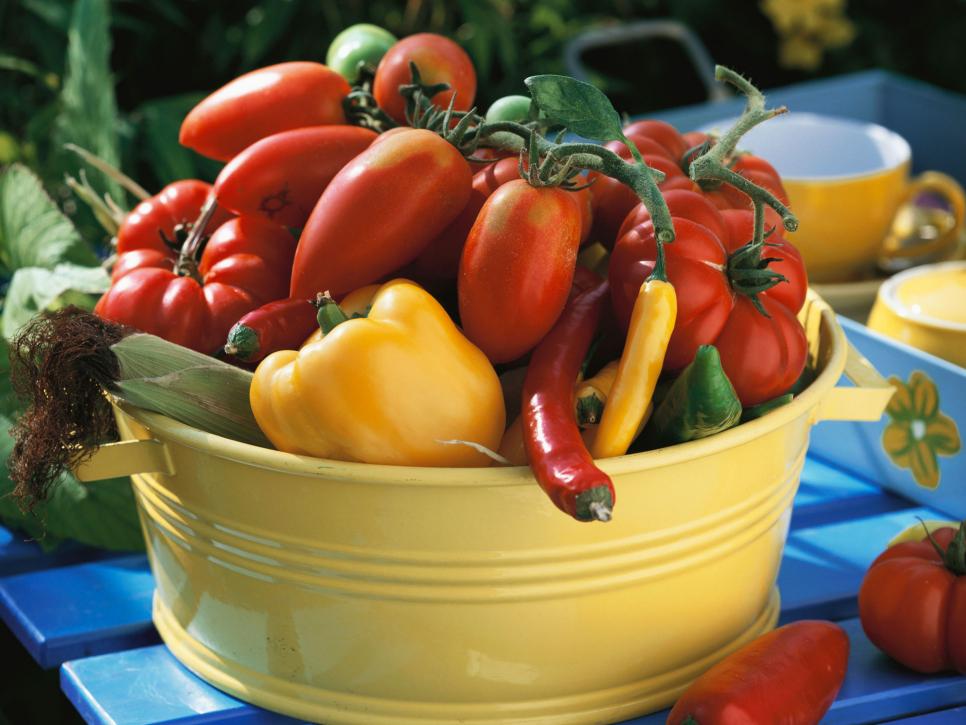 Check out these fresh ways to use an abundance of summer produce....