Dana's Strawberry-Thyme Jam
Many store-bought jams, jellies and preserves contain more sugar than fruit. While you do need some sugar, it's really the fruit you want to taste! With a few simple ingredients and a little bit of simmering,  you'll have the best-tasting fruit spread imaginable.
Ingredients
Take your pick of juicy, sweet fruit. Berries, peaches, plums, figs and cherries top my list of favorites. You can even use citrus, rinds and all — then it's called marmalade. Combine fruit with sugar and lemon juice,  simmer until thick, and you're in business. Cooking time will vary depending on the type of fruit you choose and how finely it's chopped. I like mine a bit on the chunky side, which takes a little longer.
You can make jams the old fashioned way by cooking down until thick and gooey – the sugar and natural substances (called pectin) in the fruit, helps the jam gel. A batch of my Strawberry-Thyme Jam (recipe below) takes about 30 minutes.
To thicken things up a little faster, extra pectin can be added.  Packaged pectin powder or liquid is made from apples or citrus, and is available at most grocery stores. Pectin does need the proper balance of sugar and acid to be effective, so follow directions on the box carefully.
While your fruit and sugar concoction cooks down, skim away any foam that accumulates on the sides of the pot. Since jam doesn't reach its full thickness until it's completely cooled, it can be hard to tell when it's done. Place a small spoonful on an ice-cold plate – if it gels, you're good to go.
Storage
The easiest way to store homemade jam is in an airtight container in the refrigerator for up to 3 weeks. For longer storage, the jam needs to be properly canned. For extra-special presentation, try making your own labels — homemade jam makes great gifts!
Strawberry-Thyme Jam
Learn more about canning and check out our interview with Sherri Brooks Vinton, author of a new book on all kinds of methods for food preservation.
Strawberry-Thyme Jam
Makes 2 cups
6 cups fresh strawberries, halved
1 cup granulated sugar
Juice of 1/2 lemon
2 teaspoons fresh thyme leaves
Simmering Strawberry-Thyme Jam
Combine ingredients in a non-reactive pot and toss well. Bring to a boil over medium heat, reduce to a simmer and cook until thickened (about 30 minutes). Cool to room temperature. Transfer to resealable containers and store in the refrigerator for up to 3 weeks.
Nutrition info per tablespoon:
Calories: 35 calories
Total Fat: 0 grams
Saturated Fat: 0 grams
Total Carbohydrate: 9 grams
Protein: 0 grams
Sodium: 0 milligrams
Cholesterol: 0 milligrams
Fiber: 0.5 gram
More recipes to try:
Easy Strawberry Jam
Spiced Blueberry Jammin
Peach Jam
Blueberry Compote
Anna's Orange Marmalade
More posts from Dana Angelo White.
Similar Posts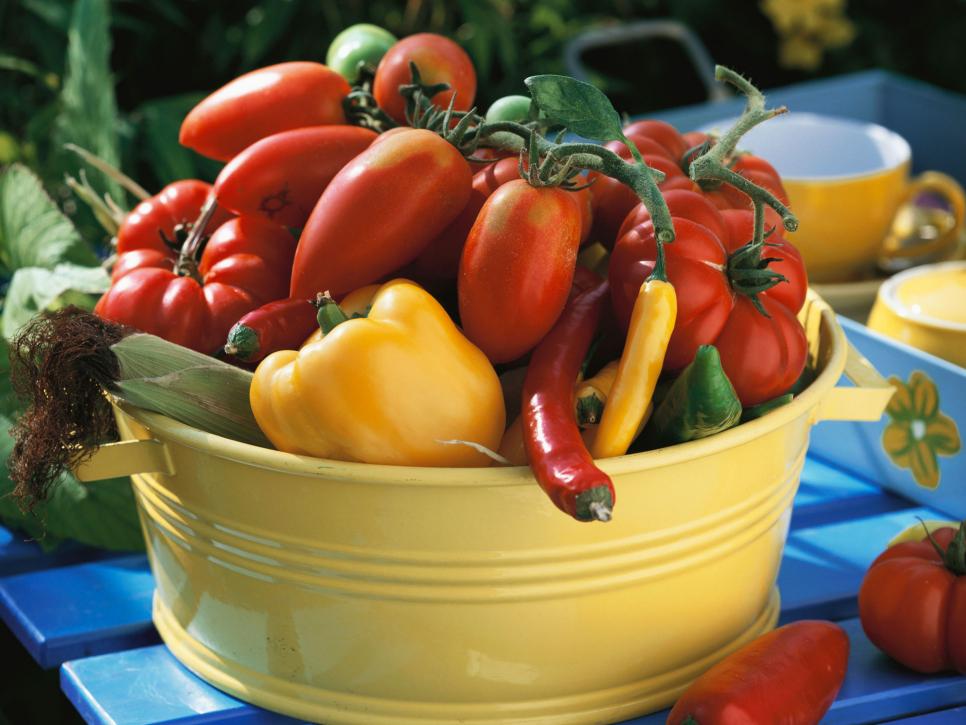 Check out these fresh ways to use an abundance of summer produce....