Steak with Avocado Sauce and Tomato Salsa - Photo by Antonis Achilleos/Food Network Magazine
Cook up the perfect steak for Dad this Father's Day. With a few small tweaks and ingredient swaps, Dad can enjoy his juicy steak while the rest of family can breathe easy that he won't have a coronary.
Nutrition Facts
A typical 12-ounce steak contains over 600 calories, 50 grams of fat and 21 grams of artery-clogging saturated fat. Even if you opt for an 8-ouncer, most bottled steak sauces are packed with salt and sugar. If you opt for more traditional sauces, like hollandaise and blue cheese, you're adding even more saturated fat and calories. We need Dad around for a long while, so here are some ways to lighten up his steak without compromising flavor.
The Cuts
Start with a lean cut of beef and trim off any visible fat. Steer clear of meats with lots of fat floating around (called marbling). If you choose a leaner cut, you will find they contain less visible fat, too.
Here's some lighter cuts to look for at the market:
Flank steak
Top loin
Sirloin
T-bone
Filet Mignon
Tenderloin
Or, try a lean, meaty alternative option to beef.  Red meats like bison and venison (my fave!) are very lean, and fish like tuna also make a heart-healthy steak as they're chock-full of omega-3 fats. For the more adventurous (or vegetarian) eater, what about a tempeh or tofu steak?
The Flavors
Once you've chosen the lean cut, don't sabotage the meal by drowning it in gobs of fatty sauces or bottle versions. Bottled sauces can contain tons of salt and sugar (including the infamous high fructose corn syrup). You're better off making your own sauce so you can control the ingredients.  If you're short on time, here's a list of bottled sauces we like.
If you're opting for butter or oil-based sauces, remember that one tablespoon of butter contains 100 calories and 11 grams of fat, while one tablespoon of any oil contains 120 calories and 14 grams of fat. Although butter contains fewer calories, it's much higher in unhealthy saturated fats — that's why an oil-based sauce is a better choice (as long as it's portion-controlled). Whichever sauce you choose, stick to two tablespoons.  Or, skip the fatty sauce altogether and top your steak with a simple homemade salsa.
Other healthier alternatives? Try a spice rub. Made from a combination of various spices, they contain very few calories and add tons of flavor. Alcohol (like whiskey) is another excellent way to flavor up steak; 90 percent of the calories from alcohol dissipate when cooked, but the smoky flavor remains. Combinations like red wine and vinegar also add flavor without many calories.
Getting Creative
Instead of serving up a big slab of meat, slice into 1-inch pieces and thread on a skewer with fruits or veggies. You'll still have a flavorful steak-based dish, but with fewer calories and added vitamins and antioxidants. Another alternative is to thinly slice a three to four-ounce steak and fan over a bed of greens — this will make the steak look larger than it really is.
Recipes to Try:
TELL US: What's your favorite way to lighten up steak?
Toby Amidor, MS, RD, CDN, is a registered dietitian and consultant who specializes in food safety and culinary nutrition. See Toby's full bio »
You Might Also Like:
More posts from Toby Amidor.
Similar Posts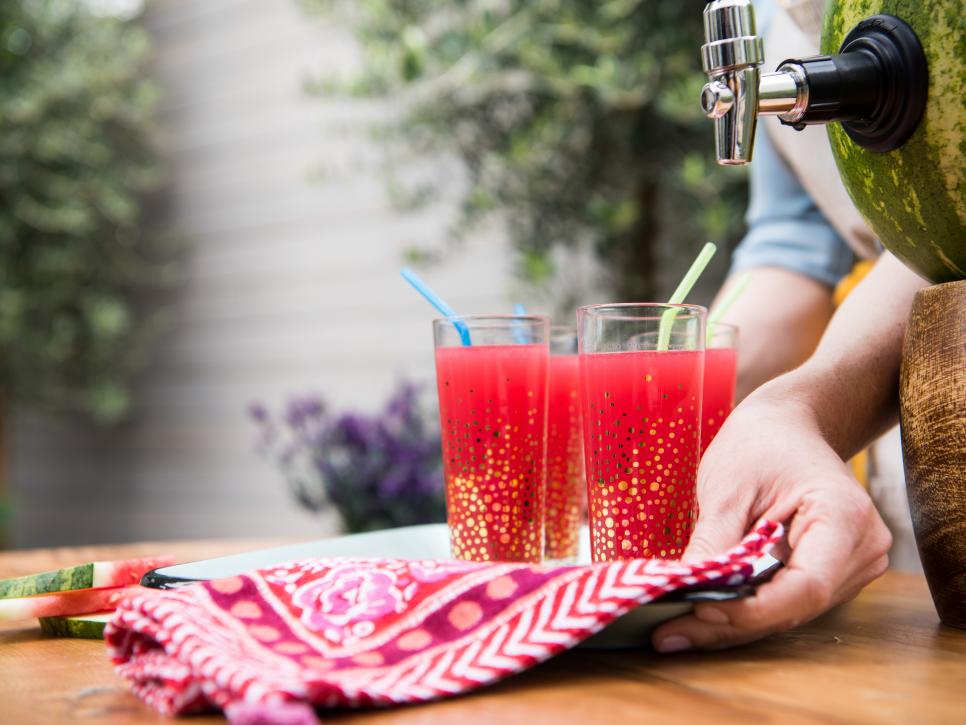 Tips and ideas for enjoying watermelon....