I look forward to Tuesday nights like it's my birthday, only instead of traditional presents I get fruits and vegetables and it happens every week for 6 months and not just once a year. I'm having trouble getting anyone to sing to me each week, but honestly, I don't really miss it.
I get all giddy during the day, waiting for my farm to post the contents of that week's share on their Web site so I can research recipes and plan my week's meals. At the pickup, I run (ok, I walk quickly because I'm a grownup and don't run indoors) to my box, eager to hold in my hands the just-picked greens, roots and sweet little berries. This week, I ate a bunch of strawberries in the parking lot. Without washing them. I know. But they're just that good.
I did get the rest of my share home and washed and prepped it for the week. The prep doesn't take long but is integral in ensuring that my veggies last the week and taste almost as fresh as they do on pickup day. This week was mostly greens, which I store in green bags, those as-seen-on-TV produce savers that really do extend the life of your veggies. I tore up some lettuce for my dinner salad and let it soak in my salad spinner — this helps plump the leaves back up after their journey from the farm and gets the dirt off — and put the rest in the 'fridge for later in the week. I like to soak and wash it just before using. It's no secret that I'm obsessed with hummus, so I made a similar recipe to the one I made last week but substituted garlic scapes for the garlic in the recipe — half I added raw and half I roasted in foil in the oven for about 10 minutes. I often just use a spritz of lemon on my salad, but this week I wanted to make a vinaigrette since I got so many salad greens in my share. I like to make it in a clean, recycled glass jar and to keep in the refrigerator and even take to work when I pack salad for lunch.
A garter snake crept into my CSA box. No it didn't. These are garlic scapes.
So I ate some salad with hummus and homemade dressing and ate the rest of the strawberries for dessert, because, well, they're just not as good the next day. I still have quite a bit of my share left and am not sure yet what I'll cook for the rest of the week. Here's a breakdown of my share and what I'm thinking of:
Escarole: Escarole can be eaten raw or cooked and is delicious both ways. I found this out when I accidentally added some raw to my salad, confusing it for romaine. Try it in your favorite tossed salad, or temper the bitter greens with anchovy dressing. My mom used to saute escarole in garlic and olive oil, so I'm partial to recipes like that, and am always tempted by greens and pasta, like Pasta With White Beans, Escarole and Chicken Sausage (though for my tastes would omit the sausage).
Romaine: Caesar salad, of course.
Swiss chard: This Green Soup With Ginger, made with chard and spinach, from 101 Cookbooks looks amazing but I only got a small bunch of chard this week and will probably saute it in garlic and oil along with the turnip tops and save the soup recipe for another week.
Garlic scapes: I used all of these in my hummus, but will probably get more in the coming weeks. I like to use these as I do garlic and add to my pesto, pasta dishes or roasted and spread on toasted whole wheat bread, similar to garlic bread.
Boston lettuce: I'll probably eat the rest of mine with a scoop of hummus and some homemade vinaigrette, but I'm also tempted by this Boston Lettuce and Avocado Salad. Hopefully I'll see more of these lovely leaves in the coming weeks.
Bok choy: My love of shiitake mushrooms rivals my feelings for fresh strawberries, so I'll definitely be making a stir-fry of  bok choy and shiitakes.
Japanese salad turnips: These taste a bit like radishes but are more mild. I prefer to eat them raw in a salad (or right at the sink . . .). If you get these in your share or find at the farmers' market, don't throw the tops away! They're edible and are great raw in salads or sauteed alone or with spinach or other greens.
Strawberries: I never get very far with these. Maybe next time I'll save them long enough to drizzle them with balsamic vinegar and serve with ricotta.
Rhubarb: I love to make rhubarb compote and eat it plain or over Greek yogurt or stirred into oatmeal. You can add strawberries to your compote too, if you don't eat them all.
TELL US: What did you get in your box this week? What are you making?
Michelle Buffardi is the web editor for Food Network Magazine, a long-time vegetarian and part-time vegan who indulges in her weakness for pizza only on the weekends. She's proud to prepare healthy, home-cooked meals nightly in the world's tiniest kitchen. Learn more about all our contributors »
You Might Also Like:
More posts from Michelle Buffardi.
Similar Posts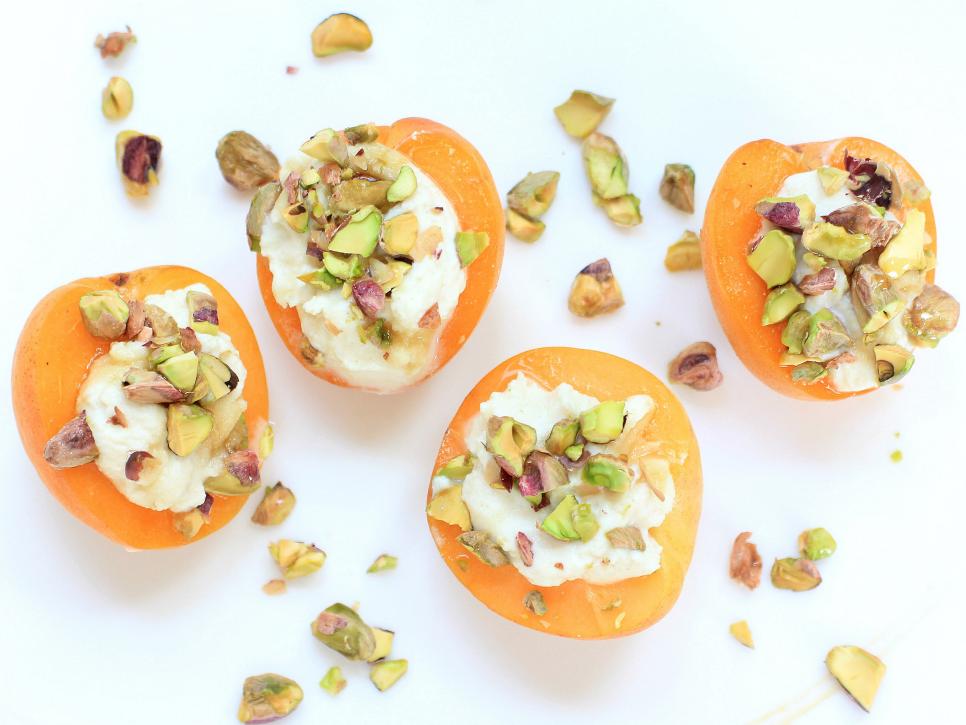 Make the most of these sweet gems while they're in season....