Quick, easy, portable and healthy — yogurt is an all-around favorite snack. But with supermarket shelves stacked with the stuff, shopping for yogurt can get confusing. After some tasting and label reading, check out what we found.
The Criteria
For this taste test, we tested all types of nonfat vanilla-flavored yogurts. We focused on taste, mouth feel and nutritional value and scored each on a 5-points scale (5 being highest).
We took a look at the calories and sugar in each yogurt. Since yogurt is made from milk sugar (called lactose), you'll typically find some natural sugar is in all yogurt. We took a deeper look into the types of sugars (or in some cases sugar substitutes) that were added to yogurt — some even surprised us!
Each yogurt tested contained between 5 to 8 grams of protein and between 15 to 30 percent of your daily calcium needs per 6 ounces. As all dairy products contain sodium, the amount was about the same for all varieties ranging from 75 to 110 milligrams per 6 ounces. Another interesting find is that most yogurt companies add vitamin D which works with calcium to keep bones healthy (check the ingredients and you'll find "vitamin D3″ listed) — the only exception was Activia Light. All yogurts had active cultures (a.k.a probiotics) added to them although some brands advertised them more than others.
Stonyfield French Vanilla
Rating: 4.5
Cost: $1.00 per 6 ounces
Nutritional info (per 6 ounces): 130 calories, 24 grams sugar
Our Take: The organic yogurt of the bunch, Stonyfield has a creamy texture that is not overly sweet. It's made from organic nonfat milk and milled organic sugar is added for sweetness —which is why you'll find that it has the highest sugar content of the bunch. The ingredient list is relatively simple and easy to understand without any added chemicals or artificial sweeteners. Although it was pricier than some of the other varieties, I often find it on sale at my local market.
Weight Watchers Vanilla
Rating: 3
Cost: $0.85 cents per 6 ounces
Nutritional info (per 6 ounces): 100 calories, 12 grams sugar
Our Take: A little more watery than some of the other varieties, Weight Watchers didn't have that rich and creamy mouth feel. The yogurt is made from nonfat milk and is sweetened with the artificial sweetener sucralose — which explains the aftertaste. A quick look at the laundry list of ingredients reveals added fiber, giving it 3 grams per 6 ounces. Weight Watchers fans take note:  only one point per 6 ounce serving.
Light & Fit Vanilla
Rating: 3
Cost: $0.75 per 6 ounces
Nutritional info (per 6 ounces): 80 calories, 11 grams sugar
Our Take: This yogurt is the lowest in calories and sugars as it's made from nonfat milk, but it's sweetened with a combo of sugar substitutes including sucralose and aspartame. For someone who is really trying to cut calories, this may be a good choice if you can deal with the chemical aftertaste. The texture is smooth and somewhat creamy and it was the cheapest of the bunch.
Activia Light Vanilla
Rating: 3.5
Cost: $1.12 per 6 ounces
Nutritional info (per 6 ounces): 110 calories, 13 grams sugars
Our Take: All the ads for this yogurt promote the fact that it's bursting with several probiotics promising to keep you regular. Although it has a creamy mouth feel, it's one of the sweetest yogurts of the bunch (compliments of the sugar substitute sucralose). Unlike most of the other yogurts, Activia Light only comes in 4-ounce containers or 24-ounce tubs — as this is the most expensive yogurt, buying the larger container would be a smarter choice. It also contains 4.5 grams of added fiber per 6 ounces, where most other brands contain none.
Yoplait Light Very Vanilla
Rating: 3
Cost: $0.85 per 6 ounces
Nutritional info (per 6 ounces): 110 calories, 15 grams sugar
Our Take: This yogurt is created from nonfat milk and is sweetened with high fructose corn syrup and aspartame. The yogurt was pretty creamy, but as we've seen with some of the other varieties, aspartame gives it that chemical-like taste.
TELL US: What's your favorite yogurt?
Check out our other taste tests:
Toby Amidor, MS, RD, CDN, is a registered dietitian and consultant who specializes in food safety and culinary nutrition. See Toby's full bio »
More posts from Toby Amidor.
Similar Posts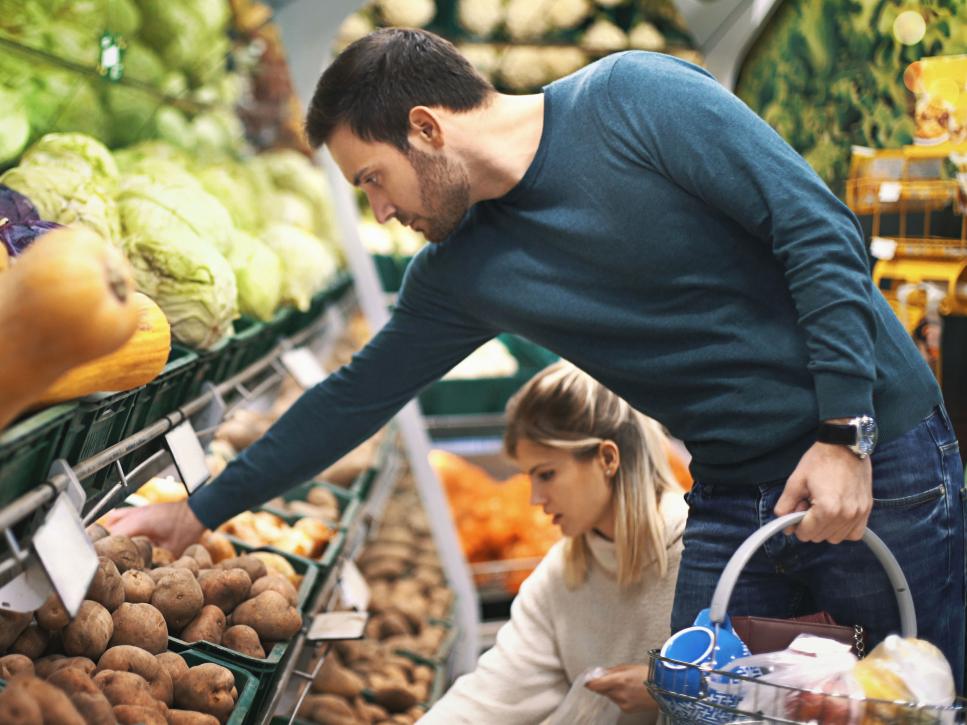 Tricks to avoid overspending at the supermarket....