Sure, you can up your calcium intake by drinking more milk – an 8-ounce glass has 30 percent of your daily needs. But there are plenty of other ways to get more calcium, including some dairy-free options.
Calcium Needs
The daily recommendation for calcium is 3 servings or 1000 milligrams a day. Calcium supplements can help, but calcium-rich foods should always come first. Here are 10 delicious ways to reach that daily goal.
1.  Sip On Smoothies
For a quick breakfast or post workout snack, add smoothies to your routine. Make with nonfat milk or yogurt and fresh or frozen fruit boost your calcium, vitamin C and protein intake.
But beware of some of those smoothie-shop drinks – see why those made our list of "Healthy" Foods to Skip.
2. Be Cheesy
Add calcium to your sandwiches, salads and pizza with smart portions of cheese. A serving (1.5 ounces) has 100 calories on average, and as much calcium as a ½ cup of milk. How much cheese is 1.5 ounces? Use our perfect portion guide to find out.
3. Snack On Yogurt
Lowfat or nonfat yogurt is a healthy and quick snack with as much calcium as a glass of milk. Check labels for a brand with vitamin D, which allows calcium to be absorbed.
4. Start (or Finish) Your Day With Oatmeal or Cereal
Add ice-cold milk to whole grain cereal or make oatmeal with milk instead of water  — you'll have 30 percent of your calcium needs covered by breakfast. A small bowl of cereal also makes a delicious, guilt-free late night snack.
5. Indulge in Ice Cream (In Moderation)
Even ice cream (my guilty pleasure) can provide you with 10 to 15 percent of your daily calcium needs. Whether you're a fan of vanilla or chocolate, use our tips next time you head to the ice cream parlor.

6. Go (Leafy) Green
One cup of cooked leafy greens, like spinach, kale, collard green and Swiss Chard, can have as much as 25% of your daily calcium.  They're also packed with vitamin K which is also important for healthy bones.

7.    Watch That Coffee
Certain foods and beverages actually block the absorption of calcium. Coffee and tea contain compounds that don't get along with calcium so keep them separate from the foods on this list.
8. Choose Fortified Juices
How about some calcium from your OJ? With as much as a glass of milk, juices with added calcium are another easy non-dairy option.
9.  Pour In The Soy Milk
Like some juices, soy milk is fortified with calcium as well as the other nutrients found in milk like vitamins A and D. Use it in smoothies, cereal, or even baked goods like these Banana Chocolate Chip Muffins.
10. Munch On Almonds
Crunch some calcium in trail mix or on top of oatmeal. One ounce of almonds (about 20 nuts) has 10 percent of the daily recommendation.
Dana Angelo White, MS, RD, ATC, is a registered dietitian, certified athletic trainer and owner of Dana White Nutrition, Inc., which specializes in culinary and sports nutrition. See Dana's full bio »

You Might Also Like:
More posts from Dana Angelo White.
Similar Posts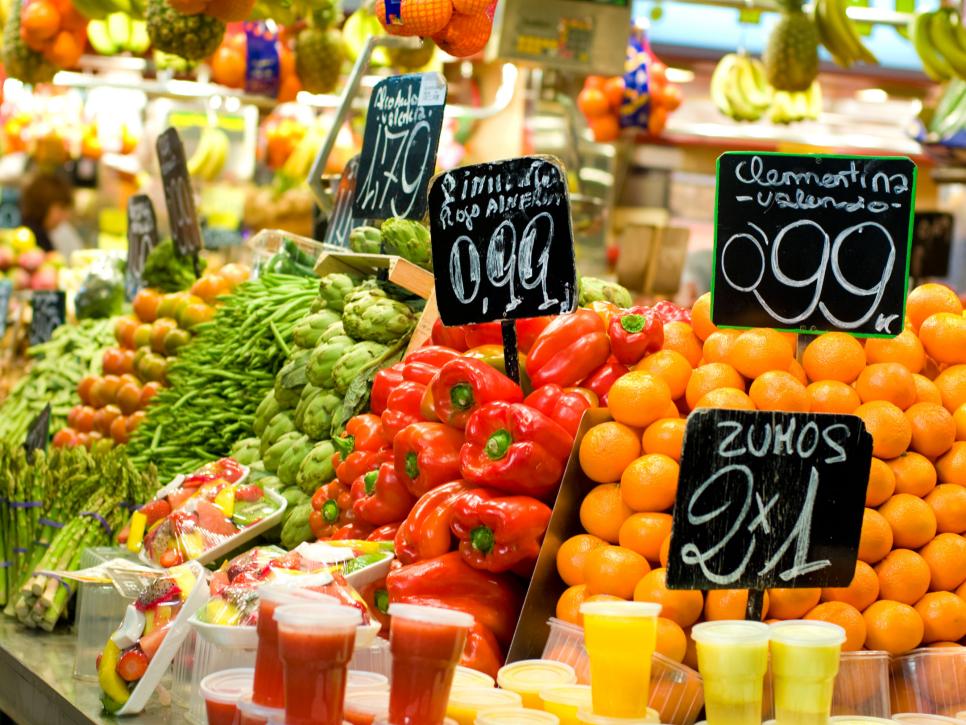 Stave off vacation weight gain with these easy, nutritionist-approved tips. ...