In this week's nutrition news: The American Cancer's Society unveils its "Choose You" program for women, dance classes spice up your exercise routine and lack of sleep linked to childhood obesity.
American Cancer Society Says to "Choose You"
A recent survey by the American Cancer Society found that most women don't take care of themselves. Of 2,000 women surveyed 90 percent said they don't really follow a healthy diet and 85 percent don't exercise at least 30 minutes 5 days a week. In response (and just in time for Mother's Day), they're launching a "Choose You" campaign. Women can log onto ChooseYou.com and pledge to commit to making healthy changes in five different categories to: eat right, get active, quit smoking, protect the skin or get a cancer screening. Studies have shown that making a commitment helps you stick to your goals. For more information on how to make a contract with yourself read this previous post.
Mario Batali Embraces Meatless Mondays
A few weeks ago we told you about this chef's efforts to green up his restaurants. But Mario Batali has gone even further and jumped on the Meatless Monday bandwagon joining celebrity supporters like Simon Cowell, Gwyneth Paltrow and Sir Paul McCartney. Every Monday each of his 14 restaurants will offer up at least two vegetarian options such as pastas or pizzas. A "MM" logo will identify the Meatless Monday options on the menu.
Dance Your Way To Health
Working out doesn't have to be boring, Every Friday my girlfriend and I take Zumba—a cardio workout where you dance to Latin, hip-hop and other international music. I enjoy the workout plus with three kids I can't even stay awake late enough to go out dancing. You can find various types of dance classes throughout the country that offer everything from Zumba to hip-hip—and you don't need to be a professional dancer. This Washington Post article describes a hip-hop program that is offered at a local dance school. TELL US: Would you take an exercise dance class?
Lack of Sleep May Lead To Teen Obesity
We know that eating too many sugary and fatty foods along with not enough physical activity can lead to obesity—now you can add lack of sleep to the list. A new study presented at the Pediatric Academic Societies annual meeting concluded that not getting enough sleep is a risk factor for childhood obesity. Researchers collected information from over 700 youngsters about their sleep and eating habits. The data showed that kids who slept for a shorter period of time had a higher body mass index and percentage body fat. This goes to show you that it is very important to get a good nights rest.
Rockstar Nutritionist Educates Kids
Finding new and exciting ways to teach children about nutrition is always a challenge. Meet Jill Jayne (a.k.a. the Rockstar Nutritionist) who uses music and lots of audience participation to get her message across. She was recently a keynote speaker for the Illinois Action for Healthy Kids Conference where she explained some effective ways to educate kids—including repetition. Commercials repeat their message until it gets stuck in your head, so that's what she does to get kids to remember nutrition. You can find out more about this Rockstar Nutritionist on her website.
Toby Amidor, MS, RD, CDN, is a registered dietitian and consultant who specializes in food safety and culinary nutrition. See Toby's full bio »
More posts from Toby Amidor.
Similar Posts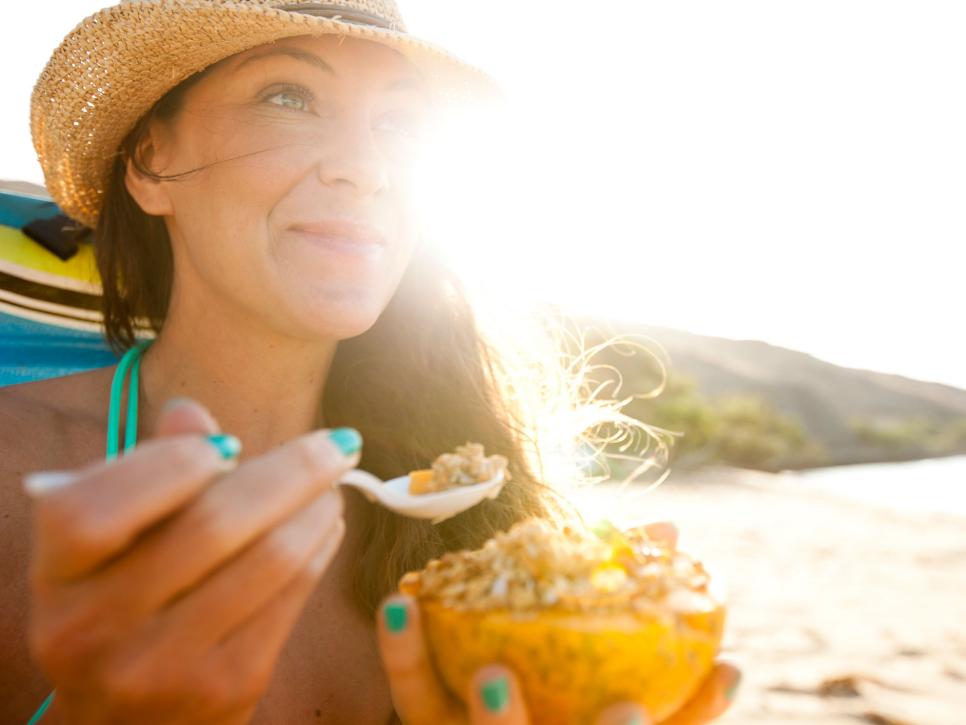 Are you overeating thanks to a deceptive "health halo?"...