Margaritas are perfect for celebrations (like this Wednesday's Cinco de Mayo), but pour lots of alcohol and sugary add-ins into a super-sized glass and you've got yourself a 600+ calorie cocktail! Skip the too-sweet drink mixes and opt for our fruity versions, all under 275 calories.

Classic Cocktail
A basic margarita recipe calls for hefty doses of tequila and citrus liqueur along with lime juice and some sweetness from simple syrup, sour mix or other bottled mixes. Those sugary mixes are the worst offenders, adding 7 teaspoons of sugar per serving! Get sweetness from fresh fruit juice instead – you'll get some extra vitamin C that way too. You also want to cut back on the booze. All that alcohol will cost you 100 calories per ounce on average — and it adds up fast.
The first step is downsizing from the gigantic glass to keep calories reasonable. What about the classic salted rim? Well, a sprinkle of salt is fine, but, again, don't choose a margarita glass with a 12-inch diameter! Use a smaller glass to cut the salt, or pass on the extra salt of you have high blood pressure.
Light and Fresh
For our Citrus Burst Margaritas (recipe below) we cut back on the alcohol and boosted the flavor with freshly squeezed citrus. We used a combination of 1/4 cup lime juice and 3/4 cup freshly squeezed OJ — lemon, tangerine, blood orange or grapefruit juice would also be delicious. Finally, we topped things off with a refreshing touch of fizz.
A few more tips:
•    Serve your cocktails in 8-ounce rocks glasses
•    Garnish with fresh fruit
•    Splurge on top shelf tequila – treat yourself to one good drink instead of a few cheap ones
Citrus Burst Margaritas
Serves: 4 (1 6-ounce glass each)
1 cup silver tequila
1/2 cup Triple Sec
1 cup freshly squeezed citrus juice
1/2 cup sparkling water
Sliced citrus for garnish
Kosher salt for glass (optional)
Combine ingredients in a pitcher and stir to combine. To serve, shake individual portions with ice in a cocktail shaker and pour over ice in a salt-rimmed glass, if desired. For frozen cocktails, blend ingredients in a blender with crushed ice.
Nutrition Info (per serving):
Calories: 273
Total Fat: 0 grams
Saturated Fat: 0 grams
Total Carbohydrate: 30 grams
Protein: 0 grams
Sodium: 145 milligrams
Cholesterol: 0 milligrams
Fiber:  0 grams
More Recipes to Try:
Dana Angelo White, MS, RD, ATC, is a registered dietitian, certified athletic trainer and owner of Dana White Nutrition, Inc., which specializes in culinary and sports nutrition. See Dana's full bio »

You Might Also Like:
More posts from Dana Angelo White.
Similar Posts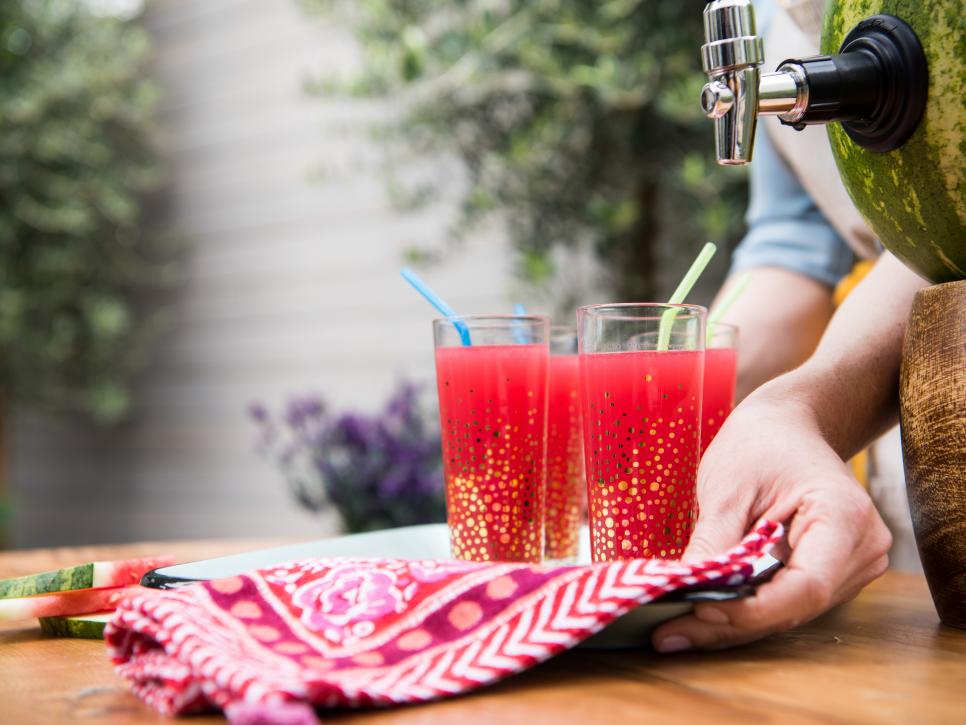 Tips and ideas for enjoying watermelon....