For a quick meatless meal, veggie burgers are a convenient choice. Since there are only a handful of popular brands out there, we turned to our Facebook fans to tell us their preferred flavors — then we tasted and ranked them. See how they stacked up.
The Char-Grilled Criteria
For this taste test, each burger was prepared according to the package directions, either on the stovetop or broiler. We focused on taste, texture and nutritional value and scored each burger on a 5-point scale (5 being highest). Price per patty was pretty consistent, ranging from $1.00 to $1.25.
Most burgers contained 3 to 4 grams of total fat and 4 to 5 grams of fiber. We focused on calories, protein and sodium. As you'll see, many of the burgers contain as much protein as (and sometimes more than) an old-fashioned hamburger.
Gardenburger Black Bean Chipotle
Rating: 4
Nutrition Info: 100 Calories, 5 grams Protein, 390 milligrams Sodium
Our Take: This burger is made from wheat, soy, brown rice, black beans and corn. Most of the ingredients were recognizable, though it did contain some preservatives. The patty had a chewy texture and a deliciously spicy kick to it. Each serving also contains 10 percent of your daily recommended vitamin C, one of the highest of all the choices.
Morning Star Spicy Black Bean Burger
Rating: 3.5
Nutrition Info: 120 Calories, 11 grams Protein, 250 milligrams Sodium
Our Take: This burger is made from TVP (texturized vegetable protein) and a combo of soy protein, black beans, brown rice and roasted corn. It contains eggs and milk, so it's not vegan like some of the other options. The taste was a bit too bean-y with a spicy aftertaste. However, it was my 8-year-old's  favorite of the bunch.
Dr. Praeger's California Veggie Burgers
Rating: 4.5
Nutrition Info: 110 Calories, 5 grams Protein, 250 milligrams Sodium
Our Take: This burger is made from oat bran and a variety of veggies (that you can actually see in the patty). It had a pleasant veggie-filled flavor and was the overall favorite for taste and consistency. The ingredient list was relatively short and most add-ins were recognizable. It had the highest amount of vitamin A with 50 percent of your daily recommended amounts.
Amy's All American Veggie Burger
Rating: 3
Nutrition Info: 130 Calories, 12 grams Protein, 390 milligrams Sodium
Our Take: This burger was made with organic veggies and grains and without any bioengineered ingredients. The patty is created from a combo of wheat, soy, walnuts, bulgur, oats  and veggies. There was an overly chewy consistency and you can subtly taste the "natural hickory smoke flavor" that is listed in the ingredients.
Boca Original Vegan Meatless Burgers
Rating: 2.5
Nutrition Info: 70 Calories 13 grams Protein, 280 milligrams Sodium
Our Take: Boca brand is known for their soy-based products, but it also contains wheat. It was the lowest in calories and total fat (0.5 grams) and tried a little too hard to taste like a real meaty burger (without all the juiciness). A fun fact on this burger — it's worth only one Weight Watchers point.
Bonus Burger: Sunshine Patties
While shopping at my local market, I came across a brown-rice-and-sunflower-seed veggie burger from Sunshine Burger. Although the brand is not widely distributed, it only contained five ingredients (compared to a laundry list of sometimes 20 or more in other varieties). It had a pleasant smell and taste, plus  you could see and taste the sunflower seeds. Check out your grocery or local natural foods store for sunflower-based burgers from this company or a similar brand.
TELL US: What's your favorite veggie burger?
Other taste tests:
Toby Amidor, MS, RD, CDN, is a registered dietitian and consultant who specializes in food safety and culinary nutrition. See Toby's full bio »
More posts from Toby Amidor.
Similar Posts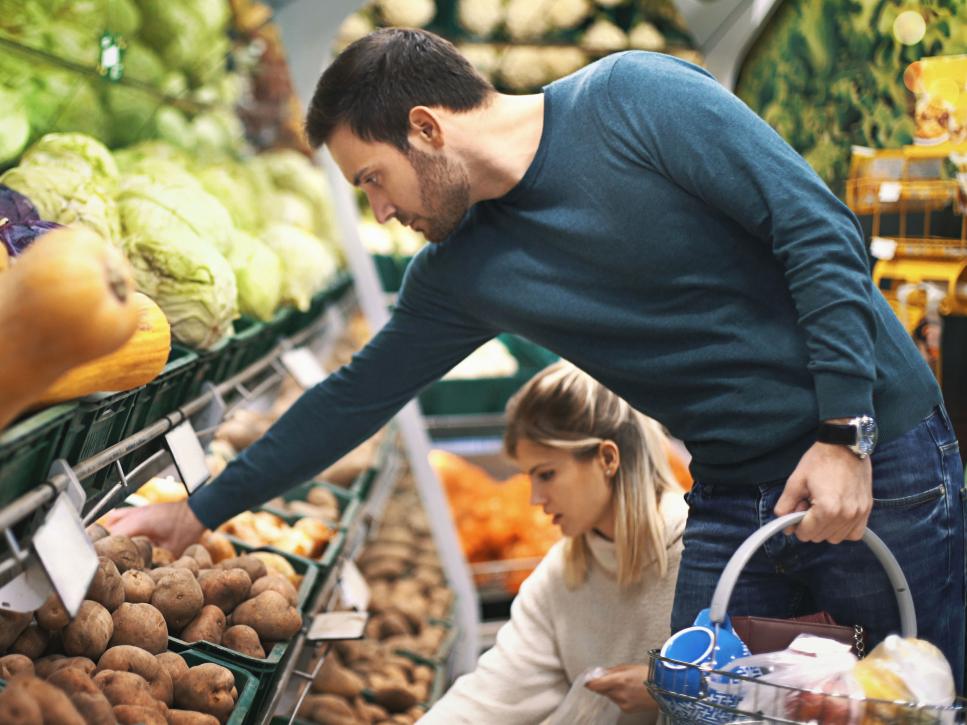 Tricks to avoid overspending at the supermarket....