I heart fish. I love to cook and eat them — knowing they are really good for me is even better. However, I get tired of the same old thing: cod, salmon and tilapia. To spice it up, I've started mixing in hake and turbot — what I refer to as "the other white fish." Never tried these? Here are two dishes to start with.
What Is Hake?
Popular in Spanish and other Mediterranean cuisines, hake is similar to cod and has a mild, slightly sweet flavor. When cooked, its texture becomes flaky and delicate. You can easily pan sear, sauté or roast hake. I love pairing this inexpensive fish with fresh, bright herbs such as dill and chives and adding it into colorful recipes.
Hake With Oven Roasted Tomatoes
This simple dish comes together in no time. You can sub cod, tilapia or other white fish, too.
Servings: 4
1 pint cherry or grape tomatoes
2 tablespoons extra-virgin olive oil, divided
4 garlic cloves, whole
Salt and pepper, to taste
1 1/2 pounds hake, divided into four pieces
1 lemon, juice and zest
1 tablespoon fresh dill, chopped
Preheat the oven to 425 degrees Fahrenheit. Cut the tomatoes in half. Toss them in a large bowl with 1 tablespoon olive oil, garlic, salt and pepper. Transfer to a baking sheet, cut side up, and roast until soft and juicy, about 20 minutes.
While tomatoes are cooking, place cod on a baking pan. Season with salt, pepper, lemon juice, lemon zest and remaining olive oil. When the tomatoes have about 10 minutes of cooking to go, place cod in 425-degree oven and bake for 8 to 10 minutes or until flaky but moist. Remove the cod and tomatoes from the oven. Toss tomatoes with dill and top fish with the mixture.
Nutrition Info:
Calories: 190, Fat: 8.25 grams, Protein: 23 grams, Carbohydrates: 6 grams, Sugar: 3 grams, Cholesterol: 52 milligrams Sodium: 71 milligrams,  Fiber: 1 gram
Trying Out Turbot
Turbot is a large, flat fish that comes from the shallow waters of the Mediterranean and North Atlantic, to name a few places. This fish has wonderfully meaty fillets that have an almost buttery flavor; it tastes rich and decadent with little added fat. Turbot is a bit on the expensive side but worth the extra cost. I like to prepare turbot with more earthy flavors such as mushrooms and thyme.
Turbot With Wild Mushrooms (shown above)
This is always a favorite in my house. You can substitute lemon sole, halibut or any white flaky fish.
Servings: 4
1 1/2 pounds turbot, split into 4 pieces
2 lemons, juiced
2 teaspoons lemon zest
4 cups wild mushrooms
2 tablespoons parsley, chopped
2 teaspoons fresh thyme, chopped
1 tablespoon olive oil
Salt and pepper, to taste
Preheat oven to 400 degrees Fahrenheit. Place turbot in a baking dish, skin side down. Season fish with salt and pepper and the juice of one lemon. Bake in oven for 8 to 10 minutes or until flaky but moist.
While fish is cooking, heat the oil in a sauté pan. Add the mushrooms, the juice of the other lemon and the lemon zest. Cook 5 minutes or until mushrooms are tender. Add parsley the parsley and thyme and season with salt and pepper. Cook 1 to 2 minutes and then top each piece of fish with 1/4 of mushroom mixture. Serve.
Nutrition Info:
Calories: 212, Fat: 8.7 grams, Saturated Fat: 1.81 grams, Protein: 29.5 grams, Carbohydrates: 4.3 gram, Cholesterol: 81 milligrams, Sodium: 325 milligrams, Fiber: .79 grams
More posts from Katie Cavuto-Boyle.
Similar Posts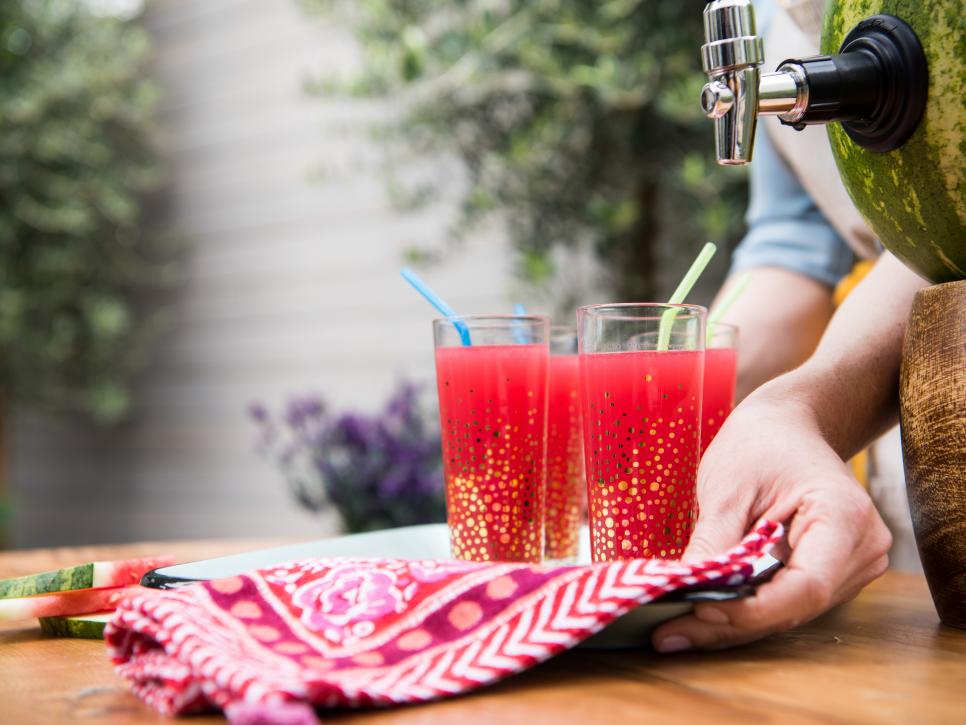 Tips and ideas for enjoying watermelon....