These days, who's not watching their wallets along with their waistlines? After some number crunching, we came up with top foods that give you maximum nutrition for your food buck.
1) Eggs
Instead of expensive chicken, fish or beef for dinner, why not cook up a veggie omelet or frittata (my new favorite way to cook eggs!)? An egg-cellent source of protein and the antioxidant lutein (for healthy eyes, skin, and heart), one large egg contains 75 calories and 6 grams of protein. Boil up a few and store them in the fridge for a quick grab-and-go snack. I even pack a hard-boiled egg in my five-year-old's lunch box at least once a week. A dozen large eggs range from $2 to $3.20. If you buy them in 1.5 dozen packs or larger (bulk warehouses sell seven to eight dozen packs), you'll pay even less per egg. If that's too many eggs for your fridge basket, split them with a friend.
2) Oranges
Add affordable fruits to your weekly shopping list — oranges, apples, and bananas. In season now are vitamin C-rich oranges, so you'll find them at the best price (about 50 cents each). In the fall, fill your cart up with fresh apples. You'll find bananas at a great price year-round (I've recently seen them at 19 cents each). Use these bargain fruits as snacks and cereal toppers (as opposed to some of the more pricey berries and tropical fruits). Frozen bananas also make a tasty addition to healthy fruit smoothies.
3) Oats
The large canisters of plain rolled oats — not those single-serving, sugary ones — will give you the most for your dollar. One serving of oatmeal (made from a half-cup of dry oats) contains 150 calories, 5 grams of protein and 4 grams of cholesterol-friendly fiber — all that for a mere 30 cents. Dress up your oatmeal with those budget-friendly fruits listed above or mix in a tablespoon of peanut butter (another food that deserves honorable mention for being budget-friendly). Add rolled oats to your smoothie or cookies for a little extra fiber.
4) Canned Tomatoes
This time of year, fresh tomatoes will cost you a pretty penny. But you can still get plenty of the antioxidants vitamin C and lycopene from the canned varieties. The larger the can, the more you'll save. A 48-ounce can of crushed tomatoes costs around $1.50 (that's 5 cents per ounce!). Add crushed tomatoes to soups, stews, chili and pasta dishes. Read up on more ways to cook with canned tomatoes.
5) Non-Fat Yogurt
Full of calcium and a good protein source, this creamy treat is an easy breakfast or on-the-go snack. But the real superstars in yogurt are those healthy, live bacteria called probiotics. They help your body fight off bad bacteria and keep your digestive system in tip-top shape. Choose yogurt made with skim milk and without sugar substitutes. The generic brands cost less, especially if you find them in large 32-ounce tubs. They will save you 20% for the same amount in single-serve containers. If you're looking to eat less sugar, choose plain yogurt and top with your favorite add-ins — raisins, chunks of fruit or a few tablespoons of granola. Helpful hint: Since yogurts have a  shelf-life of a few months, you'll often find your favorite yogurt on sale (the stores must get them off the shelves) so check the weekly circular.
More posts from Toby Amidor.
Similar Posts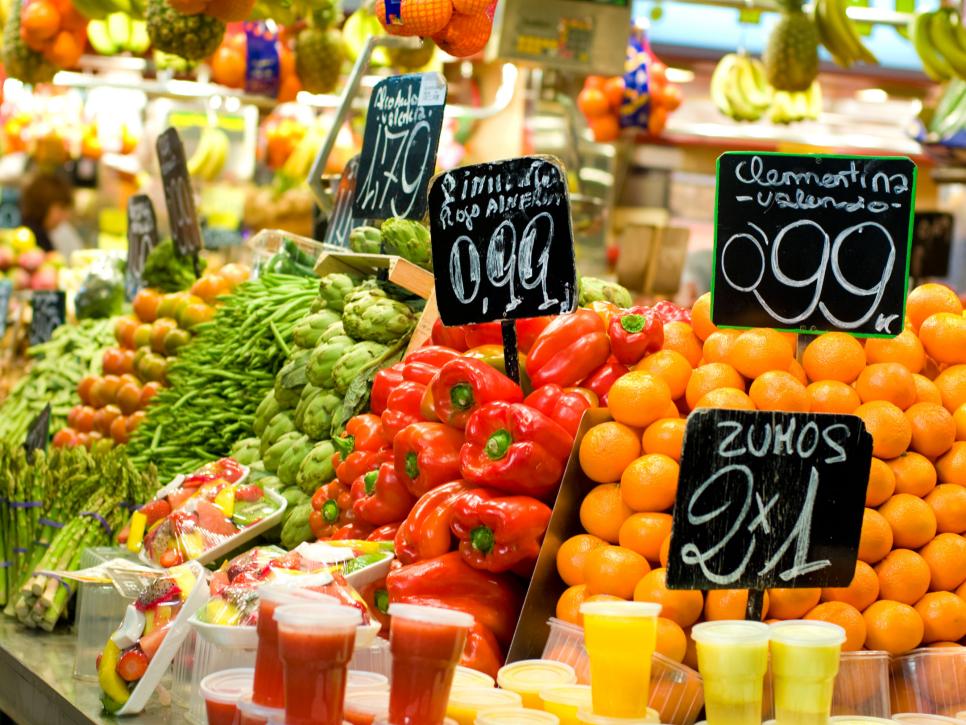 Stave off vacation weight gain with these easy, nutritionist-approved tips. ...