Perfect for guacamole or tossed on a salad, pebbly-skinned avocados are excellent during the winter months. Here are the avocado basics and a few healthy dishes to make today.
What, Where & When?
Avocados are truly an ancient delicacy, dating back to sometime between 7,000 to 5,000 B.C. Archeologists in Peru have found avocado seeds buried in Incan tombs; the Incans believed the seeds had aphrodisiac powers they could use in the afterlife.
In 1833, Florida was the first state to see avocados, and by 1871, they had become a major crop in California. Today, the top producers of this fruit are the United States, Mexico and Chile. California grows more than 90% of the avocados we eat in the U.S.
The two main avocado varieties are hass and fuerte. Hass avocados are blackish in color with a pebbly texture, while fuertes are green with a thin smooth skin (they're mostly grown in Florida). Inside, avocados have a green flesh, buttery texture and slightly nutty flavor. They vary in size from 3 ounces to 4 pounds and can be round or pear-shaped. The freshest avocados are available from winter through spring, depending on where they are grown.
Nutrition Facts
Avocados are pretty calorie-dense fruits, so you want to keep portions small. An entire avocado has 250 calories! Stick to one-fifth of a medium avocado (about an ounce), which has 50 calories and a healthy dose of the mono and polyunsaturated fats.
A serving of avocado also contains 2 grams of fiber and a handful of vitamins and minerals such as vitamin C, vitamin K, folate and potassium. They also contain lutein, an antioxidant that helps maintain healthy eyes, skin and hair, and the plant sterol beta-sitosterol, which helps maintain healthy cholesterol levels.
What To Do With Avocados
Avocados make a mean guacamole, which is perfect for your Cinco De Mayo celebration or just a party. But don't stop there — toss raw, sliced avocados in a salad or add pieces to the top of chili. Serve up fresh slices with crackers and cheese or try using mashed avocado as a substitute for mayo or butter in a sandwich. Spices that go well with avocados include cayenne, chili powder, chives, cilantro and paprika.
Slicing avocados can get tricky with the large pit right in the center — if you handle them too much, they can bruise. Here are three steps to remove the seed:
1. Cut all the way around the avocado lengthwise and twist the two halves until they separate.
2. Take the edge of a sharp, heavy knife and whack the pit so the knife becomes slightly embedded.
3. Twist the knife to loosen the pit from the flesh, then lift the knife so it pulls the pit with it.
For more information on avocados, check out this cool video featuring Food Network chefs explaining their love of the green fruit.
Shopping Tip: Choose avocados that firm but yield to gentle pressure. They should be heavy for their size without blemishes. If the fruit isn't ripe, place it in a paper bag for two to four days. Once ripe, avocados keep in the fridge for several days. After they're sliced, avocado flesh quickly browns— so cut up the avocado at the last minute or add a squeeze of lemon or lime juice. Sometimes leaving the pit in can delay the browning, too.
More posts from Toby Amidor.
Similar Posts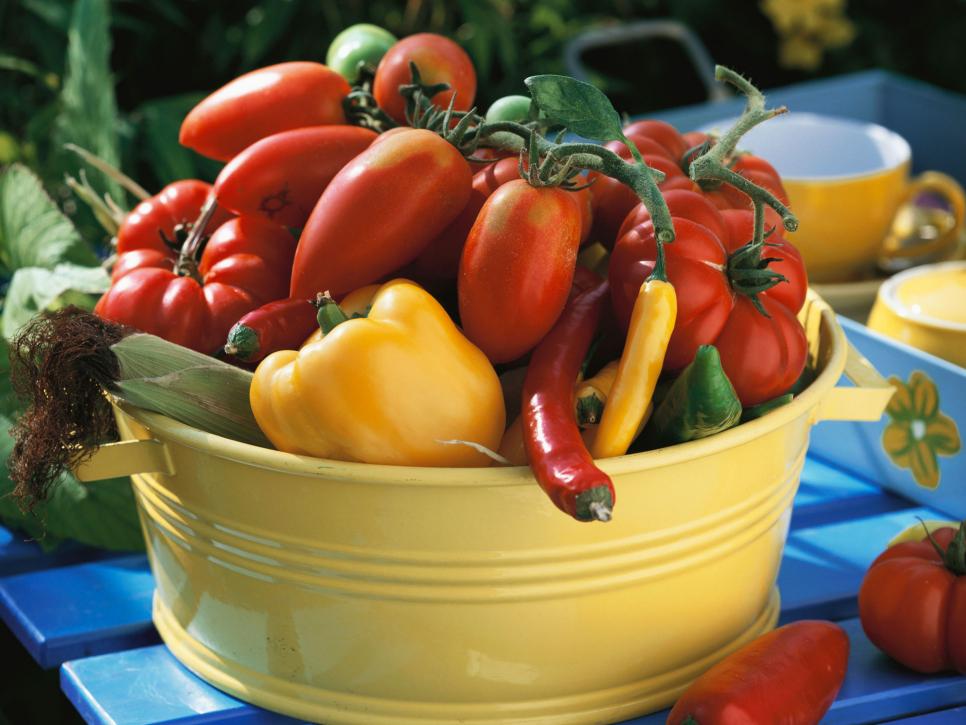 Check out these fresh ways to use an abundance of summer produce....