The winter months can get a bit mundane when it comes to fresh, local produce, so I am always trying to find ways to enjoy the few seasonal ingredients available. During the summer, salads are a staple at my house, but the days of local arugula and spring mix are long gone. Not to fret — radicchio and endive, two winter lettuces, are packed with flavor and nutrition and are the perfect, minimal-calorie addition to any salad or meal.
Radicchio
Radicchio is in the chicory family (it's often called Italian chicory) and has gorgeous dark reddish purple leaves with vibrant white veins. It has a bitter, almost spicy, flavor that pairs wonderfully with sweet and savory flavors such as citrus and honey.
There are several different varieties of radicchio, such as Chioggia and Treviso, which looks similar to Belgian endive but is red. Radicchio is popular in Italy, where cooks add it to pasta, risotto and salads or grill and sauté it or eat it as is. Radicchio is extremely low in calories (1 cup shredded has 9 calories) and loaded with fiber, iron, folate, antioxidants, vitamin B6, vitamin E and vitamin C, to name a few.
Endive
Endive is also in the chicory family and boasts the same bitter flavor as radicchio. Varieties include the pale yellow spears of Belgian endive, frisee (curly endive) and escarole. Escarole and frisee are less bitter than Belgian endive but all are rich vitamins, folate and fiber. Belgian endive leaves have firm centers with delicate outer edges that are great for holding fillings such cheese, fruit and meat — they make creative appetizer vessels.
The bitterness of radicchio and Endive may turn some folks off, but the lettuces become more mild as they cook so you can find ways to enjoy them. Here are a few quick and simple ways I like to serve up these beauties.
Roasted Endive and Radicchio with Parmesan and Balsamic Glaze
Serves 8
2 heads of radicchio, cut into 8 segments
4 heads of endive, quartered lengthwise
4 cloves of garlic, crushed
2 tablespoons olive oil
2 ounces Parmesan cheese, freshly shaved
2 tablespoons balsamic glaze
Salt and pepper, to taste
Preheat oven to 425.
Toss radicchio and endive segments with olive oil, salt, pepper and garlic. Spread the lettuce in a single layer on a sheet pan. Roast in oven for 15 to 20 minutes or until edges are tender and inside is warm but still crisp.
Arrange roasted veggies on a platter. Top with freshly shaved parmesan and drizzle with balsamic glaze/syrup.
Nutrition Info: 83 calories, 5.5 grams fat, 1.7 grams saturated fat, 3.6 grams protein, 6 grams carbohydrates, 4.8 milligrams cholesterol, 204 milligrams sodium, 2 grams fiber
Sautéed Radicchio with Shallots and Cannellini Beans
Serves 4
1 head of radicchio, chopped
1 tablespoon olive oil
2 large shallots, sliced
1 clove garlic, thinly sliced
1 (15 ounce) can cannellini beans, rinsed and drained
Salt and pepper, to taste
Optional: pinch of hot red pepper flakes
In a large skillet over medium heat, add the olive oil, shallots and a tiny pinch of salt. Cook 4 to 5 minutes until tender. Add the radicchio and garlic and cook 4 to 5 minutes, tossing several times to wilt. Add the beans, season with salt and pepper (and hot red pepper flakes if desired). Toss to combine and heat through. Serve warm.
Nutrition Info:
150 calories, 4.6 grams fat, .54 grams saturated fat, 7 grams protein, 21 grams carbohydrates, 0 milligrams cholesterol, 196 milligramssodium, 5.5 grams fiber
TELL US: How do you like to serve endive and radicchio?
More posts from Kristine Brabson.
Similar Posts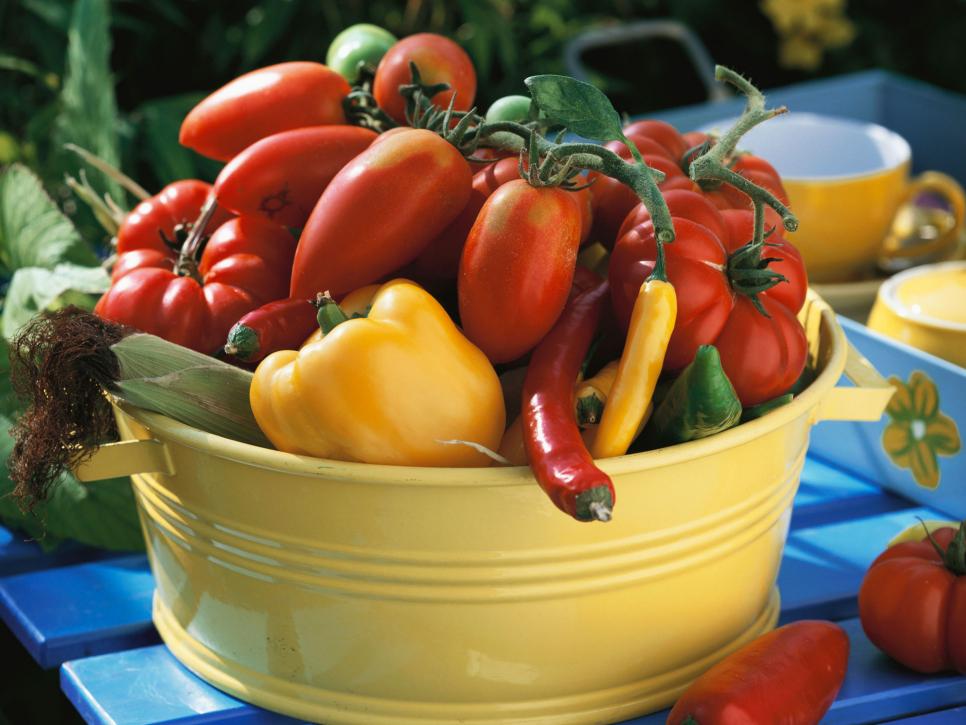 Check out these fresh ways to use an abundance of summer produce....