There's no lack of choices at Thanksgiving, but certain seasonal foods should take top priority. If you're going to indulge, why not fill up on the flavor-filled, good-for-you stuff? Here's our top 10 picks for your plate.
1. Sweet Potatoes
A medium baked sweet potato racks up only 105 calories, but sports 4 grams of fiber and more than 400% of your daily dose of Vitamin A (in the antioxidant form of beta-carotene). Its dark orange flesh contains the antioxidant lycopene (good for your heart and your eyes, and also found in tomatoes).
RECIPE: Sweet Potato Soup
2. String Beans
Also known as green beans, fresh strings beans add a burst of color to your plate for only 34 calories per cup. They're chock full of fiber too — tackling 15% of your daily need. For the freshest flavor, ditch the canned or frozen stuff and pick up a bunch at your farmers' market or produce stand — they're in season right now.
RECIPE: Green Beans with Lemon and Garlic
3. Turkey
Skinless turkey breast is one of the leanest proteins around. One ounce of cooked white meat contains 38 calories per ounce and a minuscule amount of fat. So dig into those turkey leftovers, just be mindful of your portions (stick to four ounces) and try not to drown your meat in gravy.
RECIPE: Herb-Roasted Turkey Breast
4. Cranberries
What's Thanksgiving turkey without cranberry sauce? These low calorie berries contain 46 calories per cup and 22% of your daily recommended vitamin C. They also contain antioxidants and other plant compounds that help prevent heart disease and cancer.
RECIPE: Perfect Cranberry Sauce
5. Pumpkin Seeds
We all love pumpkin but most folks forget about those seeds! Either roast your own or pick some up at the market for a holiday treat. An ounce of pumpkin seeds has 126 calories and lots of heart-healthy omega-3 fats. Toast them up in less than 10 minutes and enjoy as a pre-meal munchie.
RECIPE: Toasted Pumpkin Seeds
6. Brussels Sprouts
These members of the cruciferous veggie family (a.k.a. the cabbage family) contain a great cancer-fighting plant compound. Better still, a cup contains 56 calories, almost double the recommended daily dose of vitamin C and close to triple the recommended daily dose of vitamin K (good for bone health).
RECIPE: Roasted Brussels Sprouts
7. Parsnips
They may not be the sexiest veggie, but parsnips are a sweet, nutty carrot alternative — and they're in season now! A cup of raw parsnips contains 100 calories and a good amount of folate, which helps create red blood cells, and vitamin K, which helps our blood clot. Think about mashing, roasting or steaming them for a delicious side.
RECIPE: Herbed Butter Parsnips (shown above)
8. Oranges
With the beginning of flu season here, there's no better reason to add oranges to your plate. One medium orange contains 70 calories and 138% of your daily recommended dose of cold-fighting vitamin C. Use the orange flesh, juice and peel to add extra zing to such Thanksgiving dishes as cranberry sauce, green beans, salads and desserts.
RECIPE: Orange, Radish and Mint Salad
9. Winter Squash
Take your pick: butternut, spaghetti, acorn, buttercup or hubbard. This family of winter veggies contains 76 calories per cup and is an excellent source of vitamin A. A typical winter squash also contains the antioxidant vitamin C and energy-boosting B6 and folate. My absolute favorite Thanksgiving side is pureed butternut squash.
RECIPE: Maple Squash Puree
10. Whole Grains
Whole grains are full of fiber and an excellent source of the antioxidant vitamin E. Instead of plain old white bread for stuffing, switch to whole wheat bread. Or go a step further and try wild rice and bulgur. Trade out half the white flour in cornbread and roll recipes for whole wheat flour instead.
RECIPE: Wild Rice and Bulgur Stuffing
More posts from Toby Amidor.
Similar Posts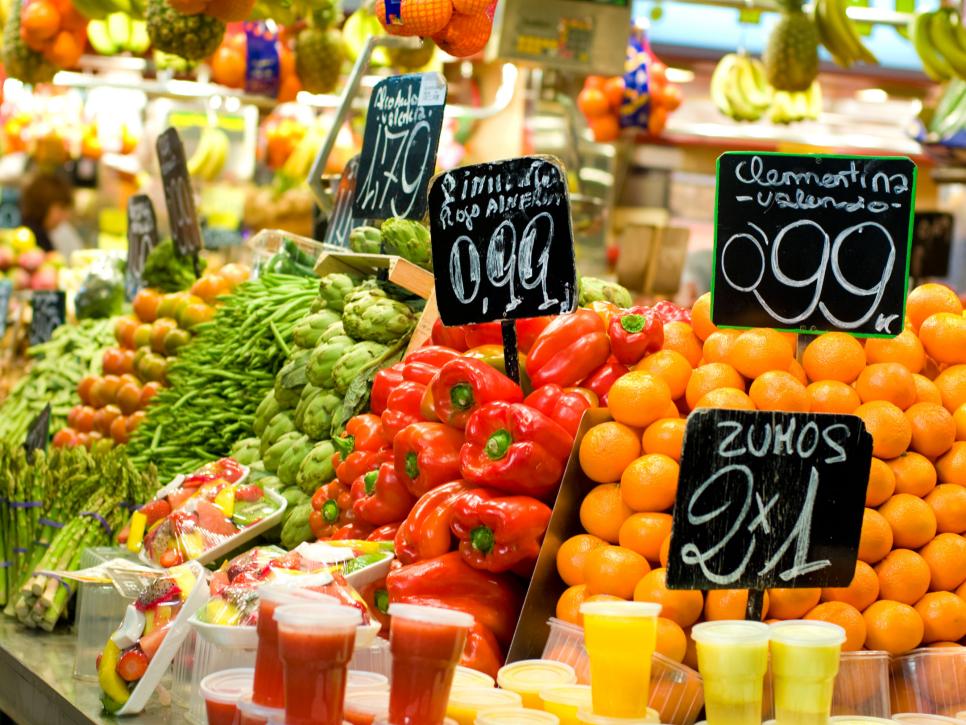 Stave off vacation weight gain with these easy, nutritionist-approved tips. ...