Pomegranates have become the poster fruit for healthy eating and not without reason — they're beautiful, delicious and full of vitamins. Here are some fun pomegranate facts and creative ways to prep this luscious fruit.
What, Where & When
The name comes from the Latin words pomum granatum, which literally means "seeded apple." It's the oldest known fruit; experts trace its origins back to northern India and Iran. The Spanish conquistadors brought the pomegranate to America in the early 1500s.
There are 14 varieties of pomegranate that grow throughout the world, in places including Asia, the Mediterranean, the Middle East and California. Available in October and November, most U.S. pomegranates come from California's San Joaquin Valley (which is also where POM orchards are located). "Wonderful" is the most common variety eaten in the U.S. Other popular varieties include "Grenada," "Early Wonderful" and "Early Foothill."
The seeds are what you want from this succulent fruit. After you open one, you'll find hundreds of them packed into little compartments that are separated by bitter-tasting, whitish membranes. Each seed is surrounded by a transparent red pulp that is sweet yet tart — that's the tasty stuff.
Nutrition Facts
All the press has gone to pomegranate juice, but nothing can replace the real deal. Half of a pomegranate (the equivalent of two servings of fruit) contains 117 calories, 26.5 grams of carbs and 5.5 grams of fiber. This red beauty is also an excellent source of vitamin C , vitamin K, folate and potassium and a good source of numerous energy-boosting B vitamins and phosphorus.
But wait, there's more! This exotic fruit is jam-packed with polyphenols, antioxidants linked to the prevention of heart disease and cancer. One study published in the Journal of Biomedical Biotechnology found that pomegranate juice has three times more polyphenols than both red wine and green tea. How 'bout them "seeded apples"?
What To Do With Pomegranates
Opening a fresh pomegranate takes some practice. I take the traditional approach of slicing the fruit in half and prying out the seeds with my hands (I know — a lot of work!). An easier technique is to slice the crown end off and slit the rind vertically in several places from top to bottom (check out this step-by-step slideshow). Then, place the fruit in a bowl of water, and break the sections apart. The seeds will sink to the bottom while the rind and membrane will float. Collect the seeds in a colander, and drain off the excess water.
Once you've gathered enough seeds, use a food processor to turn them into fresh pomegranate juice. Don't forget to strain the results through a fine mesh sieve to catch stray seeds. You can store the juice in the freezer for up to a month.
Besides eating them fresh and making juice, pomegranate seeds work great in salads. They go well with veggies such as spinach, jicama and endive and fruits such as apples, melons and oranges. Make a pomegranate glaze to up the flavor of sweet-and-savory chicken or pork. Or try mixing the juice with sparkling wine or vodka — the most delicious cocktail you've ever tasted. You can sprinkle in a spoonful of seeds for extra flavor and pizazz.
Shopping Tip: Look for fruits with shiny, smooth skins that are heavy for their size, brightly colored and free of blemishes. Unopened, pomegranates will last in the fridge for up to two months, or store them in a cool, dark place for a month. You can keep seeds in the refrigerator for about three days or freeze them for up to six months.
More posts from Toby Amidor.
Similar Posts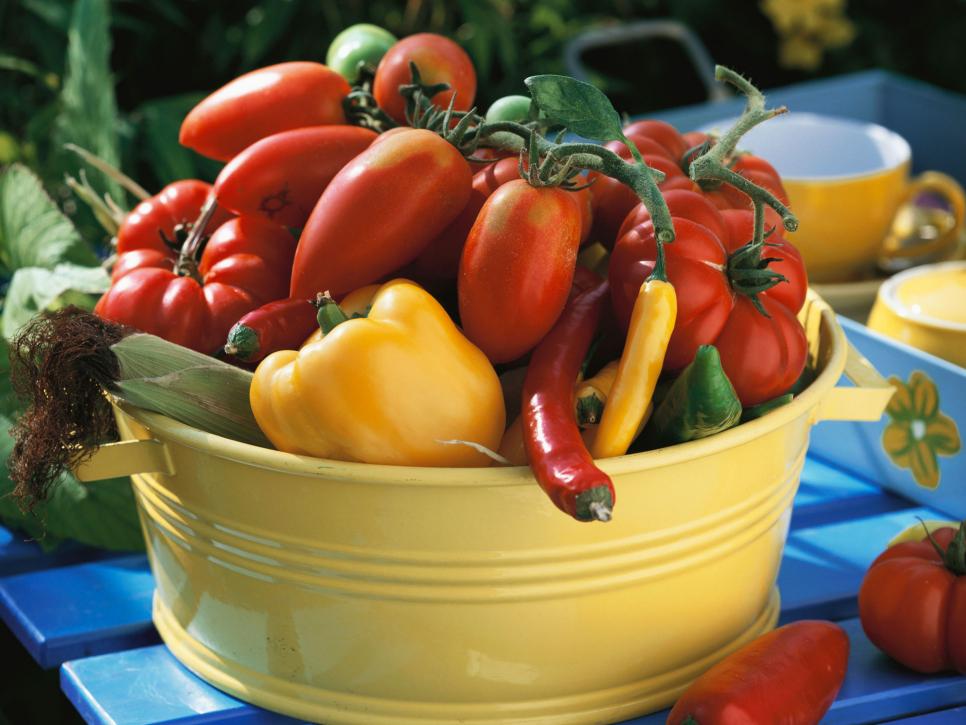 Check out these fresh ways to use an abundance of summer produce....