Carrots have a bad rep as "rabbit food," but there's nothing boring about them. With all their flavor and health benefits, they're worth celebrating this time of year, and we've got recipes for the occasion — plus, the story behind baby carrots.
What, Where & When?
Appearing in farmers' markets as early as May, fresh carrots are available through December in some parts of the country. Even though orange is the classic color, you can find purple, yellow, red and white varieties. Carrots are also unique because they grow downward into the soil instead of upwards towards the sun.
Carrots can range in length from three to nine inches. Here's the truth: Most of the "baby carrots" you see in the grocery store are actually full-grown carrots that have been chopped and whittled down to to that miniature appearance. Some farmers do this so they can use up deformed carrots instead of tossing them. Because the carving process removes the outer layer of skin, carrot "babies" are dipped into a bath of chlorinated water before packaging to preserve freshness and kill bacteria. The process is considered safe, but you can always avoid it by cutting up your own full-size carrots. Read this USA Today article to learn more about the birth of baby carrots.
Nutrition Facts
You can eat a whole cup of carrots for fewer than 55 calories! They're also one of the best sources of beta-carotene around. That's the antioxidant form of vitamin A, which helps maintain good eyesight and protect the body from heart disease and certain types of cancer. Eating carrots will also give you fiber, vitamin C, vitamin K and potassium.
What To Do With Carrots
Don't get stuck on carrot sticks! Carrots' sweet and aromatic quality means they pair well with everything from brown sugar to curry powder to just a drizzle of olive oil and sea salt. Use them raw in salads, slaws, sandwiches and juices. I'm always amazed how delicious a classic shredded carrot salad with raisins, vinegar and spices can be.
Cooking carrots really brings out their sweetness. I love them roasted, grilled or boiled and mashed with other root veggies such as parsnips, turnips and sweet potatoes. If you've got a sweet tooth, try baking them into breads, cakes, muffins and cookies. They add natural sweetness and help to keep your baked goodies moist.
Shopping Tip: Choose carrots that are firm and brightly colored. Cut off the green leafy top, if it's attached, and store your bunches in the refrigerator for up to two weeks. Carrots like the cold, so the bottom of the produce drawer is a great spot to stash them.
More posts from Dana Angelo White.
Similar Posts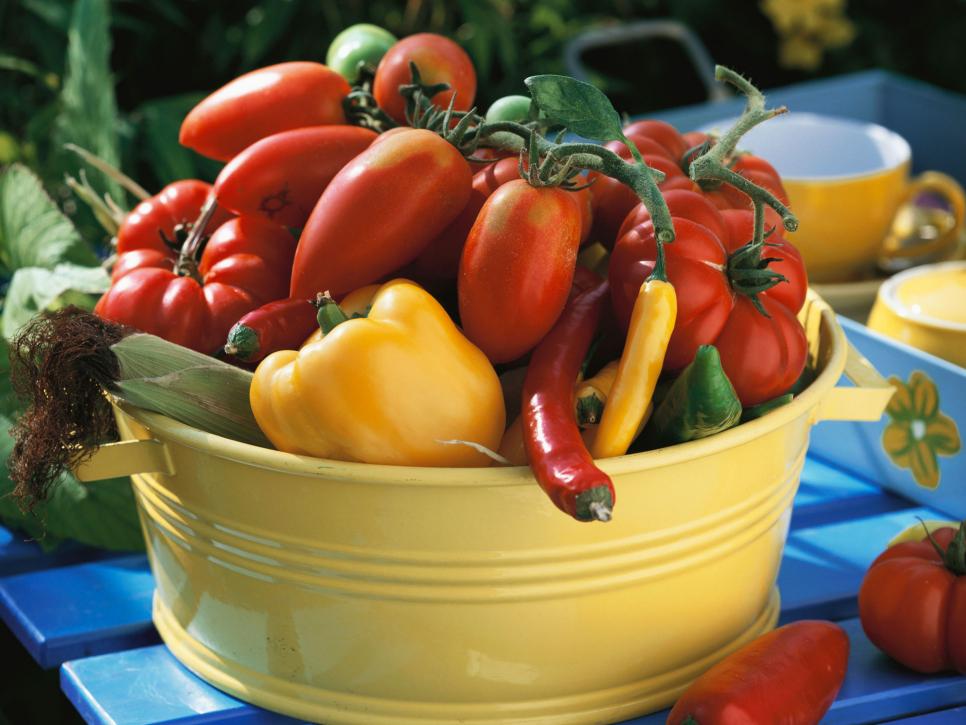 Check out these fresh ways to use an abundance of summer produce....