I had the pleasure of traveling back to my culinary school stomping grounds last weekend — Providence, Rhode Island. While there, we decided to grab a glass of wine at Al Forno restaurant and, of course, have one of their famous pizzas. With all the fresh summer herbs in season, I've been on a serious pesto kick lately, so I was super excited when the waiter announced that night's "special" pizza was a kale pesto pizza! Yep, pesto made from kale. I love, love, love kale and I especially love pizza — so what could be better? Well, my expectations were blown away. The pizza, of course, was phenomenal, but the kale pesto was the star of the show. Mild and smooth, this was one of the best pestos I've ever had and so unique to boot.
With kale pesto on the brain, I decided to add it to the menu of my weekly cooking class. Though it was a first for me, I was pleasantly surprised that my recreation was as wonderful as its inspiration. Below is my variation, which I spread on crusty bread and top with seasonal heirloom tomatoes. This pesto is an unusual way to get some dark leafy greens into your diet. You can also pair it with pasta and roasted veggies or spread some on a small pizza. You're going to love it!
Crostini with Kale Pesto and Heirloom Tomatoes
Servings: 7 (2 pieces each)
Ingredients:
• 1/2 to 3/4 bunch curly kale, thick stems removed (makes 1 to 1 1/2 cups cooked and drained)
• 1/3 cup pine nuts
• 2 garlic cloves
• 1 cup flat-leaf parsley leaves
• 1/4 cup chives
• 1/3 cup extra-virgin olive oil
• 2 tablespoon water
• 1/2 cup freshly grated Parmesan cheese
• 1 lemon, juiced and zested
• Salt and pepper to taste
• 4 sliced heirloom tomatoes
• 1 loaf crusty whole-grain baguette
• Cooking spray
Preheat your grill. Bring a large saucepan of water to a boil. Add the kale and cook for 30 seconds (the kale should be bright green and crisp but tender). Rinse immediately under cold water. Squeeze dry.
In a food processor, pulse the pine nuts, garlic, parsley, kale, chives, cheese and lemon juice. Add the olive oil and process to smooth. Season with salt and pepper (this recipe is calculated with 1/4 teaspoon of salt). Slice bread on an angle and mist with cooking spray. Grill for 1-2 minutes per side, until crispy. Spread each slice of grilled bread with 1/2 tablespoon of the pesto and top with a tomato slice.
Note: You will have leftover pesto. You can keep this chilled in your refrigerator for a couple days.
Nutrition Info:
Calories: 208
Protein: 6 grams
Carbohydrates: 26 grams
Fat: 7.7 grams
Saturated Fat: 1.35 grams
Cholesterol: 1.1 milligrams
Sodium: 390 milligrams
Fiber: 2.41 grams
Katie Cavuto Boyle, MS, RD, owns HealthyBites, LLC and competed on The Next Food Network Star. Catch the season finale tonight (Sunday at 9 pm) on Food Network.

More posts from Katie Cavuto-Boyle.
Similar Posts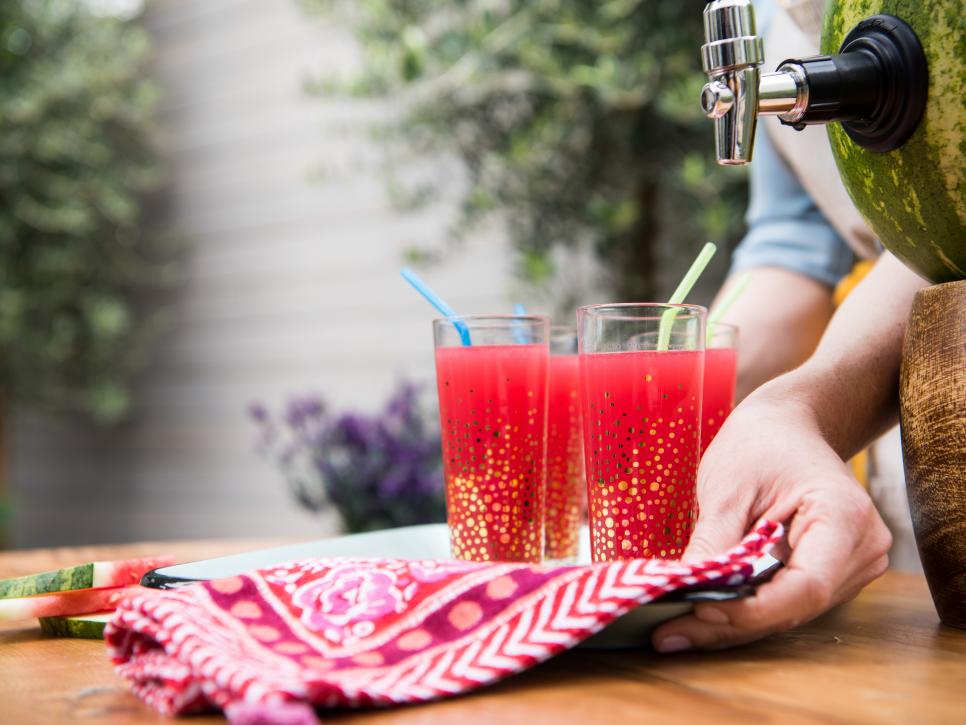 Tips and ideas for enjoying watermelon....