Let's face it — most of us could do more for our bones. An estimated 44 million Americans are at risk for, or have, osteoporosis, a disease where bones become increasingly fragile and sometimes fracture. Though women are 4 times more likely to suffer from osteoporosis, men are affected as well. Exercise and some medications can help, but what you eat plays a vital role. Whether you're worried or not, you can't go wrong incorporating more of these foods into your daily routine.
Nutrients to Know
When it comes to bone health, your most prized nutrients are calcium, vitamin D and magnesium. Calcium is the essential mineral for bone-building — 98% of our body's calcium is found in the skeleton. Calcium gives strength and stability to our frames. Pretty important, right? Vitamin D, meanwhile, helps our bodies absorb calcium and keep our total body calcium levels in check. As for magnesium, this mineral helps in bone formation and aids in preventing fragility — our bones contain more than half of our body's overall magnesium.
Dairy
Milk, yogurt and cheese are high-calcium foods that also contain healthy protein and a host of other vitamins and minerals (milk, for example, also has some magnesium and added vitamin D). One cup of milk has about 30% of your daily calcium and 25% of your vitamin D. Stick to the low-fat (1%) or non-fat versions of milk and yogurt, and choose low-fat cheese. This will keep the fat, cholesterol and calories under control.
Still stumped in the dairy aisle? Check out our shopping tips for picking the healthiest cheeses and for navigating the dairy case.
Fortified Foods
If you're vegan, have trouble digesting dairy or just aren't a fan, there are plenty of calcium-fortified foods to trade in for dairy. Many juices like orange (Tropicana is a good example) and grapefruit (like this one from MinuteMaid) come with added calcium — one cup of fortified OJ has the same amount of calcium and vitamin D as a glass of milk and more than a day's worth of vitamin C. You'll usually find calcium added to citrus juices because their strong flavor disguises any aftertaste. Some brands are better than others, so you may need to shop around to find a fave. (Learn more about picking the right juices.)
Soy milk and other non-dairy milk alternatives like rice and almond milk also have calcium added. Speaking of soy, some packaged tofu made with calcium carbonate also contains the bone-building mineral.
And the list goes on — many breads and cereals are also fortified with calcium and vitamin D. Read up on our top picks for healthy breakfast cereals. Be sure to check the labels for any extra calcium.
Leafy Greens
Many vegetables contain calcium — especially the dark leafy ones like broccoli, kale, collards and turnip greens. You don't have to eat boatloads — one cup of chopped, raw kale has nearly 10% of your daily needs. Working more of these veggies into your diet is good for more than just bone health; they're also low in calories and chock-full of antioxidants like vitamins A and C.
Fish
Fish with small, edible bones like sardines and canned salmon are yet another way to get some extra calcium. Canned sardines, canned tuna and salmon also contain some vitamin D. As an added nutritional bonus, these types of fish also provide good doses of heart-healthy omega-3 fats.
Nuts & Whole Grains
Nuts and whole grains — and fruits and veggies in general — are all good sources of magnesium. Almonds do double-duty with their calcium (about 8% of your daily needs per ounce), and all nuts contain heart-healthy unsaturated fats. Whole grains from brown rice, pastas, breads and cereals also supply hunger-fighting, cholesterol-lowering fiber.
More posts from Dana Angelo White.
Similar Posts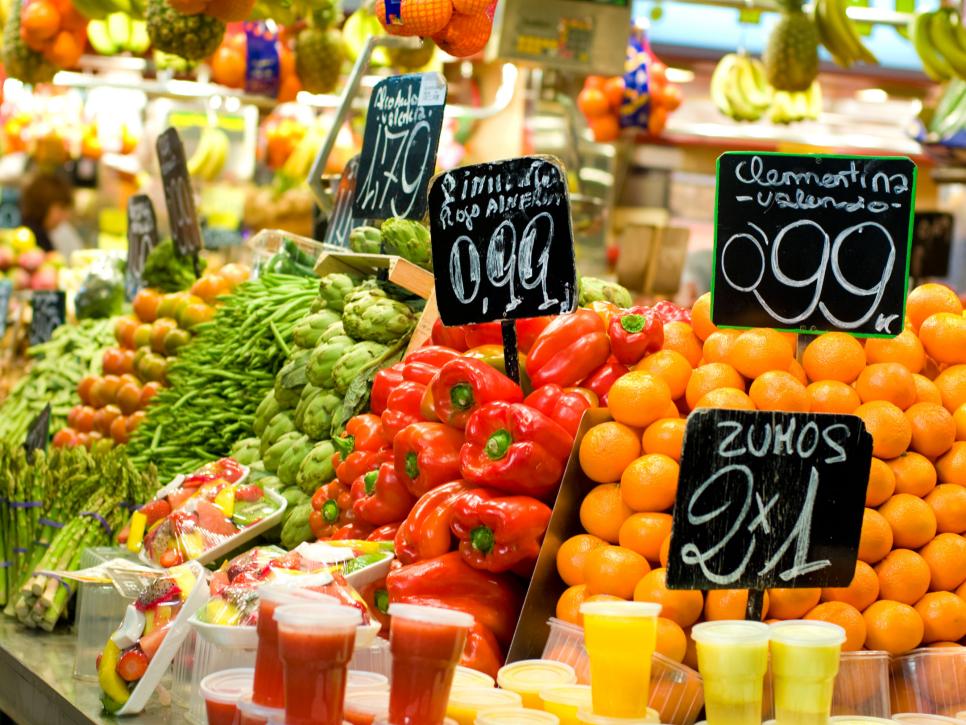 Stave off vacation weight gain with these easy, nutritionist-approved tips. ...