Beans might get a bad rap, but all rhymes aside, they're extremely good for you! An excellent source of complex carbs, protein and fiber, beans are also chock full of vitamins and minerals (calcium, potassium, B6 and folate to name a few), and go great in many dishes. Here are a couple summer recipes to try.
Though it's healthiest to cook beans from their dry state, doing that can take a long time. A time-saving tip: Cook beans in bulk and use them in various recipes throughout the week. I always keep some canned beans on hand for those last-minute recipe revelations.
And yes, I know what you're thinking — they're good for you, but what about the unpleasant side effects? Try adding a piece of kombu (seaweed) to your cooking water to reduce that gassy side effect. It helps make the beans more digestible!
Here are some dishes that featuring white beans (cannellini):
Pesto White Bean Dip
Servings: 4 (1/2 cup)
2 cups of white beans (or 1 can)
1-2 tablespoons homemade or store-bought pesto
Salt and pepper to taste
Combine all ingredients in a food processor and blend. You can make it as chunky or creamy as you like. Serve with fresh, local veggies!
Nutrition Info:
Calories: 75; Protein: 4.5 grams; Carbohydrates: 11 grams; Fat: 1.6 grams; Saturated Fat: .5 grams; Cholesterol: .5 milligrams; Sodium: 115 milligrams; Fiber: 3 grams
Shrimp with White Beans
Servings: 4
2 cups cannellini beans (or 1 can)
2 tablespoons extra-virgin olive oil
16 large shrimp, peeled and deveined
2 cloves garlic, sliced
1 bunch asparagus (cut into 1- or 2-inch pieces, discard woody ends)
1/2 teaspoon chili flakes
1 cup cherry tomatoes, halved
1/2 cup fresh basil, sliced
Salt and freshly ground black pepper
2 tablespoons Italian flat-leaf parsley, chopped
Heat 1 tablespoon of the olive oil in a large skillet over high heat. Add the shrimp, season with salt and cook for about 1 minute, tossing frequently. Remove the shrimp with tongs into a bowl. Add the asparagus to the pan and cook for 2-3 minutes. Add the garlic and chili flakes and cook for 1 minute. Add the cooked beans, tomato and basil and stir briefly. Cook together for 1-2 minutes. Season with salt and pepper. Add shrimp. Toss well, and cook briefly to reheat the shrimp. Serve with parsley as a garnish.
Nutrition Info:
Calories: 321; Protein: 34 grams; Carbohydrates: 30 grams; Fat: 7 grams; Saturated Fat: 1.25 grams; Cholesterol: 172 milligrams; Sodium: 313 milligrams; Fiber: 8 grams
Katie Cavuto Boyle, MS, RD, owns HealthyBites, LLC and is a finalist on The Next Food Network Star.
More posts from Katie Cavuto-Boyle.
Similar Posts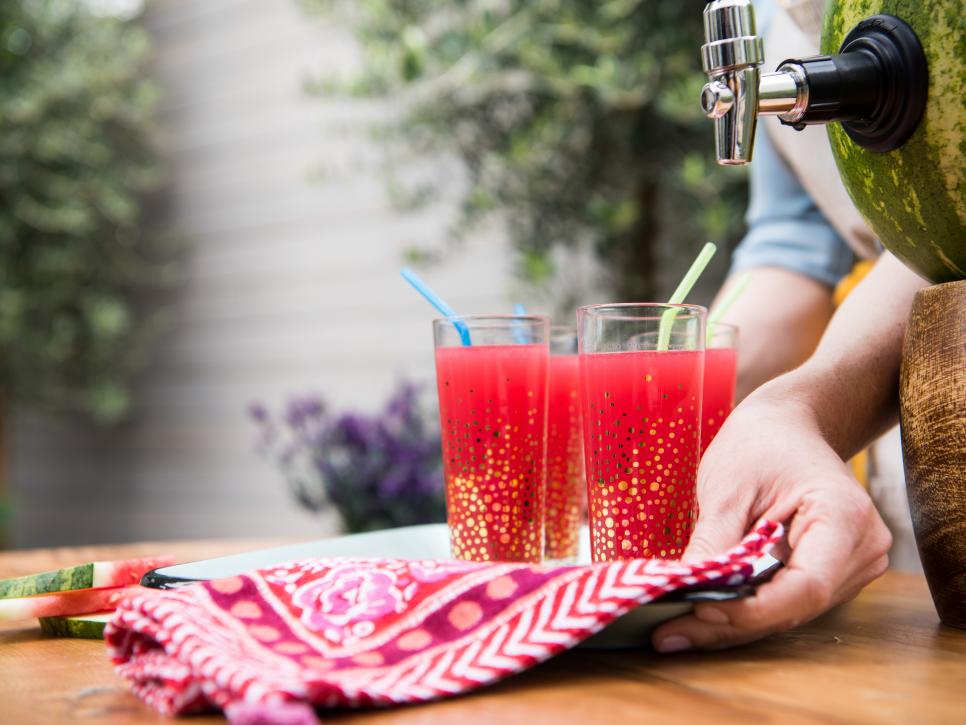 Tips and ideas for enjoying watermelon....