My family celebrates every Fourth of July with a big backyard pool party before we head out to see the city's fireworks display. There's always plenty of people and, of course, plenty of food. Whether you're hosting your own bash, big or small, here are some recipes for a festive, flavorful spread.
While the Grill is Heating
Set out a bowl of garbanzo bean and zucchini salad with some tortilla chips and a plate of cut-up veggies for pre-meal munching. The protein and fiber in the dish will keep everyone full and happy until dinner, and the summery flavors make this a perfect complement to any picnic fare.
Show-Stopping Mains
Banish boring: A spicy, fruity glaze peps up grilled chicken — this is a savory spin on sweet summer peaches. Can't imagine a barbecue without beef? Reach back in America's history to the days of the Wild West for Cowboy Steak with Coffee and Chili Rub. You can make them both outdoors on the grill or inside if it rains.
A Classic Side, Updated
Who says potato salad has to be soaked in mayo? This red-white-and-blue version uses a touch of olive oil — high in healthy monounsaturated fatty acids — in the dressing instead. A bonus: no mayo means fewer worries about the salad spoiling faster under the summer sun (but, remember, don't let any food sit out for more than an hour or so in the heat). Plus, your guests will get a kick out of the festive colors. If pasta salad is more your thing, check out our tips for a lighter mix.
A Berry Colorful Finish
Celebrate Independence Day by layering ripe red strawberries with plump blueberries and blackberries — all coming into season now. All three provide vitamin C, and this dessert looks so patriotic when it's served. Go easy on the whipped cream — just a dollop on top adds the perfect amount of creamy richness to the juicy berries. And while the berry dish is kid-friendly, these amaretto-infused watermelon and cantaloupe balls are a fun alternative for the adults. Serve them in the melon rind for a fresh display.
Refresher Course
Our lightened-up lemonade and iced tea tips and recipes go great with any outdoor picnic or barbecue. No instant mixes or artificial sweeteners here!
More posts from Karen Ostergren.
Similar Posts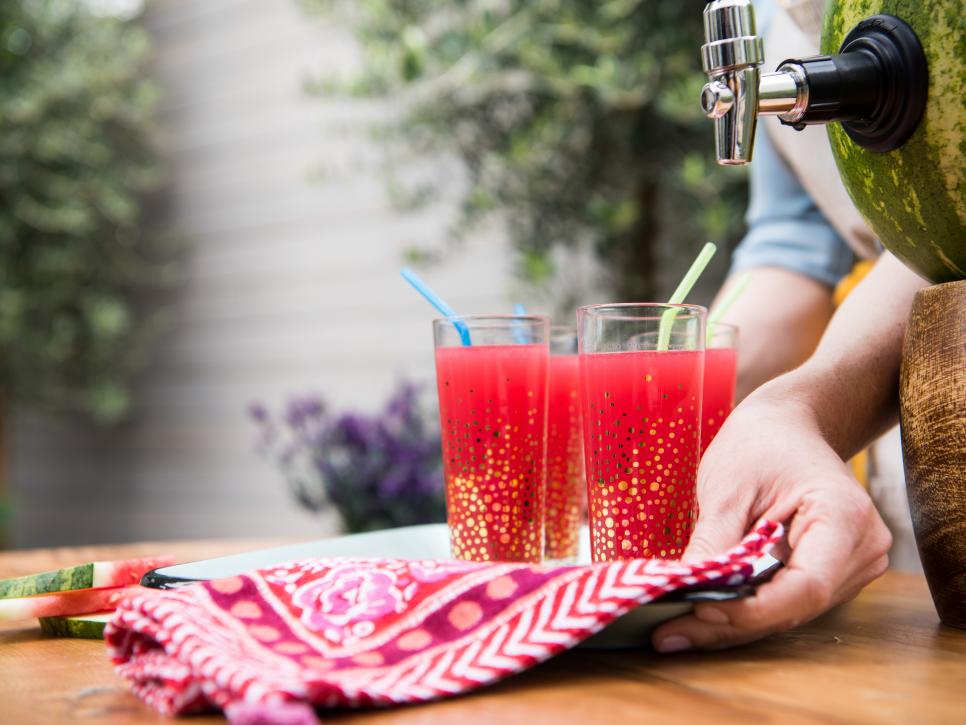 Tips and ideas for enjoying watermelon....