Beets may not seem like an exciting veggie but, when these babies turn up at the farmer's market, all I can think about is making my Roasted Beet Risotto (recipe below). In the dish, beets and their greens (both edible!) join with creamy risotto for a comforting vegetarian meal.
Beets are full of healthy nutrients like folate, potassium and vitamin C. One cup has 15% of your daily fiber needs. Many folks skip beets — or turn to the canned ones — because they're not sure how to prep these root veggies. If that's you, check out the tips and recipes I shared in a past post — Underappreciated: Beets.
Roasted Beet Risotto
Serves: 6
I don't like complicated recipes; risotto is a little time-consuming but simple to prepare. The delicious results are worth the extra time!
Beets:
1 pound bunch of beets (with greens)
2 teaspoon olive oil
Salt and pepper to taste
Greens:
2 teaspoon olive oil
Chopped beet greens (long stems removed)
1 clove garlic, minced
Salt and pepper to taste
2 teaspoon lemon juice
Risotto:
4 cups vegetable or chicken stock (homemade or low-sodium)
1 tablespoon olive oil
1/2 large onion, finely chopped
1/2 cup fennel, finely chopped
1/2 teaspoon kosher salt
1/4 teaspoon black pepper
1 1/5 cups Arborio rice
1/2 cup dry white wine
1 tablespoon butter
3/4 cup shredded sharp white cheddar cheese
3/4 cup shredded Pecorino Romano cheese
2 tablespoon heavy cream
1/4 cup chopped fresh basil
1/2 teaspoon lemon zest
For the beets: Preheat oven to 400ºF. Remove greens from beets and wash both very well. Chop greens and set aside. Trim top and bottom of beets and place on a baking sheet lined with aluminum foil. Roast for 20 to 30 minutes until just tender. Cool, peel, dice and set side.
For the greens: Heat oil in a skillet over medium heat. Add greens and garlic. Season with salt, pepper and lemon juice and sauté until just wilted. Set aside.
For the risotto: Bring stock to a simmer in a small saucepan. Heat oil in a large saucepan or Dutch oven. Add onion and fennel to the large saucepan and sauté until translucent (about 5 to 6 minutes); season with salt and pepper. Add rice to the saucepan and stir for 1 to 2 minutes. Add the wine to the rice mixture and cook until evaporated. Add a ladle of hot stock and stir until absorbed. When the stock has been absorbed, add another ladle-full and repeat, stirring constantly, until all the stock has been added to the rice mixture and the rice is tender (approximately 20 minutes). Stir in the butter, cheese, cream, basil and lemon zest. Remove from heat, cover and set aside for 5 minutes. Top each portion of risotto with sautéed greens and roasted beets.
Nutrition Info:
Calories: 344 calories
Total Fat: 16 grams
Saturated Fat: 8 grams
Total Carbohydrate: 34 grams
Protein: 15 grams
Sodium: 570 milligrams
Cholesterol: 42 milligrams
Fiber: 3.5 grams
TELL US: What's your favorite way to eat beets?
More posts from Dana Angelo White.
Similar Posts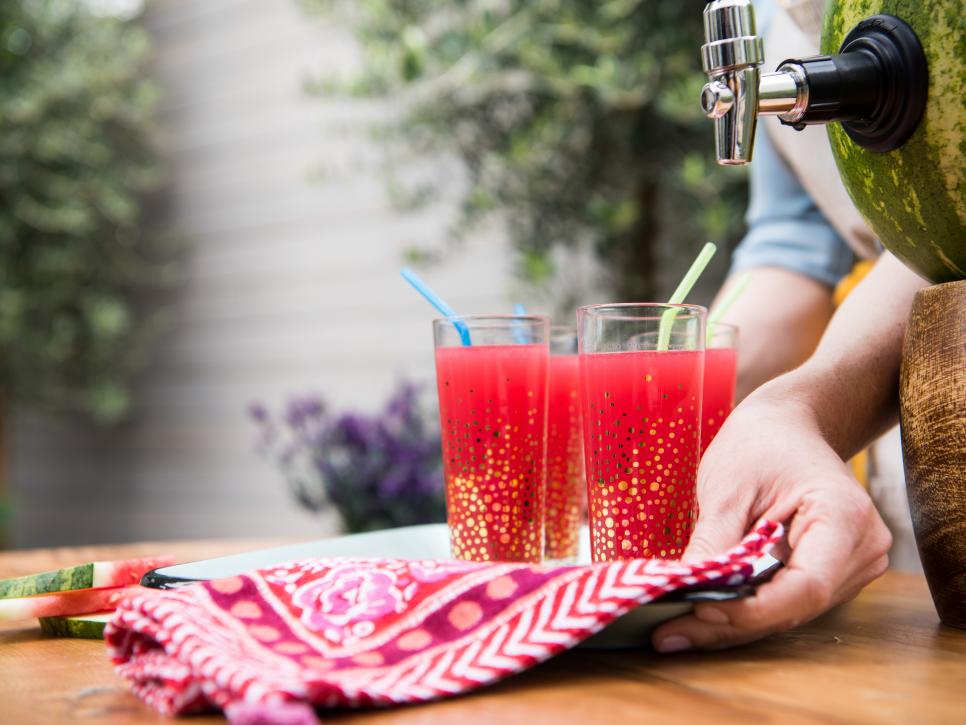 Tips and ideas for enjoying watermelon....