You probably see hummus at the supermarket or on restaurant menus. Have you had some lately? Get the skinny on this spread and a few of our favorite, easy recipes.
What Is It?
First off, hummus is a Middle Eastern bean spread traditionally made with garbanzo beans (a.k.a. chickpeas), tahini (sesame paste) and a combo of various spices and flavorings like lemon, olive oil and garlic. My grocery store stocks a bunch of pre-made, flavored versions — roasted garlic, jalapeno, olives and roasted peppers (just to name a few).
Nutrition Facts
Hummus is a popular "health food" treat but you don't want to go overboard. Two tablespoons of plain hummus has about 50 calories and 3 grams fat. It's packed with nutrients like protein, fiber and heart-healthy unsaturated fats, but be mindful to not end up eating a whole cup of it — you'll be at 8 times the recommended serving!
Homemade and store-bought varieties have similar nutrition info. When making it yourself, carefully measure out the higher-calorie ingredients (olive oil and tahini) to keep calories under control. Check labels on store-bought versions — some varieties may be higher in calories and sodium or full of unnecessary preservatives.
How to Enjoy It
Dip fresh vegetables and pita chips in hummus for a snack or appetizer. I've brought homemade hummus to parties, and it's always goes fast. It's okay if you don't have time to make your own. Doctor up pre-made spreads with fresh herbs, pine nuts, olives, sundried tomatoes or your favorite spice mix. When you do make your own, get adventurous and switch to different beans — like white beans or edamame.
This spread isn't just for the hors d'oeuvres table. Stir some spoonfuls into cooked pasta and salad dressings, or use it in place of mayo on sandwiches and wraps.
How to Make It
Don't let the food processor part scare you off. Hummus is actually pretty simple to prep — you toss a few ingredients together, blend and serve. Store fresh stuff 7 to 10 days in an airtight container in the refrigerator; packaged hummus will keep for a couple months in the fridge (if unopened). Here's a video I did for Foodnetwork.com, where I whip up my own easy herb hummus. The recipe is below and photo is above.
RECIPE: Green Herb Hummus
INGREDIENTS:
1 (15-ounce) can chickpeas, drained and rinsed
1 clove garlic
2 tablespoons tahini
1/4 cup fresh parsley leaves
6 fresh basil leaves
1 medium scallion, chopped
1 tablespoon chopped fresh dill
1 teaspoon honey
1 tablespoon fresh lemon juice
1/8 teaspoon cayenne pepper
1/4 teaspoon kosher salt
1/3 cup extra-virgin olive oil
Options for dipping: carrot sticks, sliced cucumber and whole-wheat pita chips
DIRECTIONS: Place ingredients in a food processor fitted with a steel blade and pulse until smooth. Serve with dippers.
NUTRITION INFO (per 1/4 cup serving): Calories: 150, Total fat: 11g, Saturated fat: 1.5g, Carbohydrate: 10g, Protein: 3g, Sodium: 200 mg
Other hummus recipes to try:
More posts from Dana Angelo White.
Similar Posts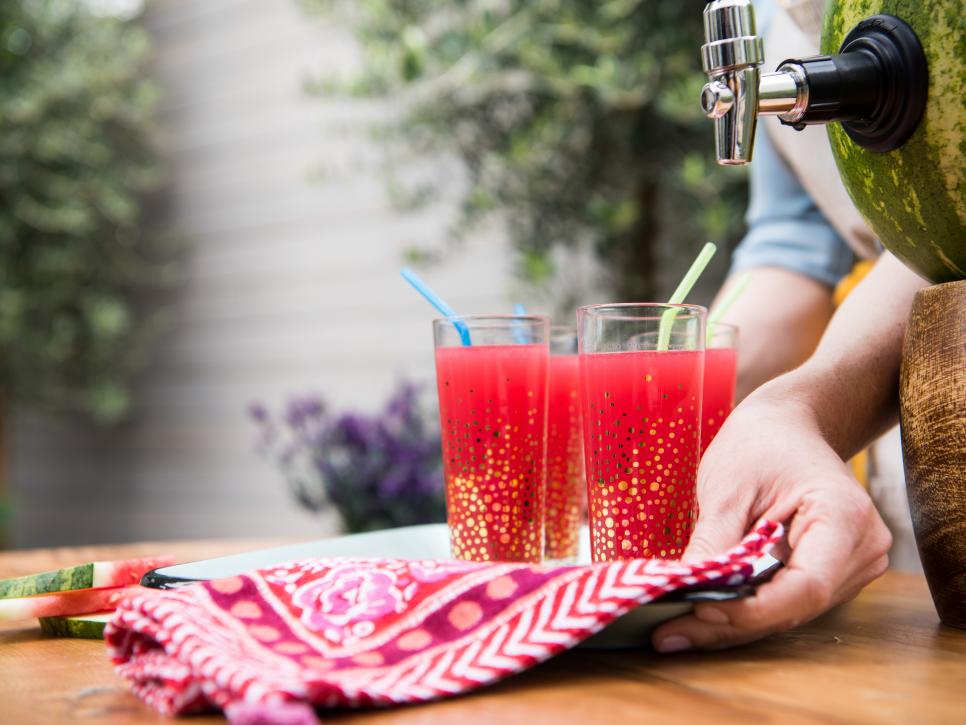 Tips and ideas for enjoying watermelon....