These days, more and more folks are ditching meat from their diets for eco- and health-friendly reasons (or both). There are many different types of vegetarians — the strictest being vegan. If you or your loved one is going veg, here are some basic things to remember.
Vegetarian Diets 101
All vegetarians choose from these basic food groups: grains, fruits, veggies, legumes, nuts and seeds. A vegan is the strictest type (look for a separate post on that soon); however, different folks may mix it up and allow some foods but not others — usually it depends on religious, ethical or dietary choices.
The basic types:
Pesco-vegetarians – include seafood and fish
Lacto-vegetarians – include dairy (milk, cheese and yogurt)
Ovo-vegetarians – include eggs
Ovo-lacto-vegetarians – include eggs and dairy
Vegan – no foods containing animal products (including dairy, eggs and even sometimes honey)
Here's a quiz: can you figure out what a pesco-lacto-ovo-vegetarian eats? Yep, fish, dairy and eggs but no meat.
Minding Nutrition Needs
Eliminating fish, dairy or eggs from your diet significantly drops your protein intake. For optimum health, we should all take in about 2 sensible servings of protein a day. If you ditch the meat, there are other options. You might try 2 tablespoons of peanut butter, an egg, half a cup beans or lentils or 3 ounces of tofu.
Of course, alternate protein sources such as tofu, seitan (a thick, textured meat replacement made from wheat gluten), quinoa or amaranth are always good choices. Try to combine various foods that complement each other — maybe you have peanut butter on whole wheat bread or prep up some brown rice and beans.
Iron and zinc deficiencies are two other biggies. Many people, meat-eaters and not, lack iron in their diets. It's important for vegetarians to include various iron sources: green leafy veggies (like kale, spinach and broccoli), almonds, lentils and beans.
One thing to remember: iron from plant sources isn't easily absorbed. Combining them with vitamin C-rich foods helps increase absorption. That means, squeeze fresh lemon juice on your spinach or follow your rice and beans plate with a fresh, fruit salad. Cooking with cast-iron pots can also increase iron consumption, but limit that to once a week because iron is potentially toxic. There are supplements available, but check with your doctor on those first.
As for zinc, you can get that from fish, eggs or dairy — as long as you eat enough. Nuts are another good source.
A Day in the Life…
To get an idea for a balanced daily diet, here's what I'd suggest for a lacto-ovo-vegetarian.
Breakfast: try a frittata or some buckwheat pancakes with a glass of freshly squeezed juice.
Snack: opt for yogurt, a handful of nuts, fruit or a slice of cheese.
Lunch: add PB&J to whole-wheat bread, chased with a glass of milk and fresh fruit.
Dinner: you can't go wrong with these rice and corn cakes, served with a side of sautéed spinach. Most vegetarians (not vegans) can wash this meal down with a light beer! (Yep, not all beer is animal-free.)
P.S.: We spotlight vegetarian recipes on this site along with meat-friendly ones (after all, Kristine, our editor, is a vegetarian herself), but there are tons of vegetarian-only sites out there. Vegetarian Times is one good one to check out — just be mindful that not all recipes may not meet our usual calorie and fat parameters.
More posts from Toby Amidor.
Similar Posts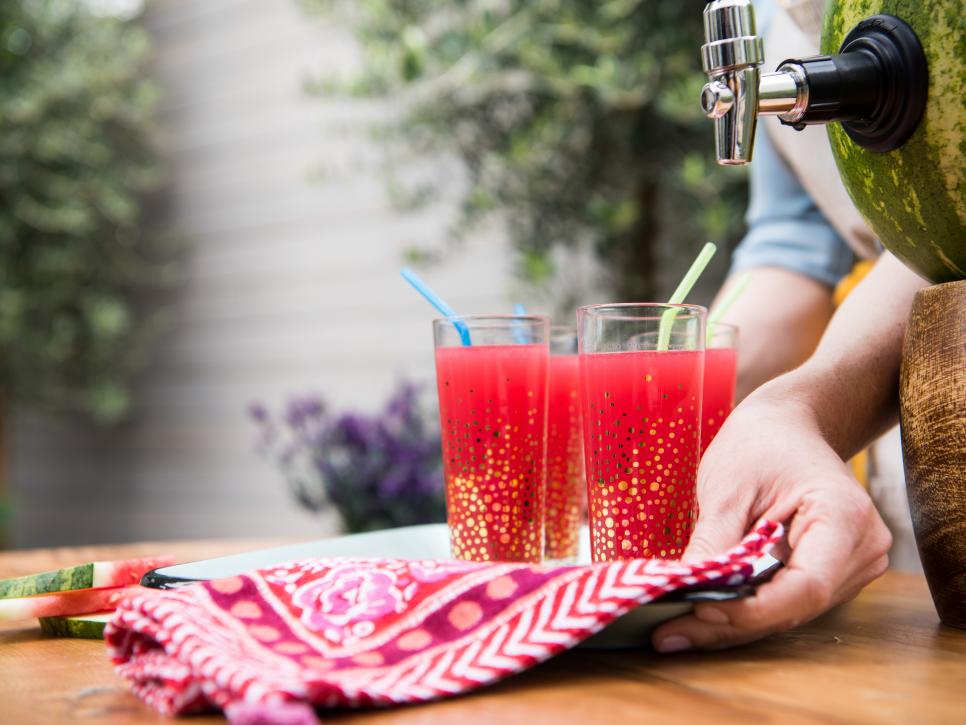 Tips and ideas for enjoying watermelon....