These days, snacks often mean cookies, candy, chips or even donuts — that is, nothing nutritious! If he could, my seven-year-old son would live on junk foods alone, but as the adult (and a nutritionist mom of three), it's my job to make sure the right choices are available for my family. Check out these tips for creating healthy, kid-friendly snacks.
The Purpose of Snacks
Kids are growing and have very high calorie needs, which snacks can help meet by providing nourishment between meals. Typically a child should eat between two-to-three snacks daily. Choose nibblers that contain protein for growth, iron for blood and calcium for bones. Fiber, vitamins A and C are also important nutrients to get. This does not mean that the occasional "junk food" snack is forbidden — just be sure there's a balance for good.
Snack Basics
Here are some basic healthier options for kids. You may need to modify snacks based on your child's age — for example, slice grapes in quarters for toddlers so they don't choke.
Sliced or whole fresh fruits: Apples, bananas, kiwi, mango, grapes, berries, melons, peaches, pineapple and plums. Applesauce, dried fruit and fruit leathers are also good choices (make sure they're 100% fruit).
Sliced or whole fresh veggies: Carrot sticks, broccoli, cucumbers, radishes, baby corn, olives, bell peppers and string beans.
Dairy: Cheese slices, Babybel, string cheese, skim or 1% milk or yogurt (remember, cows don't make purple yogurt! Try Stonyfield's Yo Kids).
Protein: Edamame, deli meat (i.e. turkey or chicken breast), hard-boiled egg
Starches: Unsalted pretzels, mini bagels, pita wedges, graham crackers, dried cereal (make sure sugar isn't listed as one of the first four ingredients) and granola bars.
"My kids won't eat fruits and veggies!?!"
I've lost count on the number of times I've heard that statement. There are ways to convince kids to enjoy these foods without driving you nutty. Believe me, my son is a picky eater but I work with him, not against him. You want to lead by example — show your child that you too eat fruits and veggies. You also don't want to make faces at a food you don't enjoy. Even if you're not a big fan of a certain vegetable, you should offer it and smile when you do.
Forcing a child to take one bite typically backfires and can make the child angry or uncomfortable. Create an enjoyable atmosphere, offer small amounts at a time and continue to offer the food until the child realizes that fruits and veggies are "normal" things to eat. It typically takes 20 times for a child to come to like a food — so don't give up so easily!
Fun, Kid-Friendly Snack Recipes
Some kid-friendly favorites are fruit on skewers, smoothies, vegetable sushi rolls and sliced veggies dipped in hummus, guacamole or a low-fat dressing. Cheese and whole-wheat crackers, apples dipped in peanut butter or even a scrambled egg in a four-inch pita pocket are other options to try.
Plus, try these recipes to jazz up snack time:
And check out this New York Times article about common mistakes parents make when feeding their kids.
TELL US: What kind of healthy snacks do your kids love?
More posts from Toby Amidor.
Similar Posts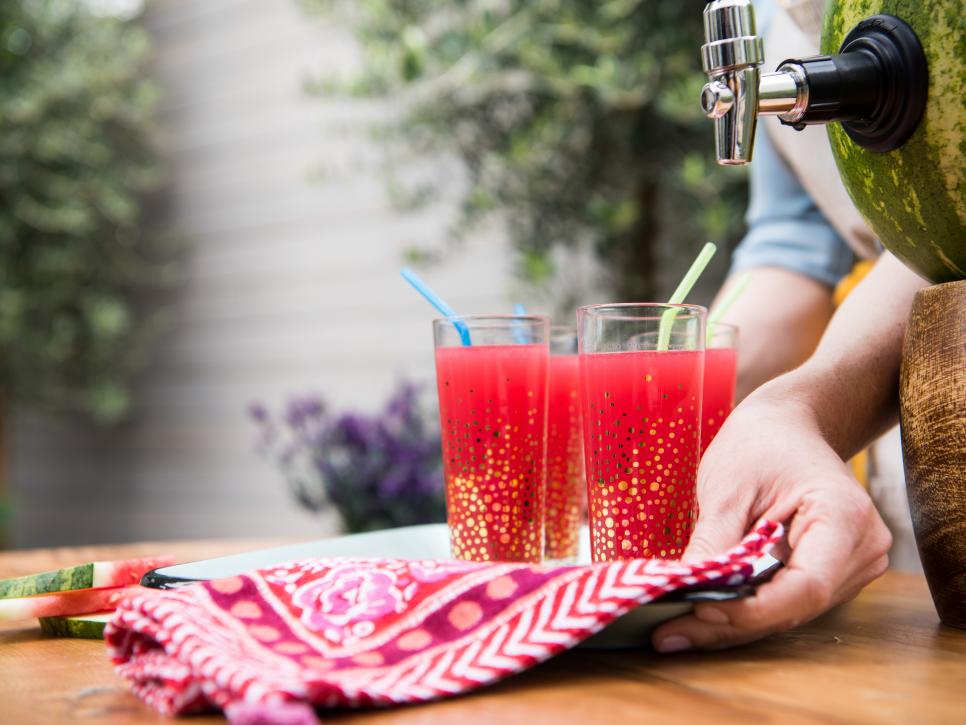 Tips and ideas for enjoying watermelon....