by Emily Lee in Recipes, April 29th, 2017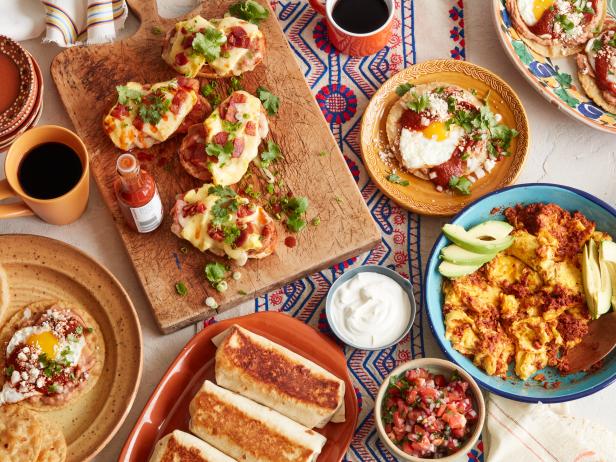 For me and most of the people I know, celebrating Cinco de Mayo has always involved a quick after-work injection of Mexican food straight to the belly. Tacos dispensed from beloved neighborhood food trucks, salty chips and big batches of "guac" mashed table-side at local Oaxacan restaurants — even a good-old fast-food burrito dressed in silver foil are all distinct possibilities. But this year at Food Network, we're excited to start a new Cinco de Mayo tradition. Here's a hint: It involves waking up early.
Hold the groans and just imagine the cheesy, eggy delights you might expect to find on the breakfast table — now imagine them dressed in Mexican flavors, like zingy salsas, juicy pico de gallo, freshly torn cilantro leaves, a runny egg, crumbled cotija or queso fresco … I could go on and on. But without further ado, here are a few of our favorite Mexican breakfast dishes that make rolling out of bed totally worth it. And if you really can't bear the thought of waking up, it's perfectly fine to enjoy these dishes for lunch or dinner, too!
Here's a peppery, vegetarian take on an enduring favorite. Skip the basic Mexican cheese blends you'll find at the supermarket and try to get your hands on some Oaxaca cheese instead; it has a similar texture to mozzarella and melts beautifully.