by Emily Lee in Holidays, Recipes, June 13th, 2017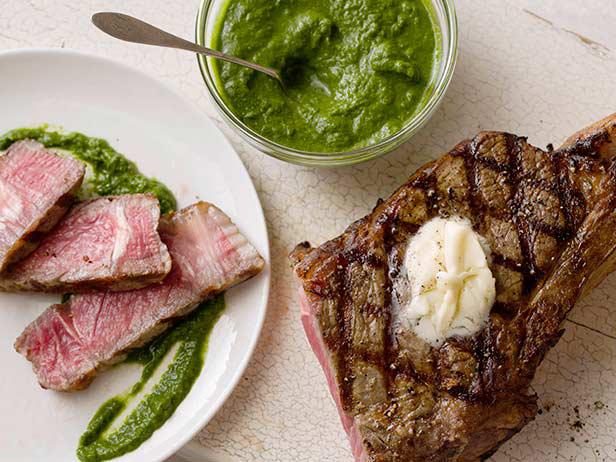 Like any good kid, it's natural to want to do something nice for Dad on Father's Day. For those of you reading this, that probably means flexing your creative culinary muscles by whipping up an extra-fancy dinner. But if Dad is the old-fashioned, beef- and pork-lovin' type, we suggest you forget all about that temperamental souffle and stick to what you know he'll love: meat, meat, and yes, more meat. From big grilled steaks and pork chops to fall-apart-tender brisket and ribs, we've got everything you need to make Father's Day a carnivore's delight.
Grilled Ribeye with Romaine Marmalade
If the way to Dad's heart is through red meat, then skip the fussy haute cuisine and give the man what he really wants: a big juicy steak. Seared to perfection, quadrillage and all, Geoffrey Zakarian's classic bone-in ribeye is sure to make him happy. It even pairs beautifully with this summery green sauce.