by Maria Russo in Food Network Chef, Shows, March 23rd, 2017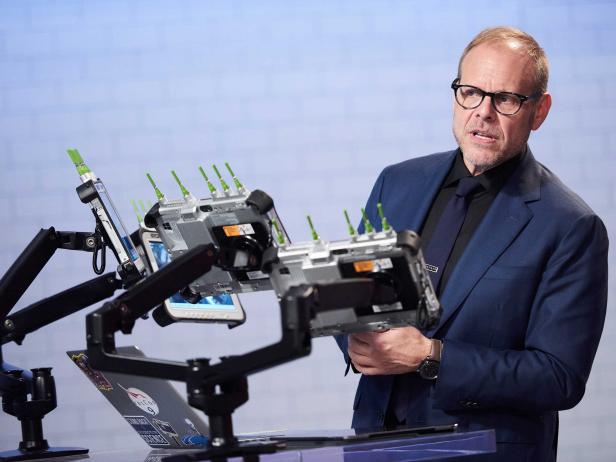 Let's get one thing straight: No one knows food quite like Alton Brown. Whether he's dishing on the internal organ structure of snails or explaining the etymology of soy lecithin, his ability to school us on all matters culinary is simply uncanny, and it's for largely that reason he made a top-notch host of Iron Chef America for the 12-season run of the series. But now, for the first time since 2013, Alton is returning to the world of Iron Chef, this time as the host of Iron Chef Gauntlet, the all-new elite competition in which seven challengers are set to compete against not only each other but also a gauntlet of Iron Chefs for the chance to join their ranks.
We checked in with Alton as he prepared for this much-anticipated premiere, and he gave us the inside scoop on what's to come on Iron Chef Gauntlet, plus his take on how to succeed in this unique beast of a contest. Read on below for an exclusive interview with Alton, then look back on some of the best culinary fun facts he's ever shared on Iron Chef America.
In many ways Iron Chef Gauntlet will be similar to The Next Iron Chef, but the idea of a three-tiered gauntlet in the finale is new. What are you most excited to see from these six episodes?
Alton Brown: Straightforward cooking at its highest level.