by Amy Reiter in News, May 9th, 2017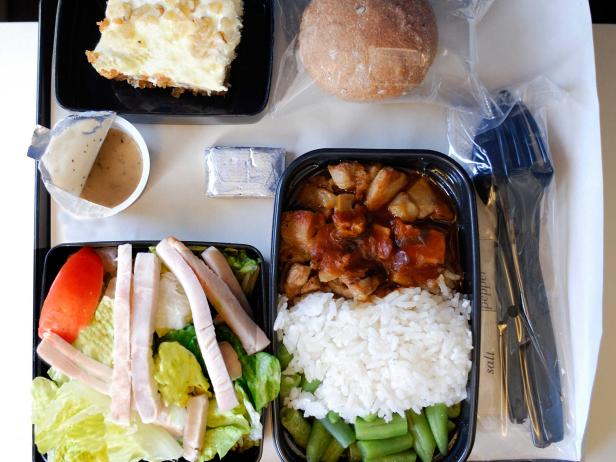 Food on airplanes, on the rare occasions it is served these days, probably deserves its bad reputation. The mini "meal" on the microwavable plastic plate that's plunked down on your tray table is often bland and beige and almost begging not to be eaten, for fear you'll be compelled to make use of that paper bag the airline has considerately provided. (Forethought!)
One fifth of flyers say unappetizing meals are the worst thing about long flights, according to a recent survey by New Zealand Airlines, the Sun reports. Half of those surveyed said they'd like the food better if it was made from fresher ingredients. (Although freshness was not the issue for this traveler who asked for a gluten-free meal.) One fifth said their in-flight meals would be better if a chef prepared them.
Given that, you might expect that that most people wouldn't elect to eat airline food over restaurant food, if they weren't trapped in the air without any alternative, that is. (In fact, almost half of those responding to the airline's survey said airplane food could not match restaurant food, in terms of quality.)
But New Zealand Airlines didn't let that stop it from opening a pop-up airplane-food restaurant — actually, a two-story "immersive experience," This Is How We Fly — in London last month, aimed at showcasing the superior quality of its on-board meals.
Open for only two days in late April, it offered food "inspired by the airline's on-board menus" designed by Kiwi chefs Peter Gordon and Michael Meredith," as well as "world-class New Zealand wines," enjoyed by diners seated in airplane seating, according to the New Zealand Airlines website. (Free take-out airplane-lunch meals were also available, for those too busy to be immersed.)
As a restaurant concept, the airplane pop-up may not go anywhere, but here's hoping the idea of good airline food really takes off.