by Maria Russo in Food Network Chef, Shows, May 1st, 2017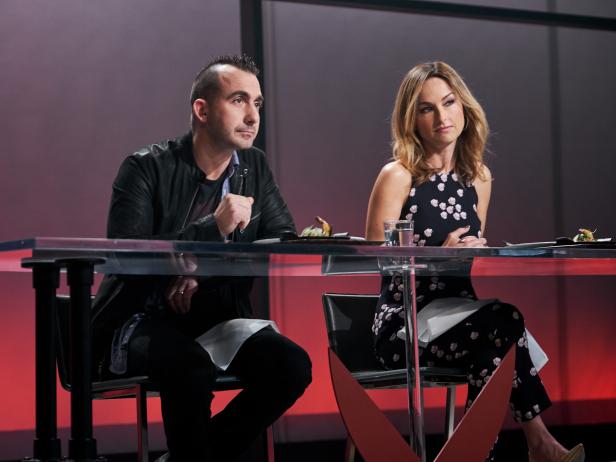 One half of the esteemed judge-mentor duo on Food Network Star, Giada De Laurentiis is no stranger to evaluating chefs. She's quick to offer feedback to competitors, in terms of their work both on the plate and on camera. But when judging Iron Chef Gauntlet Sunday night, her sole focus was the food, as she and Iron Chef Marc Forgione came together to oversee Battle Octopus and ultimately decide whether Chef Shota Nakajima or Chef Michael Gulotta would earn the right to advance to next week's competition.
We checked in with Giada after the battle, and though one rival was forced to go home (check out Chef Gulotta's exit interview here), and she was indeed pleased with both competitors' offerings. "Those guys can cook," she said simply. "I just about cleaned every dish." Read on below to hear more from Giada to find out why she was "a tiny bit intimidated" on that judges' panel, and get her take on what went down the last time she was in the world of Iron Chef, when she competed in Battle Cranberry on Iron Chef America.
Did being on set bring back any flashbacks to Battle Cranberry, in which you competed with Iron Chef Bobby Flay on Iron Chef America?
Giada De Laurentiis: In those kinds of competitions, it's all a matter of opinion. And it's [a few] people's opinion on your food. It might be fantastic, but [if] they don't like it, they don't like it. … Standing there, listening to criticism, looking at my dish and thinking, "Well, I think they're pretty good zeppole with cranberry inside, and I think the texture's fantastic." I think that I had made pumpkin ravioli with amaretti cookies on top in a brown butter [sauce] with sage. And one of the judges didn't like the amaretti cookies; they didn't think that it should be with pumpkin ravioli. And I'm like: "Of course, it should. It is classic Italian. The mixtures work perfectly together." He didn't like them. So what happened? Bobby and I lost.