by Foodlets in Family, Recipes, March 1st, 2017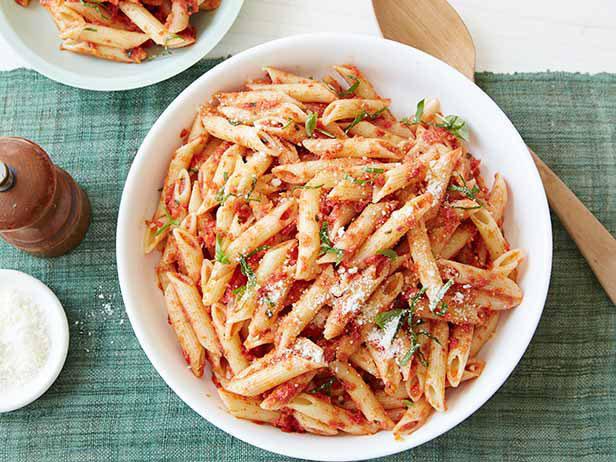 I love cooking for my family. Mostly fresh. Usually from scratch. Sometimes ethnic. But as a mom of four small kids (seriously, the oldest one is 7), my energy is limited. Plus, it's a bit of a betting game at this stage. Will the kids appreciate all of my effort when I set their food on the table? Yes, everyone's clear on the expectations: Try everything and be a good sport about it. But will they actually enjoy it? In order to keep the cooking requirements and expectations in check, I take advantage of a few shortcuts for getting meals on the table quickly, easily and deliciously. Check them all out below.
Jarred Items: Olives and Sundried Tomatoes
Ounce for ounce, sundried tomatoes may have the most flavor of any single ingredient in your pantry. It takes a mere handful of ingredients to pull off Giada De Laurentiis' Penne with Sun-Dried Tomato Pesto (pictured above), which boasts a stellar 5-star rating.
Green olives create an almost instant sauce for either pork or chicken, giving either one a signature tang in seconds. Two of my favorites are Pork Tenderloin with So Many Olives and Chicken Mirabella: Chicken with Prunes & Olives.