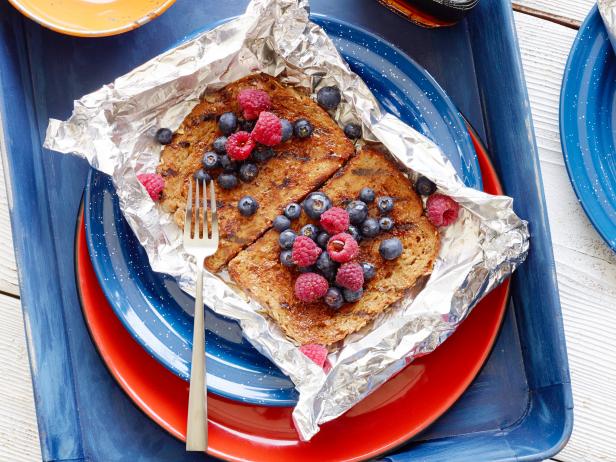 Throughout the summer the grill is the center of attention during dinnertime over the summer for cookouts and parties, but there's no reason to shy away during the earlier parts of the day or a non-occasion. Whether you're out by the pool, camping or just enjoying the warm weather, using the grill keeps you near the action and minimizes on clean up (see ya, pots and pans!). Spend the day outside and grill up some breakfast, lunch and dessert.
Breakfast:
Grilled French Toast Foil Packets (pictured above)
Who knew breakfast on the grill can be healthy, taste indulgent and no-fuss all at the same time? Individual foil packs (use the non-stick kind for this) are a fun way to serve and best of all, no plates to clean up.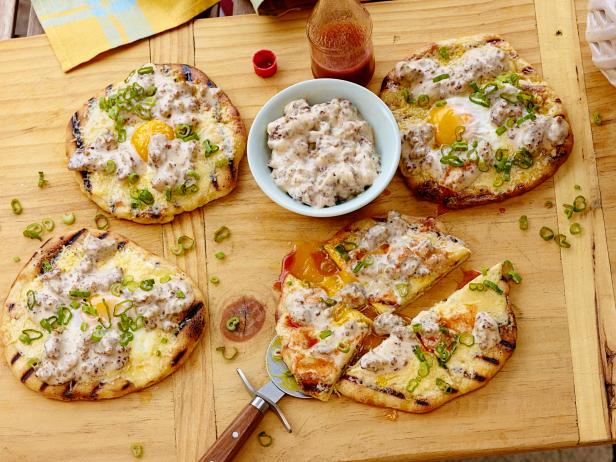 Grilled Breakfast Pizza
Pizza dough replaces biscuits for an outdoor twist on the classic Southern breakfast staple, sausage gravy and all. Make the gravy inside ahead of time or on a grill with a side burner. Store-bought pizza dough helps to get these breakfast pizzas on the (picnic) table in just about 30 minutes.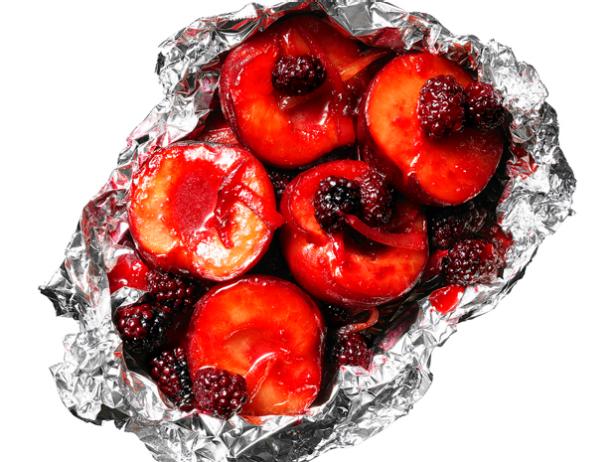 Hot Plums and Berries
Grilled fruit does double duty as both a dessert and a breakfast at the grill, depending on what it's served with. For breakfast, top in-season stone fruit and berries with yogurt as a simple, sweet way to get the day started.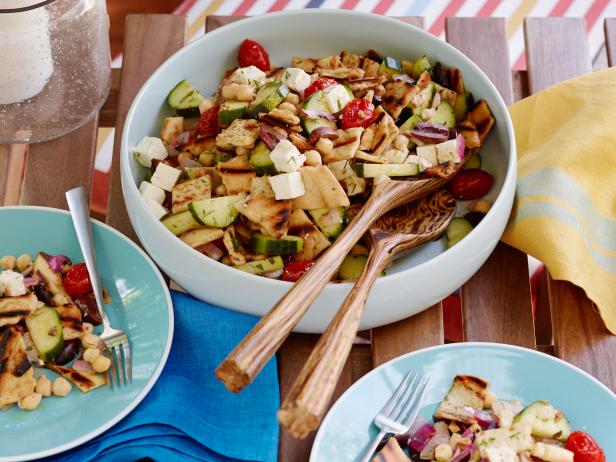 Lunch:
Grilled Greek Panzanella Salad
Panzanella is a traditional Italian salad made up of bread and tomatoes, and it's a great way to use up slightly stale bread. This Greek salad version toasts leftover pita bread and cherry tomatoes on the grill. Chickpeas add some protein, but if you need more oomph to make it a meal, add some grilled chicken to the mix.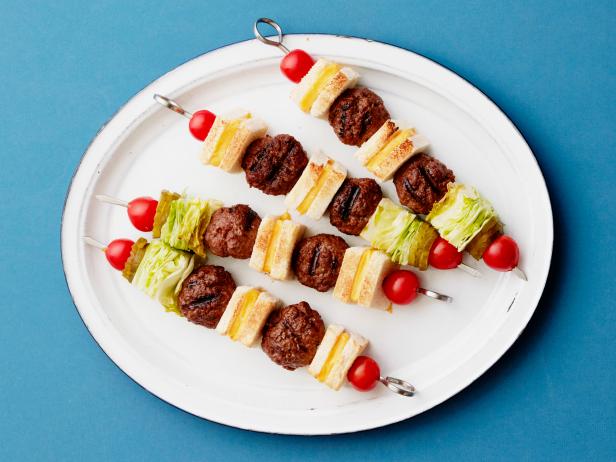 Grilled Cheeseburger Kebabs
All the pieces of the cookout staple, but in the convenient, shareable package of a kebab. Plan ahead: prep the individual sections of the kebabs ahead of time and store in a cooler or fridge, then build the kebabs when you're ready to eat.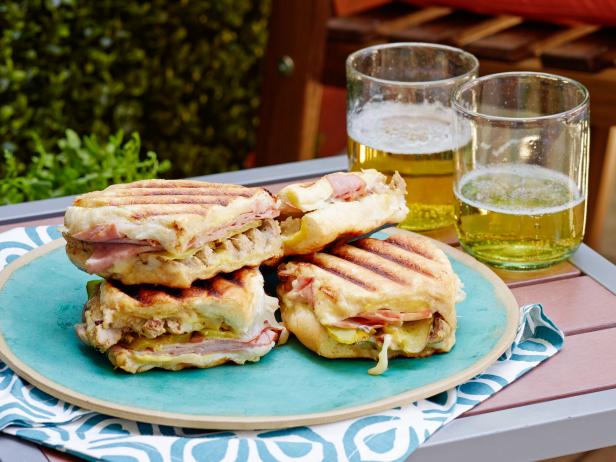 Grilled Cubano Sandwich
This homemade version of the Cubano sandwich is made easy with a 30-minute marinade to some thinly-pounded pork tenderloin. Use a baking sheet topped with a large cast-iron pan or large cans of food to press the sandwich into the grill, ensuring crispy bread, melted cheese and those awesome grill marks that dreams are made of.
Dessert:

Grilled Pineapple with Nutella
Take a note from Giada's book: top grilled pineapple slices with Nutella and mascarpone for a simple, yet decadent dessert.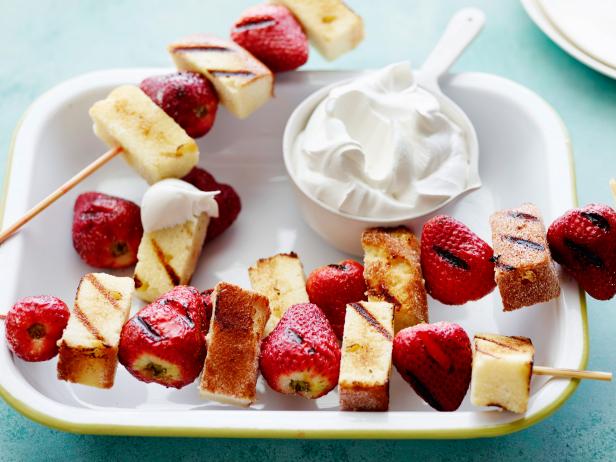 Strawberry Shortcake Skewers
When grilled, summer's super-ripe strawberries become juicy and even sweeter, creating all the flavors of the classic summertime dessert, without any baking involved!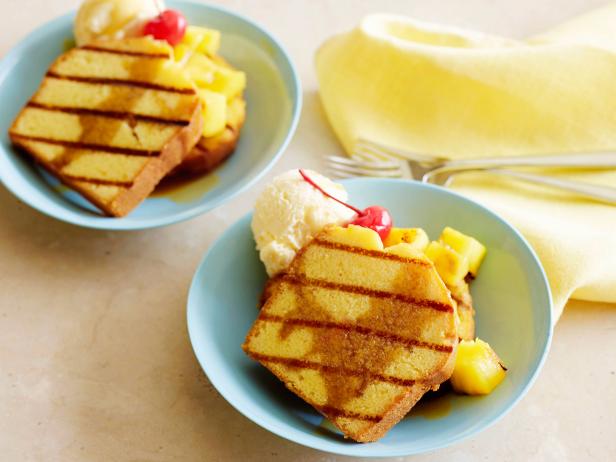 Grilled Pineapple with Pound Cake and Rum-Caramel Sauce
Take a trip to the tropics without leaving the backyard (and in just about 30 minutes) with this easy dessert. Make the rum-caramel sauce ahead of time and keep it warm until you're ready to serve. Toast store-bought pound cake and pineapple on the grill – the sugars in pineapple caramelize when heated up – and you're ready to dig in.
More posts from Julie Hines.
Similar Posts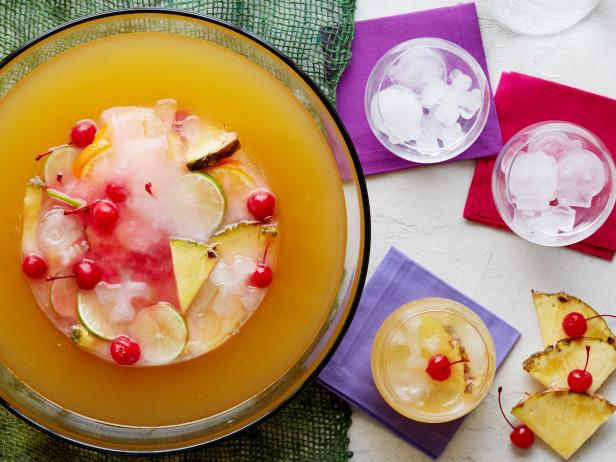 From formal events to backyard barbecues, punch is a party favorite for the ages....