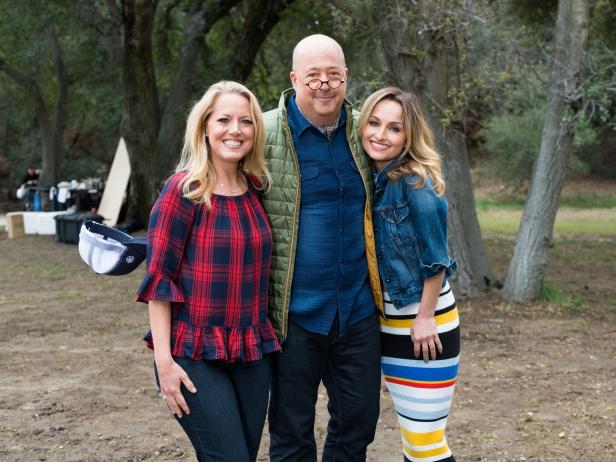 On Saturday morning, Ree Drummond is making a cowboy-worthy feast of some of her best Tex-Mex recipes. She's whipping up Simple, Perfect Chili, Cheese Enchiladas, and decadent, individual Piña Coloda Tres Leches Cakes. Then, the co-hosts on The Kitchen are making dishes perfect for outdoor entertaining and sharing some gardening tips to give your party the perfect Instagram-worthy setting. On Sunday morning, Ina Garten is preparing make-ahead desserts, perfect for a dinner party, and Ayesha Curry is making a manly meal for her husband Stephen and his friends.
On Sunday evening, Guy Fieri is seeing double in Flavortown Market when three sets of twins compete for the $20,000 grand prize, and on Food Network Star, the remaining finalists must bring elegance to the wilderness in a special glamping-themed competition with guest judges Melissa d'Arabian and Andrew Zimmern.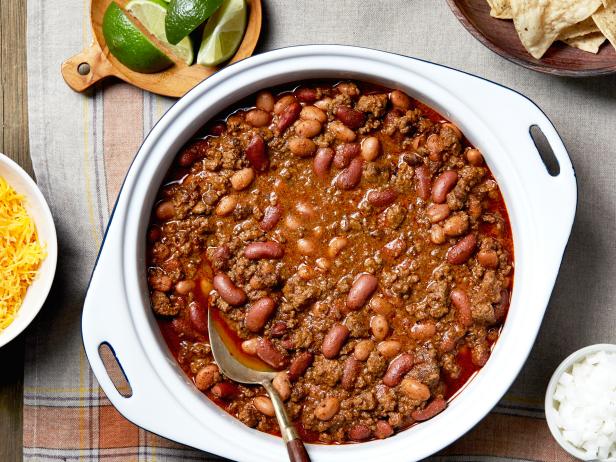 The Pioneer Woman: Ranch-Style Tex Mex – Saturday, June 24 at 10a|9c
Ree's cooking up fabulous ranch-style Tex Mex. There's Cheese Enchiladas for her father-in-law and his team of fence-fixers, individual Piña Colada Tres Leches Cakes for a prairie picnic, Simple, Perfect Chili (pictured) to warm up Ladd and the kids, and Virgin Mango Margaritas for cocktail hour on the ranch.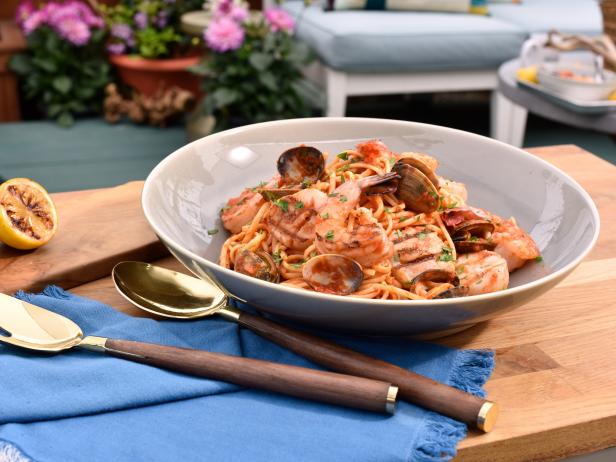 The Kitchen: All Deck'd Out – Saturday, June 24 at 11a|10c
The Kitchen hits the deck for outdoor entertaining, starting with Geoffrey Zakarian's Sausage and Pepper Grinder. Katie Lee serves an Italian-inspired Grilled Seafood with Linguine (pictured), while Marcela Valladolid's Grilled Caesar Salad is her twist on a classic. A game of Spend or Skimp shows how to best spend on an outdoor party, and the gang shares gardening tips worthy of a green thumbs up. Then it's time for cocktails and dessert with Katie's Pina Colada Poke Cake and Geoffrey's Pineapple Breeze cocktail.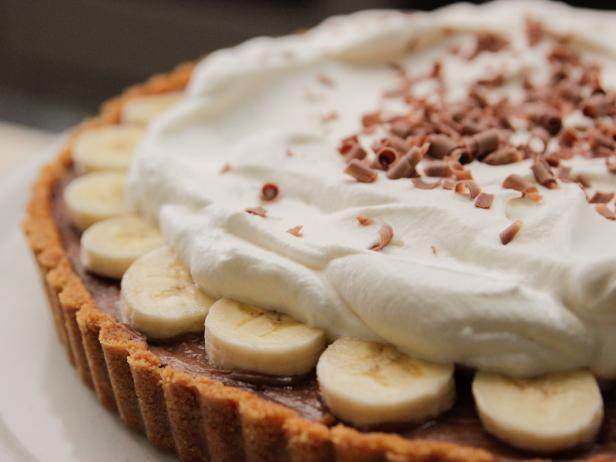 Barefoot Contessa: Cook Like a Pro: Make-Ahead Desserts – Sunday, June 25 at 11a|10c
Ina's cutting straight to sweet with delicious make-ahead and very professional fruit desserts. There's a twist on a classic with Apple Pie Bars, then pure comfort meets wow factor in Chocolate Banana Cream Pie (pictured). Easy and elegant Stewed Rhubarb and Red Berries make a perfect summer dessert, with ideas for amping things up with fruit liqueurs. Finally, there's a Sparkling Grapefruit Granita that's guaranteed to impress.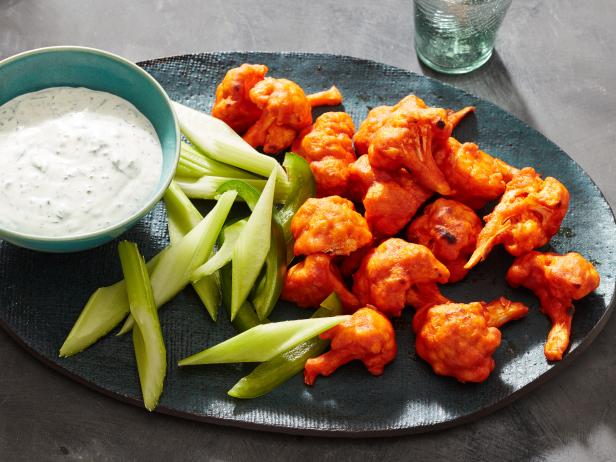 Ayesha's Home Kitchen: Manly Meals – Sunday, June 25 at 12:30|11:30c
Ayesha loves to entertain her friends and family with good eats at her home, but when her husband Stephen's friends let her know they're expecting dinner and not just the snack of Maple Bacon Popcorn she has prepared, she must think on her feet and come up with a quick meal plan! She gets some help from the boys and makes a White Chocolate-Croissant Bread Pudding, a Beer Bourbon Splash, Cauliflower Hot Wings with Buttermilk Ranch Dipping Sauce (pictured) and Sloppy Joe-Stuffed Peppers.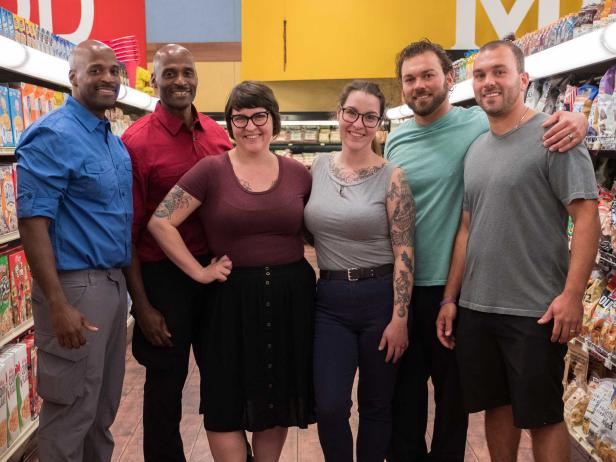 Guy's Grocery Games: Twin It to Win It – Sunday, June 25 at 8|7c
Three pairs of twins team up to show that two head chefs are better than one at winning up to $20,000 in Flavortown! First, chefs who share the same birthday must turn birthday cake ingredients in a delicious dinner. Then, the remaining family duos roll a pair of dice to determine the crazy culinary restrictions for their "classic duo" dish.
Food Network Star: Glamping – Sunday, June 25 at 9|8c
The remaining finalists are divided into teams and sent into the wilderness. When they arrive at a campsite, they must use whatever camping food is in the back of their cars to create a "glamping" meal. Each team will present their dishes to Giada De Laurentiis, along with guests Melissa d'Arabian and Andrew Zimmern, who will decide which finalist successfully elevated camping food to glamping dishes and gave the best tips for working with wilderness fare.
More posts from Joel Raneri.
Similar Posts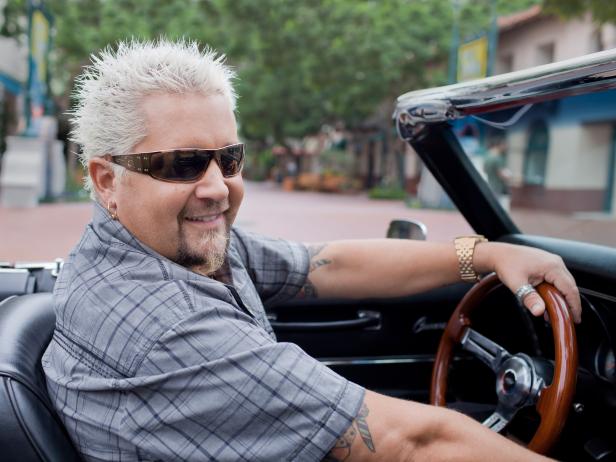 Get the first look at Guy Fieri's upcoming series, Guy's Family Road Trip....