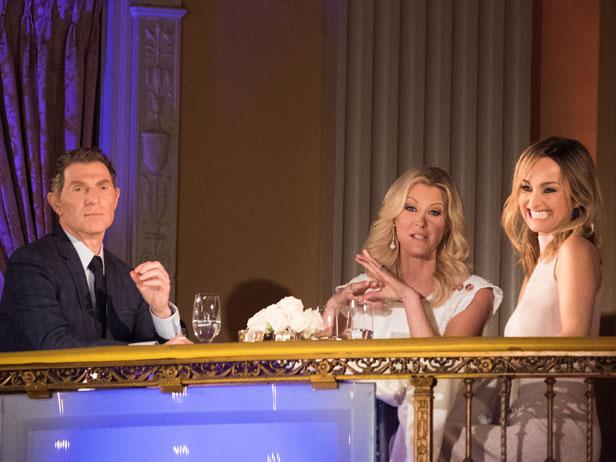 On Saturday morning, Ree Drummond is making the most important meal of the day, and she's doing it the cowboy way. For her husband, Ladd, Ree whips up a Farmer's Breakfast complete with eggs, ham, sausage and Crispy Bits Breakfast Potatoes. Then, the co-hosts on The Kitchen are sharing some of their favorite summer side dishes. On Sunday afternoon, Ina Garten is making pasta like a pro and Ayesha Curry is hosting a decadent ladies' brunch.
On Sunday evening, Flavortown Market is giving defeated chefs a chance at redemption, but they'll have to cook against their former competitors, and on Food Network Star, the finalists are making dishes for a ballroom of guests to celebrate Disney's Beauty and the Beast.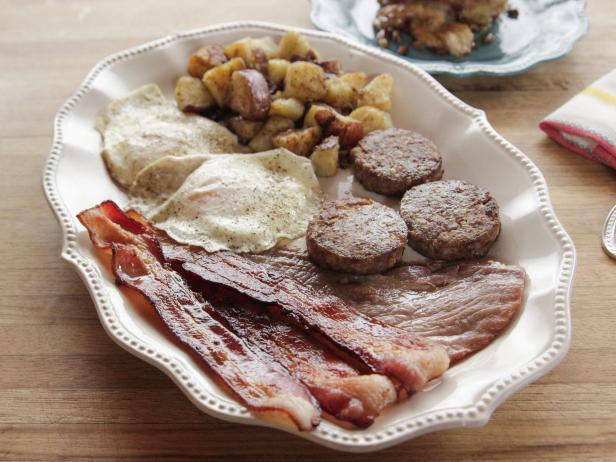 The Pioneer Woman: Competing Breakfasts – Saturday, June 10 at 10a|9c
Ree is trying to win back her husband, Ladd — from his breakfasts in town at the Merc! She's making his favorite slap-up platter, the Farmer's Breakfast (pictured), with over easy fried eggs, a slab of honey-glazed ham, fried sausage and bacon plus Crispy Bits Breakfast Potatoes. The whole meal is made more alluring with glorious Sticky Buns. It's Ree versus her own restaurant, out to win Ladd's breakfast heart!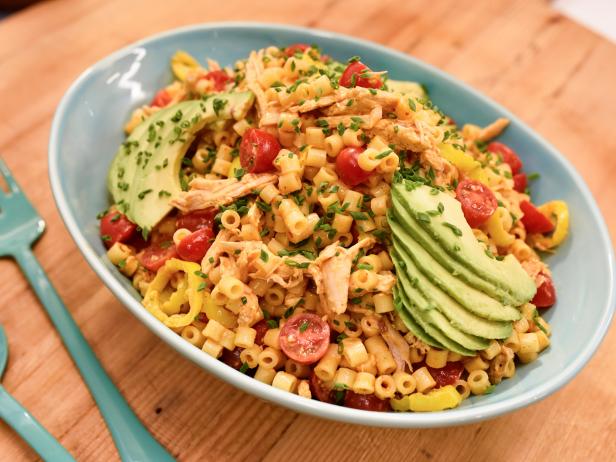 The Kitchen: Summer Sides – Saturday, June 10 at 11a|10c
The Kitchen is serving up summer sides! Sunny Anderson turns dinner favorite steak and potatoes into an Easy T-Bone Steak N' Potatoes Salad, and the hosts dress up delicious side dishes with designer dressings. Jeff Mauro makes a Honey-Chipotle Chicken Pasta Salad (pictured) using rotisserie chicken, and side dish questions are answered on the Kitchen Helpline. Singer Jessie James Decker stops by to make fresh Summer Couscous Salad. The ladies of The Kitchen share a new way to add flavor to cocktails with Sorbet Cubes.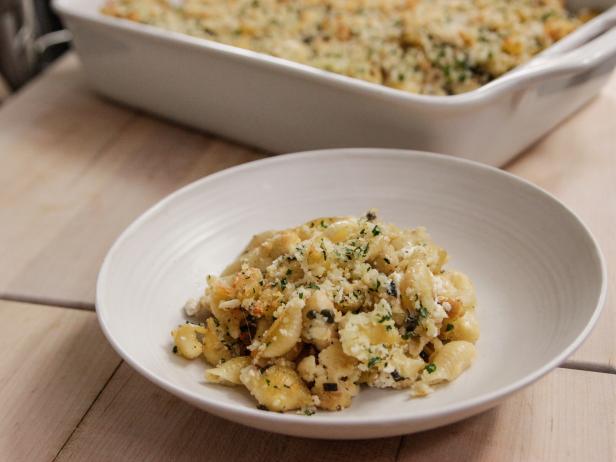 Barefoot Contessa: Cook Like a Pro: Pasta – Sunday, June 11 at 11a|10c
Ina's tackling pasta like a pro, first in Crusty Baked Shells and Cauliflower, then in a classic Italian soup: "16 Bean" Pasta e Fagioli. She makes a delicious lemony salad of Herbed Orzo with Feta (pictured) and special guest Mario Batali shares his top three pasta tips. Finally, Rigatoni with Sausage and Fennel takes all-in-one pasta meals to a whole new level.


Ayesha's Home Kitchen: Girls' Brunch – Sunday June 11 at 12:30|11:30c
As a mother of two, Ayesha doesn't get a lot of time alone, but her husband, Stephen, and the husbands of her close friends take all the kids for the day so the ladies can enjoy a decadent girls' brunch. After Ayesha stops by chocolate store Dandelion in San Francisco, the girls start with a light Bloody Mary topped with Brown Sugar Bacon, then prepare a Citrus Shrimp Salad, Sausage-Stuffed Mushrooms (pictured) and spinach feta rolls together. To finish off the day of indulging, Ayesha surprises the girls with a twist on her chocolaty childhood favorite, Skillet S'mores.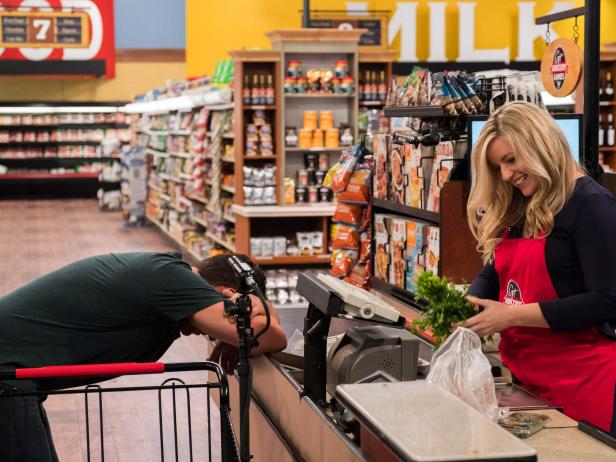 Guy's Grocery Games: Grocery Grudge Match – Sunday, June 11 at 8|7c
Returning GGG chefs are ready to contest their defeats by taking on their former Flavortown rivals in three winner-take-all grudge matches worth a guaranteed $5,000 each! In the first grudge match, two chefs who were originally forced to team up go head-to-head in a decadent dinner challenge using only ingredients that start with the same letter. In the second grudge match, two chefs from Guy Fieri's Summer Games are back to make a fine dining dinner featuring the ingredient that caused them headaches in their original match-up. In the final grudge match, GGG judge Duskie Estes is back to redeem her surprise loss to fellow judge Troy Johnson by creating a California dinner using nine items or less.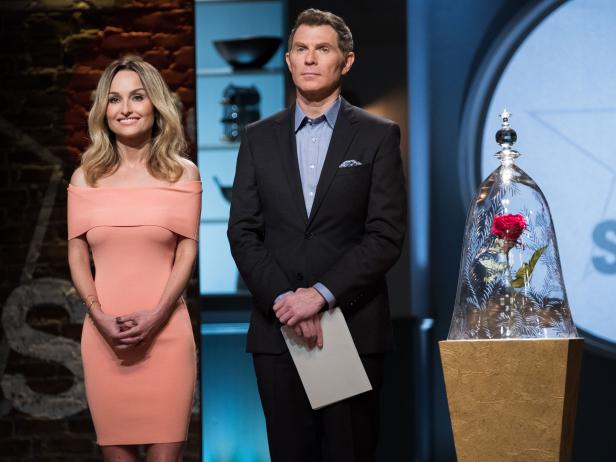 Food Network Star: Beauty and the Beast – Sunday June 11 at 9|8c
The finalists host a party celebrating Disney's live-action feature Beauty and the Beast. The finalists are divided into three teams, with each team drawing inspiration from one of the iconic rooms of the castle to decorate a serving station and cook up a dish before presenting to a ballroom full of party guests. Special guest Sandra Lee attends the event with Giada De Laurentiis and Bobby Flay to help pick a winning team, then two finalists from the losing team are sent home.
More posts from Joel Raneri.
Similar Posts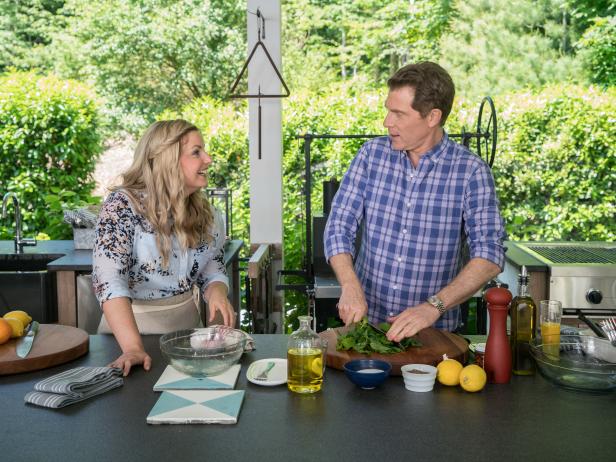 Get the latest details on the all-new series, The Bobby and Damaris Show....