On Saturday morning, Ree Drummond is sharing a collection of her all-time favorite summer recipes, perfect for entertaining or a quiet dinner for two. The menu includes Grilled Chicken Tacos with Strawberry Salsa, Gazpacho and Ice Cream Pie with Easy Caramel Sauce. Then, the co-hosts on The Kitchen are having a patriotic party and making a DIY confetti cannon. On Sunday morning, Ina Garten is cooking eggs like a pro and later on Ayesha Curry is making an Italian feast.
On Sunday evening, carnival games come to Flavortown on Guy's Grocery Games, and on Food Network Star, the remaining finalists are tackling Sunny Anderson's kitchen hacks, and performing them in front of a studio audience.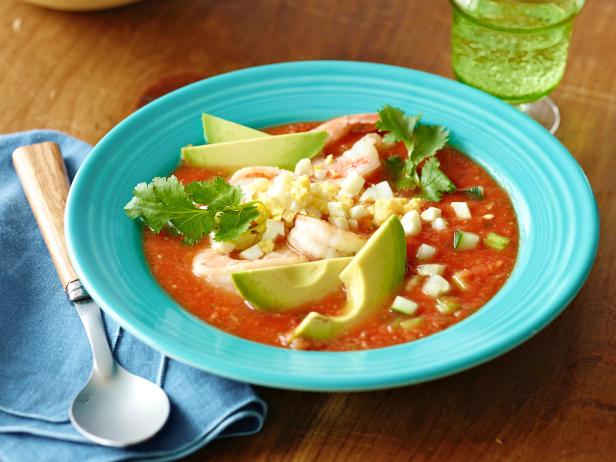 The Pioneer Woman: Summer Summer Summer – Saturday, July 1 at 10a|9c
Ree's sharing a collection of her favorite summertime recipes from over the years. There's an amazing shortcut for Ice Cream Pie with Easy Caramel Sauce that's a fabulous treat for her ranching crew, plus a perfect Panzanella that's her go-to summer salad. Then, Ree whips up Gazpacho (pictured) with juicy shrimp, an incredible cold soup for hot days. Finally, in a seasonal surprise, she's serving up Grilled Chicken Tacos with Strawberry Salsa.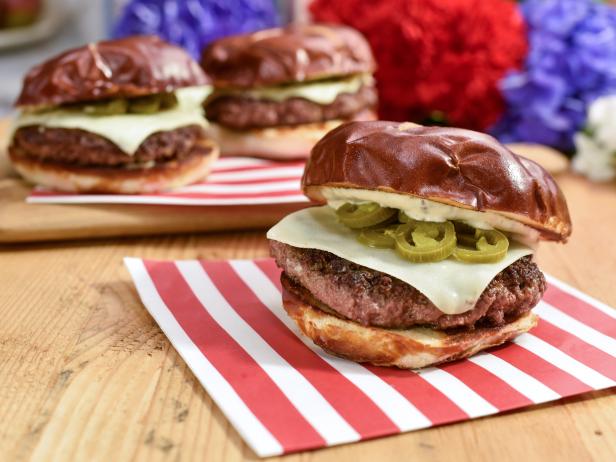 The Kitchen: Patriotic Party – Saturday, July 1 at 11a|10c
The Kitchen's Patriotic Party kicks off with Jeff Mauro's GYOB ("Grind Your Own Beef") Griddle Burger with Dijoli (pictured) and new ways to flavor bomb condiments with Bloody Mary Ketchup. Katie Lee and Sunny Anderson take hot dogs to the next level, and lifestyle blogger Rachel Hollis joins the party with her Red, White, and Blue Pretzel Salad. The hosts also share No-Fail Party Prep ideas and a DIY Confetti Cannon to make the 4th of July truly great!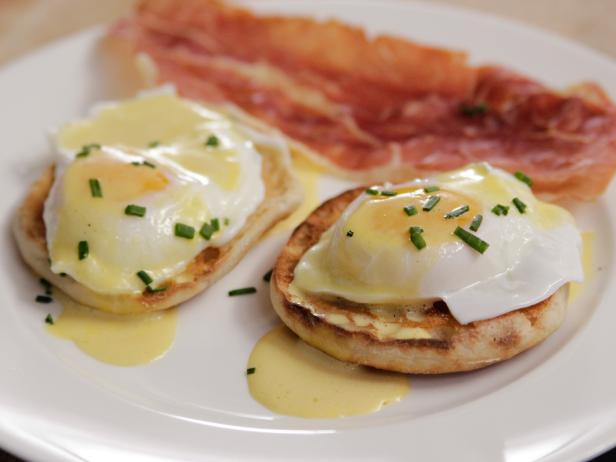 Barefoot Contessa: Cook Like a Pro: Eggs – Sunday, July 2 at 11a|10c
It's eggs all the way in an incredible master class, featuring them soft boiled and in the dressing of a fantastic Caesar Salad with Blue Cheese and Bacon. Egg whites are whipped to perfection for a Pavlova Fruit Tart, then there's foolproof Truffled Scrambled Eggs. She makes Eggs Benedict with an Easy Hollandaise Sauce (pictured) just like a pro, and super chef Jose Andres reveals the secret of his perfectly fried eggs.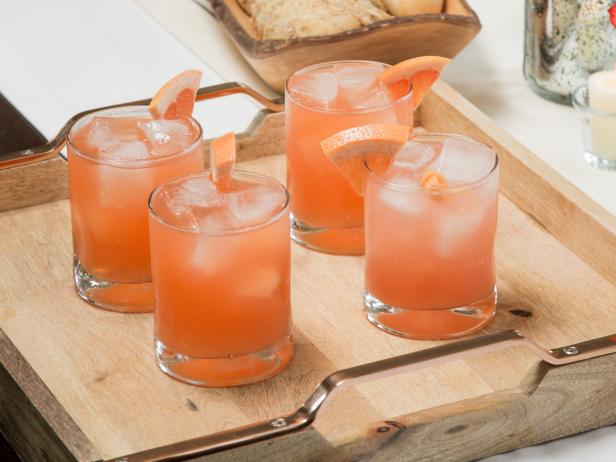 Ayesha's Home Kitchen: Godfather – Sunday, July 2 at 12:30|11:30c
Ayesha prepares a big Italian meal as she and her husband, Stephen, entertain his best friend from college, Bryant, and his wife, Brittany, who also happen to be the godparents of her daughter, Riley. She whips up Fresh Egg Pasta, an Ultimate Caesar Salad, and Steph's favorite, Chicken Parmesan for the party. To finish off this classic Italian meal, they make a light and sweet Tiramisu and enjoy Italian Greyhounds (pictured) together.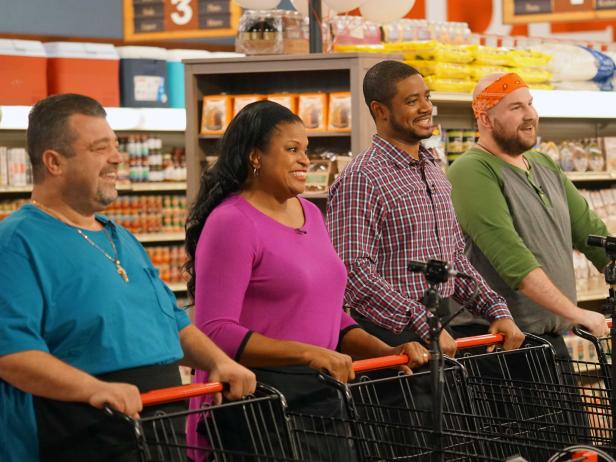 Guy's Grocery Games: Carnival Games – Sunday, July 2 at 8|7c
The market has been turned into a midway so that four carnival food chefs can compete for a jackpot worth up to $20,000! First, they try their luck spinning a wheel of chance for the ingredients in their fried classic. Next, chefs play Guy Fieri's arcade favorite, Spree Ball, to determine the budget for their "something on a stick" specialty. Then, the final two chefs use darts to pop the balloons that determine which aisles they can shop to create elevated carnival food.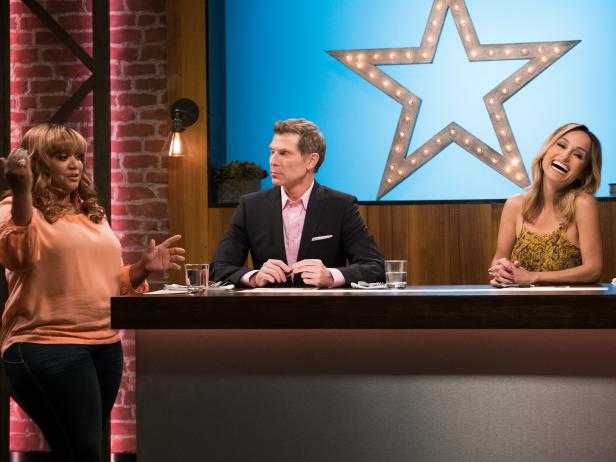 Food Network Star: Sunny's Kitchen Hacks – Sunday, July 2 at 9|8c
First, the finalists pair up and take on a typical shopping budget problem while creating an Instagram Story about their shopping trip, with special guest Hannah Hart helping Giada De Laurentiis and Bobby Flay judge their efforts. Then it's time for Sunny Anderson to hit the Food Network Star kitchen, bringing several of her favorite problem-solving segments from The Kitchen for the finalists to perform in front of a studio audience.
More posts from Joel Raneri.
Similar Posts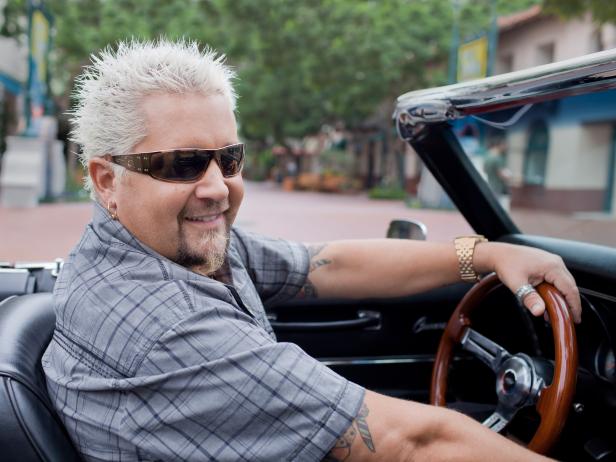 Get the first look at Guy Fieri's upcoming series, Guy's Family Road Trip....