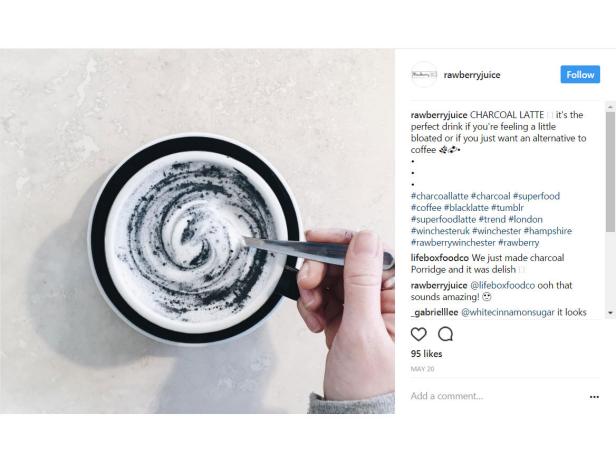 Remember when charcoal was just a thing you used to heat your backyard grill? Then it became a trendy cocktail ingredient, rendering boozy beverages fashionably black. Soon your local barista may be handing it to you in your morning coffee cup.
Charcoal Lattes, using activated charcoal, are a thing in Europe and Asia, the New York Daily News reports. The images of the drink have been burning up social media, which had prompted speculation that America's time will come. That time, in fact, may be now — as Chicago's Werewolf Coffee Bar seems to have picked up on the trend.
"We're OBSESSED with our new Charcoal Latte, not only because it looks beautiful but it's the perfect detoxifier and stress reliever for the body," Werewolf gushed on Instagram.
The health benefits of activated charcoal lattes may be a matter of some debate, and there are apparently no set rules about ingredients and methods, either.
Rawberry Juice, a vegetarian cafe in Winchester, England, uses only three ingredients for its "earthy"-flavored charcoal lattes, which it claims are "the perfect drink if you're feeling a little bloated or if you just want an alternative to coffee": activated charcoal, hot water and steamed milk. (A video capturing the cafe's charcoal-latte creation process has been posted on Facebook by Out of Office by Mic.)
Wild & the Moon, a "wild food juice bar" in Dubai, makes its "healthy," "sexy" charcoal lattes with rice bran and homemade almond milk. Sprout Whole Food & Grocer, just north of Sydney, Australia, adds vanilla, honey and coconut milk to its dairy-free charcoal lattes, which one fan raved were "out of control delicious."
Most of these charcoal lattes appear to be caffeine free, but one clever Instagrammer — a Chicago pastry chef who goes by the handle @sherriesavorsthecity — suggests "adding an espresso shot or matcha for that extra jolt of caffeine."
Suppose that either defeats the purpose or makes it all worthwhile, depending on your perspective.
Photo courtesy of @rawberryjuice
More posts from Amy Reiter.
Similar Posts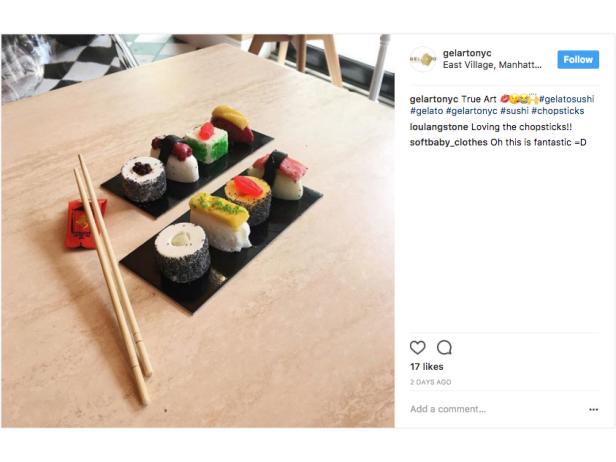 Nothing says summer whimsy like gelato in the shape of pieces of nigiri. ...