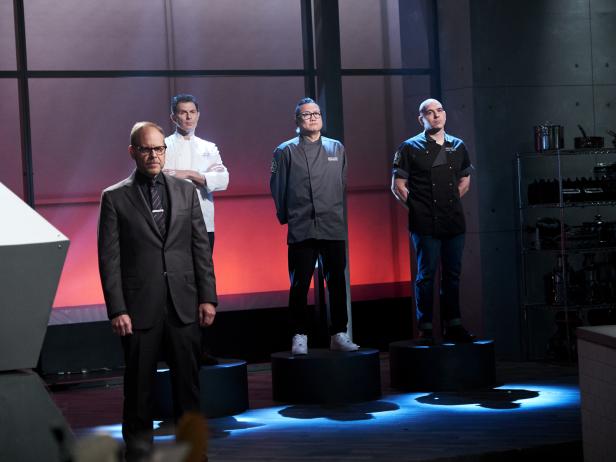 Stay out of the heat, grab a seat on the couch, and spend this weekend learning some new recipes from your favorite Food Network cooks. On Saturday morning, Ree Drummond is experimenting with breakfast, testing new recipes, hacks and make-ahead meals. Then, the co-hosts on The Kitchen are testing out some new flavor combinations, and on Sunday morning, Ayesha Curry is making a citrus-based menu for a ladies' lunch.
On Sunday evening, Valerie Bertinelli and Tyler Florence are back on Comeback Kitchen to see which former Food Network Star finalist will get another chance at stardom. After that, Chef Stephanie Izard enters The Gauntlet to battle Iron Chefs Bobby Flay, Masaharu Morimoto and Michael Symon for a chance to enter the ranks of the esteemed Iron Chefs. Then, finish up the weekend by visiting some of the Iron Chef stars' favorite spicy and seafood-centric restaurants.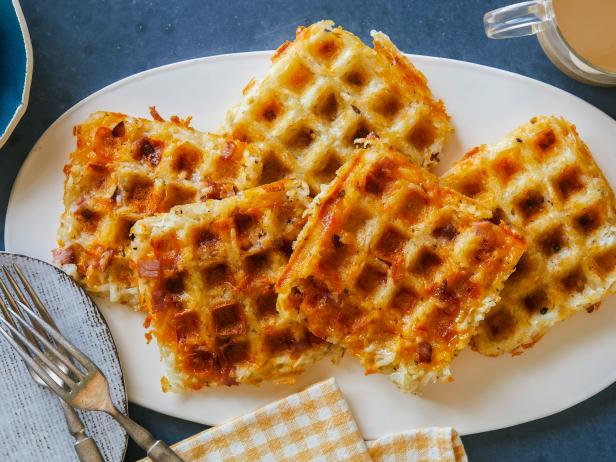 The Pioneer Woman: Breakfast Hacks – Saturday, May 20 at 10a|9c
Ree is testing delicious ideas for kitchen hacks to up her breakfast game. There's a shortcut to the divine with Chocolate Chip Hazelnut Pancakes. She's going experimental with a crazy Omelet In A Bag (pictured) and unleashing the waffle iron for cheesy hacked Wafflemaker Hash Browns (pictured). To get ahead, there's Strawberries and Cream Muesli and a Mango Marvel smoothie pack.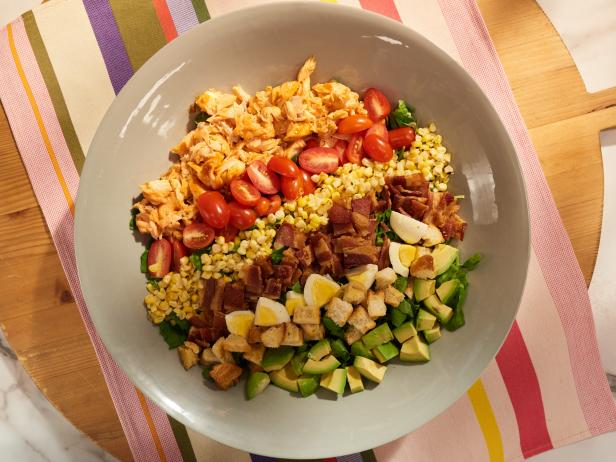 The Kitchen: Fresh New Flavors – Saturday, May 20 at 11a|10c
The Kitchen is exploring new flavors, starting with Sunny Anderson's Easy Bruschetta Burger and Katie Lee's BBQ Salmon Cobb Salad (pictured). Creating fresh, seasonal dishes is easy with a Field Guide to Greens and new ways to use leftover lemons. Marcela Valladolid starts the Kitchen's herb garden, and Chef Angie Mar shares her tips for grilling rib-eye steaks. Geoffrey Zakarian serves up a green Bloody Mary.
Great Food Truck Rally: Do or Die in the Big D – Saturday, May 20 at 2|1c
Host Sabin Lomac puts three teams of aspiring food truck owners from the Dallas/Ft. Worth area of Texas through the ultimate food truck crash course. After a wild weekend of cooking and competition, one local team walks away with the grand prize: their very own food truck business.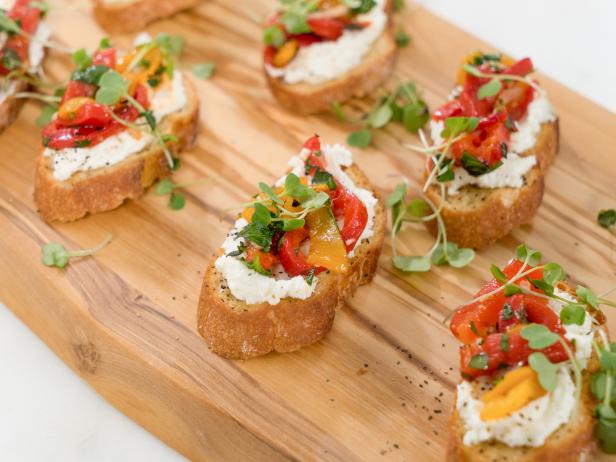 Ayesha's Home Kitchen: Ladies' Lunch – Sunday, May 21 at 12:30|11:30c
Ayesha plans a fresh and citrusy menu for a light Ladies' Lunch with her mom and sister-in-law. She wants to thank them for all their help with the kids, so to make it really special she's preparing Rose Lemon Caper Salmon, Cauliflower Rice and Roasted Pepper and Goat Cheese Bruschetta (pictured). She also shares a simple hack for Lemon Olive Oil Cake and stirs up a Rose Spritzer to show her family just how much she appreciates them.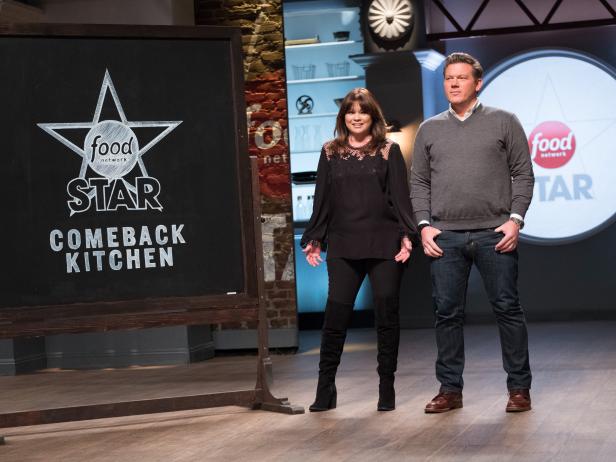 Food Network Star: Comeback Kitchen: A Fresh Star(t) – Sunday, May 21 at 8|7c
Former finalists return to the Food Network Star kitchen for a second shot at stardom! Hosts Valerie and Tyler kick off the proceedings by identifying what kept each of the alumni from prevailing in their previous season. Then, the alumni each take on a retro dessert in desperate need of a comeback and shoot an Instagram video about their updated version. Duff Goldman joins Valerie and Tyler to help judge the results, and one contestant will be eliminated from the competition.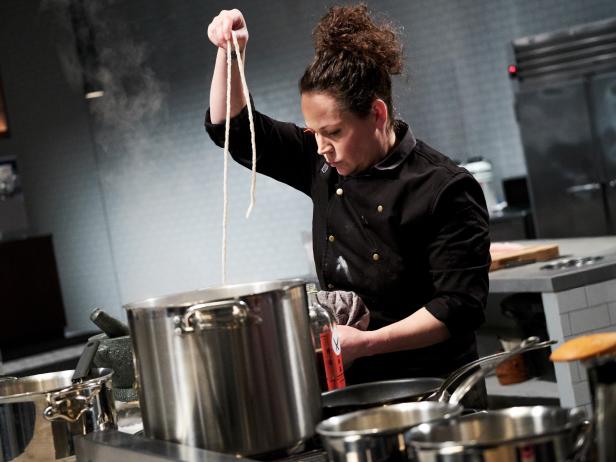 Iron Chef Gauntlet: The Gauntlet – Sunday May, 21 at 9|8c
The last chef standing has the Iron Chef title in sight, but he or she must first run the three-round gauntlet against legendary Iron Chefs Bobby Flay, Masaharu Morimoto and Michael Symon and finish with more points than the Iron Chefs combined. The finalist is given the opportunity to strategically choose which Iron Chef competes in each rapid-paced round, based on the Secret Ingredients. In the end, judges Anya Fernald and Ludo Lefebvre decide if the finalist makes culinary history and becomes an Iron Chef or leaves in defeat.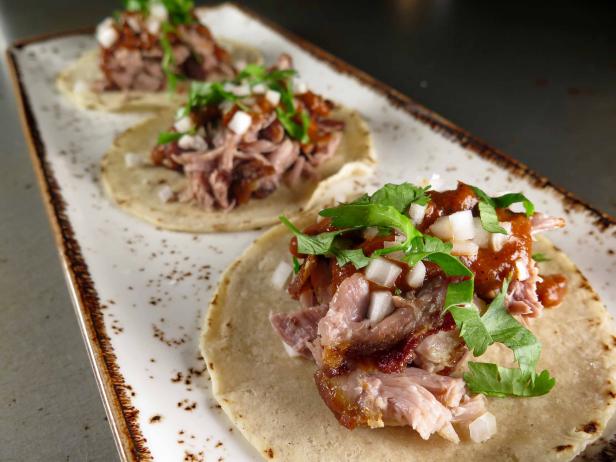 Iron Chef Eats: Hot and Spicy – Sunday, May 21 at 11|10c
The folks at Iron Chef are turning up the heat with dynamite dishes that set their senses on fire! Iron Chef Alex Guarnaschelli torches her taste buds with the spicy meatball and pork carnitas tacos (pictured) at Johnny Sanchez in New Orleans. Iron Chef Gauntlet competitor Stephanie Izard loves the spicy Indian dosas at Dosa on Fillmore in San Francisco. Iron Chef winner Brad Farmerie heads to Uncle Boon's in New York City for their green curry snails and spicy rotisserie chicken salad, while Iron Chef winner Viet Pham prefers to set his mouth ablaze with the Nashville-style hot chicken at Howlin' Rays in Los Angeles.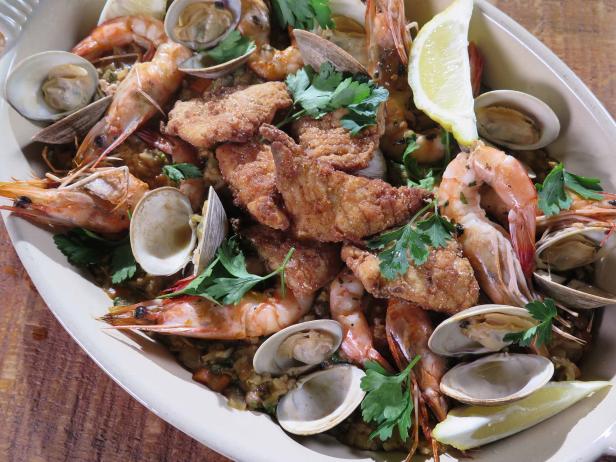 Iron Chef Eats: Seafood Standouts – Sunday, May 21 at 11:30|10:30c
The authorities at Iron Chef talk about the seafood that has them hooked! Iron Chef Geoffrey Zakarian dives into Lure Fishbar in New York City for the branzino and the sea urchin bucatini. Iron Chef Gauntlet competitor Jonathon Sawyer swims in seafood when he orders the low country seafood pilau and fried oysters (pictured) at The Grocery in Charleston, S.C., while Iron Chef Gauntlet competitor Stephanie Izard craves the creamy clam chowder at the John Dory Oyster Bar in New York City. Meanwhile, Iron Chef winner Walter Royal heads to Brennan's in New Orleans when he wants the best gumbo and roasted oysters.
More posts from Joel Raneri.
Similar Posts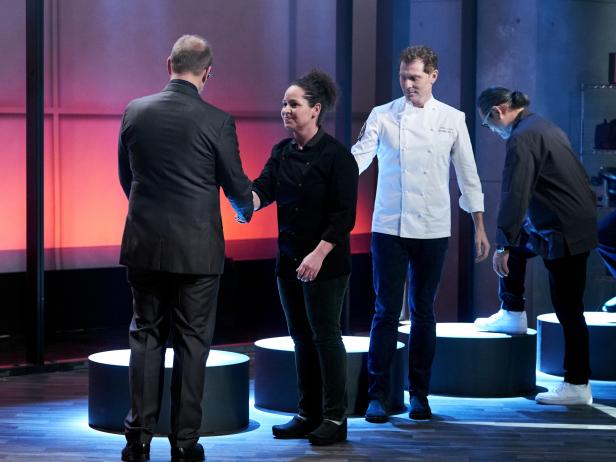 Get the latest details on the all-new series Iron Chef Showdown....