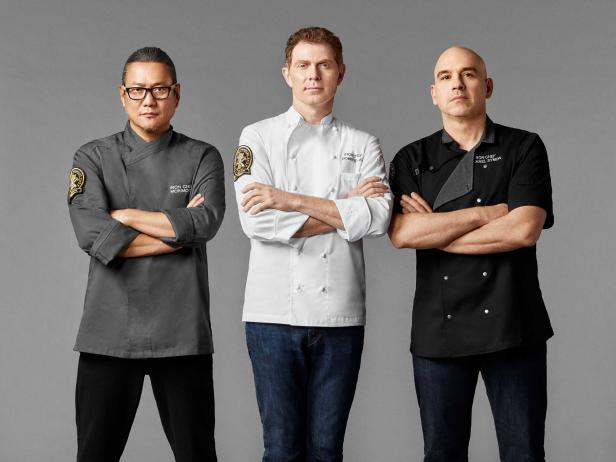 The weather is heating up outside, and this weekend your favorite Food Network cooks are turning up the heat in the kitchen. On Saturday morning, Ree Drummond is making one-dish meals like Greek Salad in a Jar, Ramen Pho and a chicken sheet pan dinner. Then, the co-hosts on The Kitchen are making their best new chicken recipes, Valerie Bertinelli is hosting an elegant dinner party, and Giada De Laurentiis is putting a California twist on classic Italian recipes.
On Sunday evening, Alton Brown is taking a trip through the past and revisiting the greatest culinary battles on Iron Chef America, and preparing for his new role as Chairman in the newest installment of Iron Chef: Iron Chef Gauntlet. Seven of the hottest rising chefs from across America will battle each other each week until a single chef is left to compete in the ultimate battle: to beat three legendary Iron Chefs – Bobby Flay, Masaharu Morimoto and Michael Symon – either leaving in defeat or gaining the coveted title of Iron Chef. Then, on the premiere of Iron Chef Eats, stars from the world of Iron Chef are traveling across America and sharing their favorite spots for juicy, mouth-watering burgers and finger-licking-good barbecue.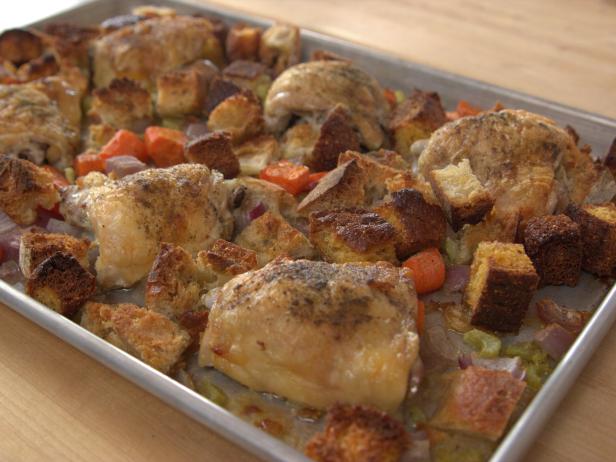 The Pioneer Woman: All in One – Saturday, April 15 at 10a|9c
Ree is making non-stop all-in-one wonders. There's a simple Chicken and Dressing Sheet Pan Supper (pictured), Lemon Basil Shrimp Risotto in a skillet, the easiest Ramen Pho and a layered, portable Greek Salad in a Jar.


The Kitchen: Spring Chicken – Saturday, April 15 at 11a|10c
The Kitchen is perfecting poultry for spring, starting with Katie Lee's Roasted Chicken with Croutons and the kickoff of the Rotisserie Club with Jeff Mauro's Sweet and Sour Pulled Chicken Sandwich. Then, Chef and restaurateur John Seymour stops by to grill Honey Garlic Chicken Thighs (pictured), The Kitchen Helpline answers frequently asked chicken questions, and Geoffrey Zakarian serves up a Classic Mint Julep.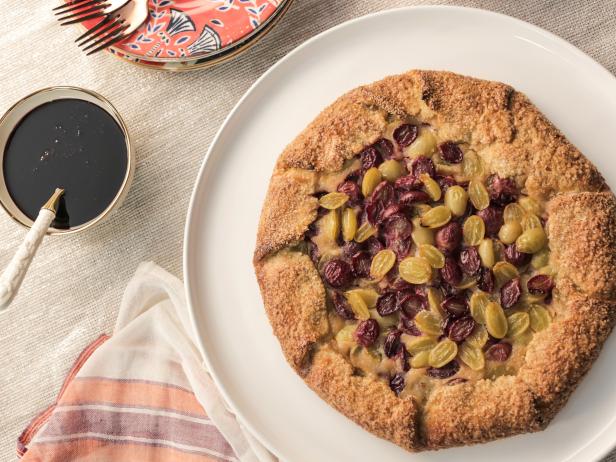 Valerie's Home Cooking: Recipe Renovation – Saturday, April 15 at 12|11c
Valerie and her husband, Tom, have been living through remodeling angst for a few months and the end is finally in sight. In order to show off and celebrate her new and organized closet, she invites friends over and prepares a lovely elegant dinner that includes a Crunchy Mustard Chicken Bake, Snap Pea, Orange and Radish Salad, Aperol Spritz Martinis, and a Grape and Ricotta Galette with Fennel Crust and Red Wine Syrup (pictured) for dessert.


Giada in Italy: Culinary Renaissance – Sunday, April 16 at 12|11c
Giada spends several days working at the restaurants of celebrated master Chef Fabio Picchi, where she shares her knowledge and, in turn, learns the art of Florentine cuisine. When she gets back to her apartment, she creates an Italian menu with a California spin, making dishes like Prosciutto Broth with Farro and Spinach (pictured) and Branzino with Puttanesca.
Iron Chef Gauntlet: The Legend of Iron Chef – Sunday, April 16 at 8|7c
Alton journeys back through more than 12 years of culinary battles to present the greatest victories, thrilling upsets, and world-changing dishes that have made Iron Chef America the legend that it is. And, as the new Chairman, he prepares the kitchen for the newest chapter with the fiercest competitors: Iron Chef Gauntlet.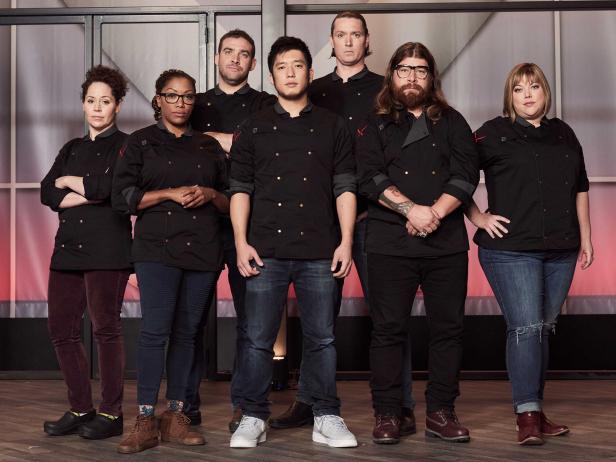 Iron Chef Gauntlet: Into the Wild – Sunday, April 16 at 9|8c
For the first Chairman's Challenge, Alton jump-starts the proceedings by serving up an array of wild ingredients, and the chefs must use their expert techniques to make a top-tier dish right out of the gate. Alton determines the most and least successful dishes, and the bottom-rated chef is thrown into the deep end for a Secret Ingredient Showdown against a competitor chosen by the winner. Dishes are presented to judges Donatella Arpaia and Iron Chef Geoffrey Zakarian, and one competitor is sent home.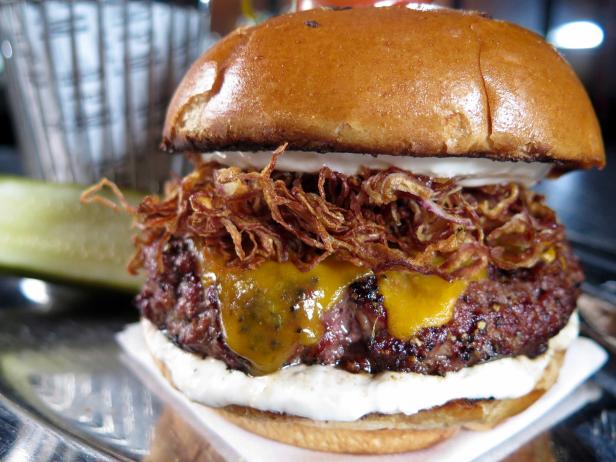 Iron Chef Eats: Beloved Burgers – Sunday, April 16 at 10|9c
The folks from Iron Chef are sharing their favorite spots for the best burgers. In New York City, Iron Chef Alex Guarnaschelli prefers late night hotspot Sister Midnight in the East Village for their simple yet satisfying cheeseburgers and veggie burgers, while Iron Chef winner Madison Cowan can be found in midtown, rolling up his sleeves at Salvation Burger. Iron Chef Gauntlet competitor Sarah Grueneberg checks into RPM Steak in Chicago for their dry-aged steakburger (pictured), and Iron Chef winner Tim Love satisfies his burger cravings at Cafe No Se in Austin.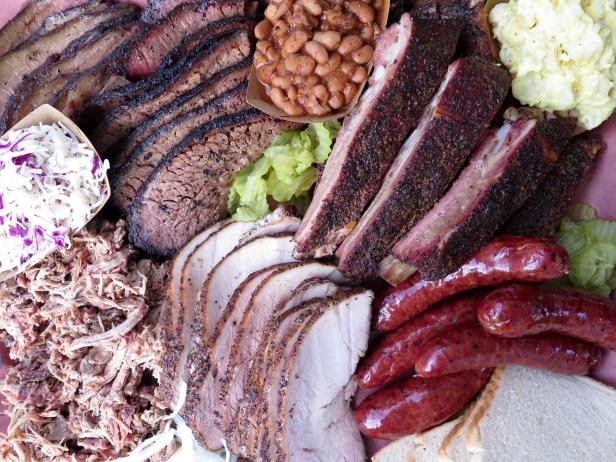 Iron Chef Eats: Lip-Smacking Barbecue – Sunday, April 16 at 10:30|9:30c
When it comes to barbecue, no one follows the smoke signals as quickly and hungrily as the folks from Iron Chef! Iron Chef Michael Symon chows down on chicken redneck tacos at Martin's Bar-B-Que Joint in Nashville, while Iron Chef winner Lee Anne Wong patiently waits hours in line at Franklin Barbecue in Austin (pictured). Iron Chef Gauntlet competitor Jonathon Sawyer swears by the smoked lamb belly and Korean sticky ribs at Hometown Bar-B-Que in Brooklyn, and Iron Chef winner Madison Cowan heads to Bludso's Bar and Que in Los Angeles for their lip-smacking ribs.
More posts from Joel Raneri.
Similar Posts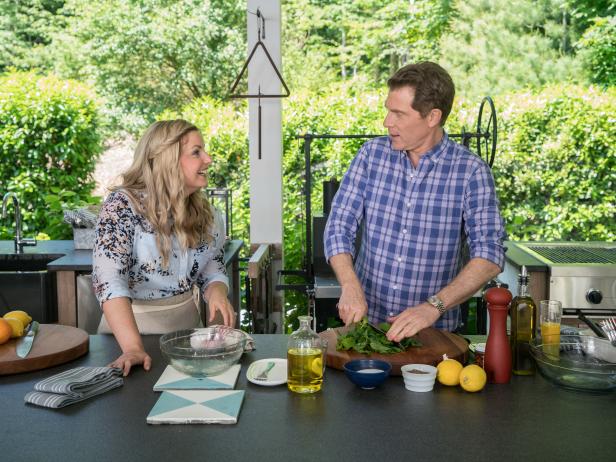 Get the latest details on the all-new series, The Bobby and Damaris Show....