The rainy days of April provide the perfect excuse to indulge in restaurant takeout in the comfortable confines of your own home. And what better way to channel the sunny days that lay just ahead (hello, May!) than by diving into the vibrant, heat-packed dishes that characterize Thai cuisine. Here, chefs around the US fill us in on their favorite Thai takeout dishes.
Spice-Laden Staples
San Diego-based Brian Malarkey has restaurants spread across the States; however, his two latest concepts, Herb & Wood and Herb & Eatery, keep him close to his Point Loma residence. So much time on his home turf means Malarkey knows just where to dial up for delivery. The chef opts for simple, old school dishes from Supannee House of Thai, such as Pad Thai, spring rolls and skewers. "I love this restaurant because they use locally-sourced ingredients, including fresh farm-to-table veggies, herbs, peppers and chiles from their two gardens," says Malarkey. When he travels to Los Angeles to check in on his beach-inspired Santa Monica restaurant, Herringbone, Malarkey orders his takeout from West Hollywood's Night + Market, typically sticking with Pork Toro (grilled fatty pig neck), Nam Khao Tod (crispy rice salad) and Som Tum (papaya salad). The spot continues to lure him back with its spice-laden offerings. "[The] food is packed with vinegar, heat, chile and has a ton of personality."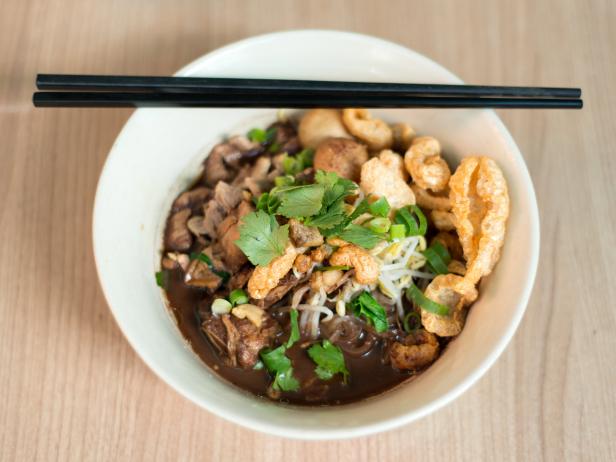 A Satiating Bowl of Noodles
When Executive Chef Brad Warner of New York's Shay & Ivy is in the mood for a hearty meal at home, he likes to order Boat Noodle with Pork and wide ribbon noodles from a place called Pye Boat Noodle in Astoria, Queens. Appropriately titled, the dish was first served from boats that cruised Bangkok's canals. The base of the dish is a satiating broth made from a mix of pork and soy. Spices such as garlic, cinnamon and paprika enhance its flavor, which is made even richer by the inclusion of pig's liver and meatballs (a frequent addition to the recipe). So why does Pye's take prove to be so irresistible to Warner? "The combination of crispy pork skin and tender pork meatballs in a rich pork broth is too good to turn down," he says.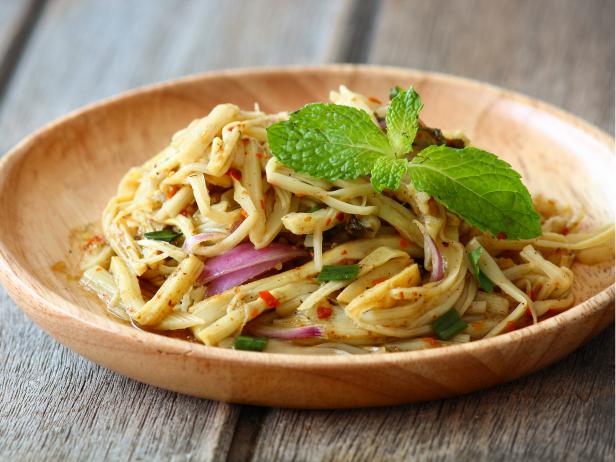 A Flavor-Packed Salad
The culinary duo behind Fort Lauderdale's global comfort food spot Hot & Soul tend to skip over the ubiquitous (yet delicious!) green papaya salad in favor of a rarer vegetable-based dish, bamboo shoot salad. Typically served hot with sticky rice, this dish features a bright array of ingredients that includes fish sauce, lime and chiles. The resulting flavors are "so fresh and intense," says Chef Mike Hampton, who co-owns Hot & Soul with his wife and fellow chef, Christy Samoy. These days, the couple is content with the bamboo shoot salad turned out by Panya Thai in North Miami Beach. However, after years of living in Southern California, the duo still dreams about the Thai takeout salads served there, particularly the ones made by Original Sab E Lee in San Diego and Crispy Pork Gang in Hollywood. "Sab E Lee is a small, family-run restaurant that also has great bamboo shoot salad," Hampton says. "Crispy Pork Gang has the freshest, made-to-order papaya salad ever!"
Photography courtesy of iStock/leelakajonkij and iStock/Amornmas
More posts from Sara Ventiera.
Similar Posts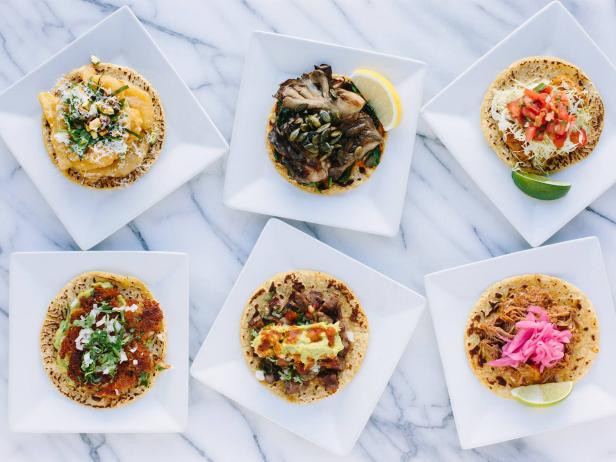 Los Angeles chefs share the most-tempting spots for tacos in the City of Angels....