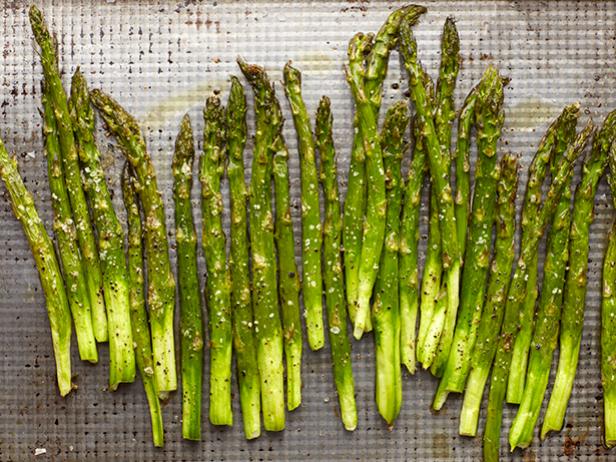 Something new has happened in our house this year. We've become a two-bundle family — in terms of asparagus, this is. One dainty parcel of asparagus, wrapped in a single rubber band, won't cut it anymore. That's because every time I cook a pound of asparagus, my husband and our four small rascals hoover that stuff up so fast I hardly have time to snag a spear myself.! So we've graduated. And it's for the best. Now if I could just decide on which of these dishes to start with.
Ina Garten's Roasted Asparagus (pictured above)
If you've never cooked asparagus before, and certainly if this is your children's first taste of it, you must start with this classic recipe. Only the Barefoot Contessa could use so few ingredients to generate a fan-favorite dish with more than 300 user reviews.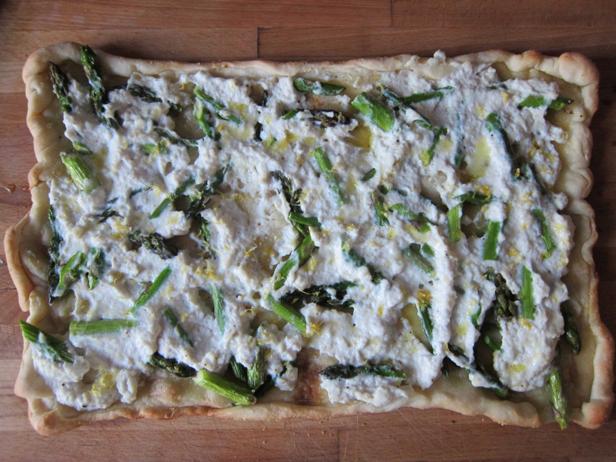 Homemade Pizza with Asparagus, Ricotta and Lemon
It's always nice for kids to help with dinner, and nothing gets them more interested in actually eating dinner than lending a hand in making it. There are a few simple steps for kids to jump in along the way when prepping this simple pizza, dotted with creamy ricotta and zesty lemon.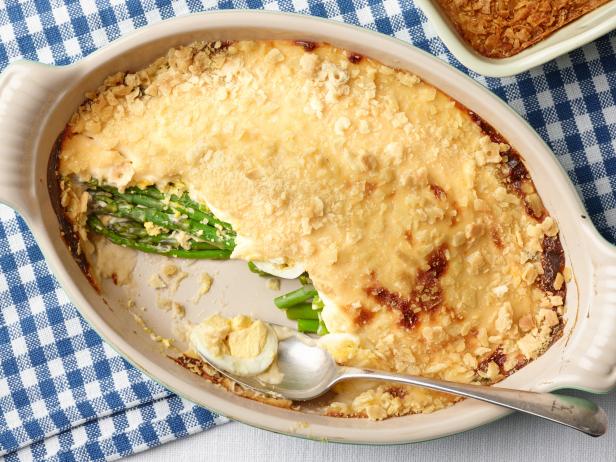 Trisha Yearwood's Asparagus Casserole
This two-layer side dish is a Southern cook's dream. Start with a layer of fresh asparagus, and top it with a creamy, cheesy blanket of eggs and saltine crackers.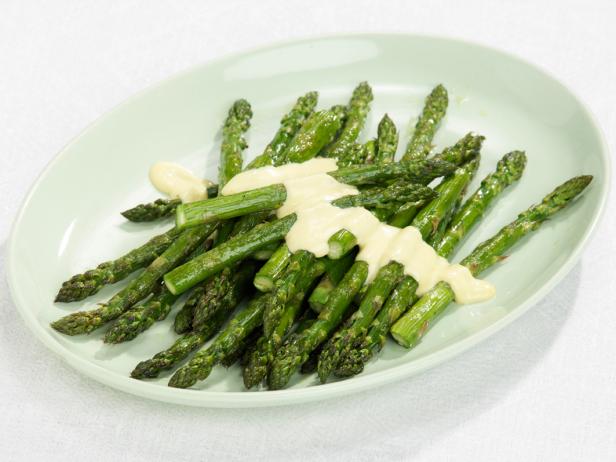 Roasted Asparagus with Hollandaise Sauce
This brunch favorite is easier to make than you might think. All you need is a blender for creamy results.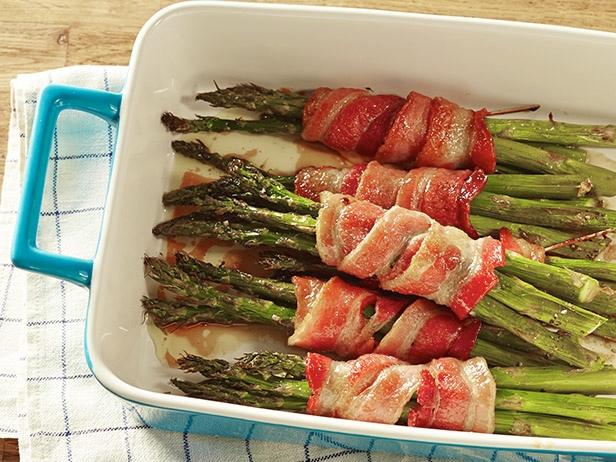 Asparagus Bacon Bundles
This recipe follows a tried-and-true rule of cooking: Anything wrapped in bacon is going to be pretty darn good.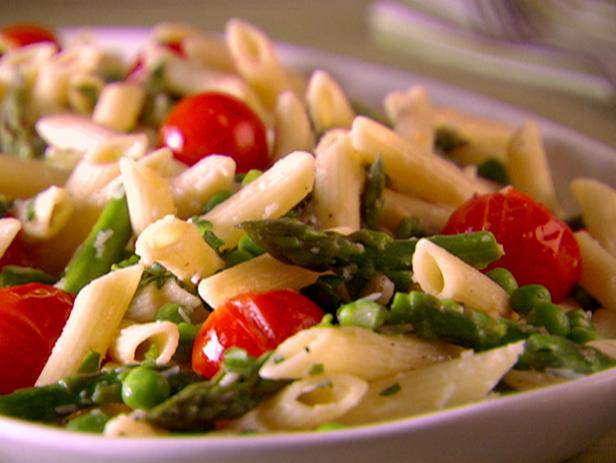 Giada De Laurentiis' Penne with Asparagus and Cherry Tomatoes
What happens when sweet peas mingle with asparagus, garlic, fresh basil and tomatoes? You get the taste of spring on a plate.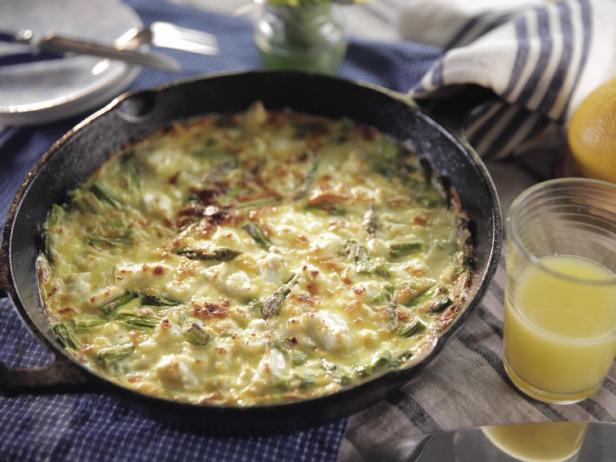 Asparagus Frittata with Feta Cheese
Trisha's satisfying recipe makes a great centerpiece at brunch, but you can also move it to nighttime. Serve this vegetarian dinner with a big loaf of crusty bread and a salad on the side.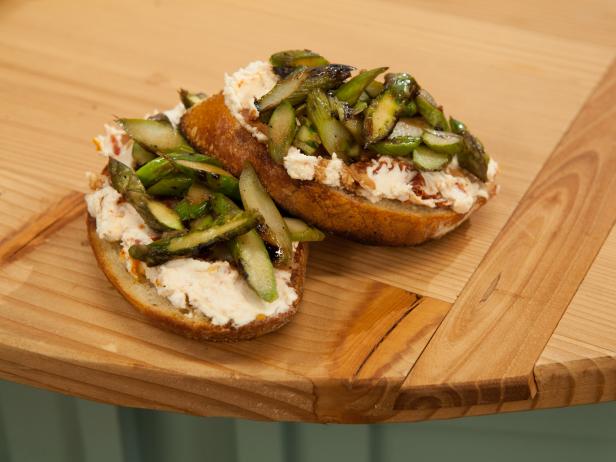 Grilled Asparagus Bruschetta
For a quick party bite, look no further than these 20-minute toasts, slathered with a goat cheese mixture and finished with tender grilled asparagus.
Easy Spring Asparagus with Peas & Parmesan
Busy parents, this one's for you. Just steam the veggies, then drizzle fresh lemon and a touch of shaved Parmesan cheese on top. It's a kid-friendly side dish done in minutes.
Charity Curley Mathews is the mom of four small kids and lives in North Carolina on a mini farm in the making. She's a contributor to InStyle, The Huffington Post and eHow Food and the founder of Foodlets.com, a food and parenting blog where every recipe is full of fresh ingredients, simple to make and kid-tested x4. You can follow her on Facebook.
More posts from Foodlets.
Similar Posts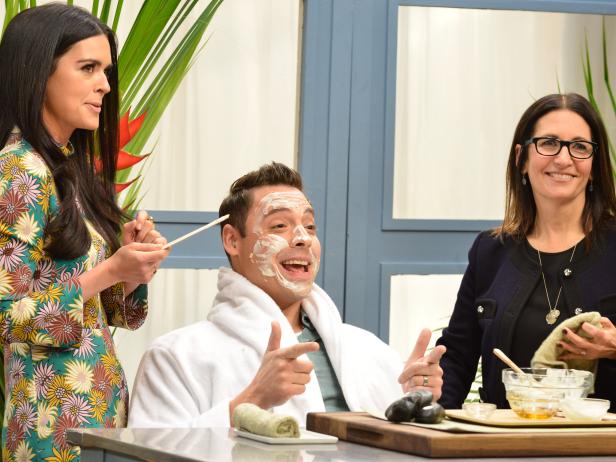 You don't have to travel somewhere exotic to make the most of your time off....