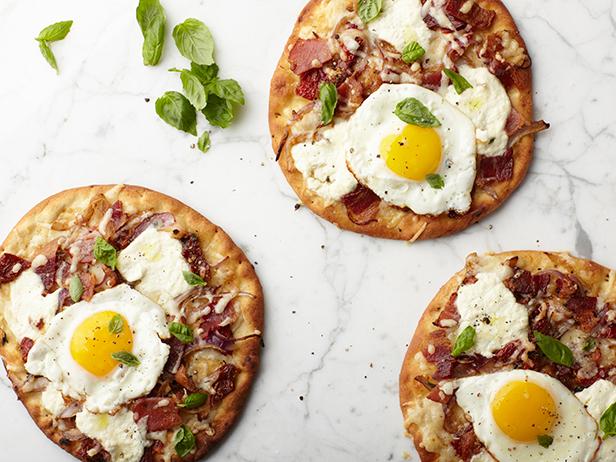 Bacon isn't just for breakfast anymore. The salty, delectably greasy slice of meat can be served for all meals, including for dessert. We know this is exciting, so try to remain calm, because today we have for you an all-day menu of favorites like pancakes, pizza and chocolate cupcakes — and each dish is full of bacon.
Breakfast 
Breakfast Pizza (pictured above) 
What could be more fun than pizza for breakfast? Top flatbread with a sweet-savory mixture of tender onions and sundried tomatoes, plus crispy bacon, creamy ricotta and a fried egg for an over-the-top finish.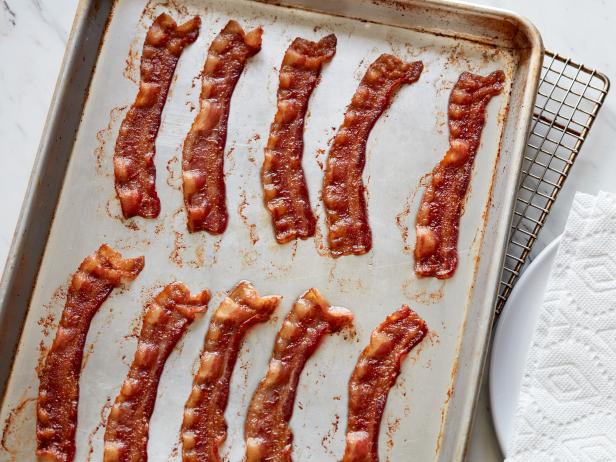 Roast Bacon
It's quite possible that the best way to eat bacon is the old-fashioned way — by itself. Follow Ina Garten's lead and bake strips of bacon to achieve ideal crispiness. Then pair the meat with sunny eggs and toast for a picture-perfect meal.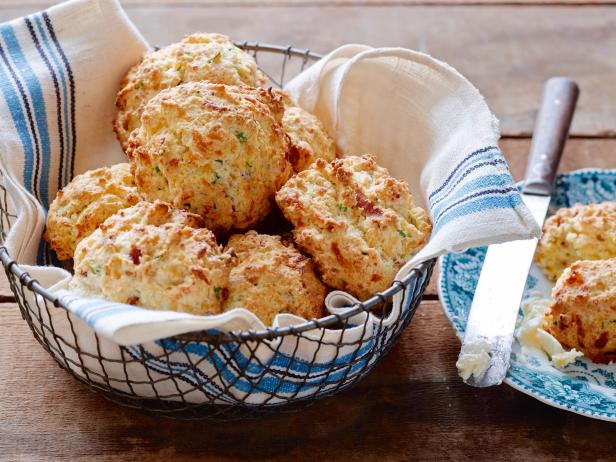 Bacon, Cheddar and Chive Biscuits
Chockfull with cheese and bits of crispy bacon, these biscuits turn out fluffy every time. And while they pack the punch of a meal's worth of flavor, they make for a perfect breakfast side dish.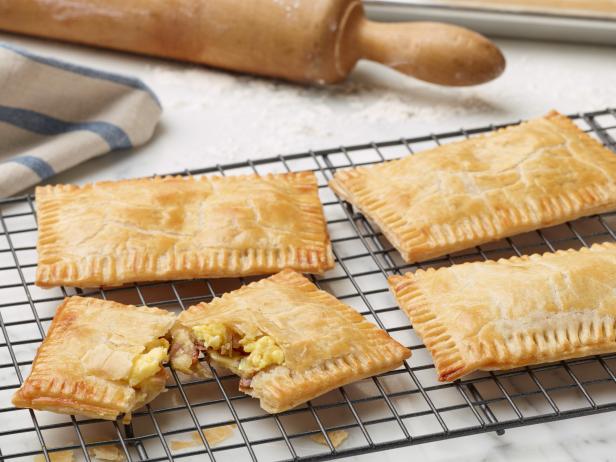 Toaster Tarts
Jump on the latest food trend by serving up your own savory tarts. These small baked pockets — filled with bacon, a Cheddar-Monterey Jack cheese blend and scrambled eggs — will have both kids and adults eagerly awaiting breakfast.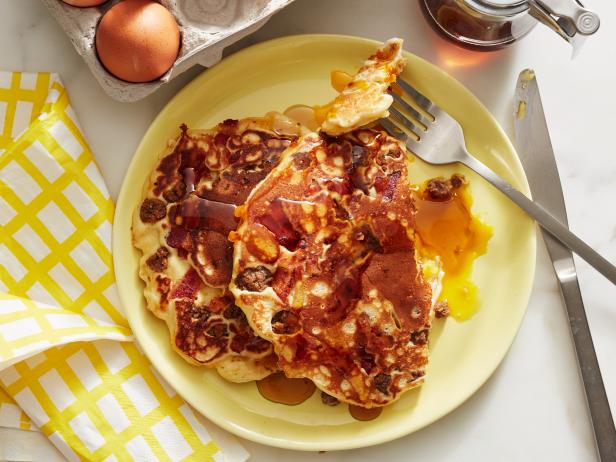 Bacon-Egg-and-Cheese-Stuffed Pancakes
We've all had the standard breakfast plate of fluffy pancakes, a few slices of bacon and two eggs on the side. Try mixing all those favorites together to create the ultimate stack of flapjacks boasting all your favorite breakfast flavors.
Lunch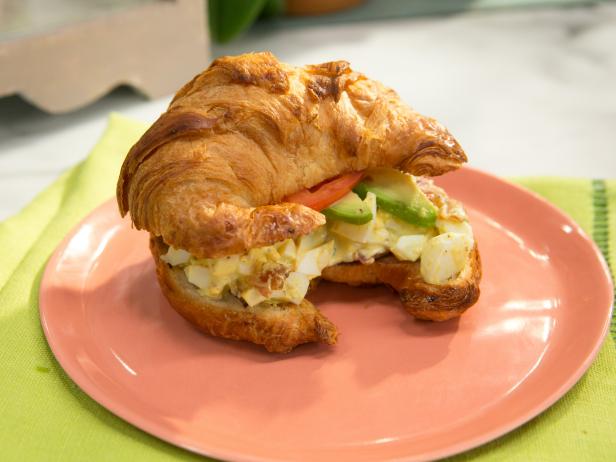 Bacon and Egg Salad
The best way to bump up a classic like egg salad? Add some texture with chopped bacon, of course. There's also a tangy dressing with stone-ground mustard, mayo and lemon juice that transforms the flavor.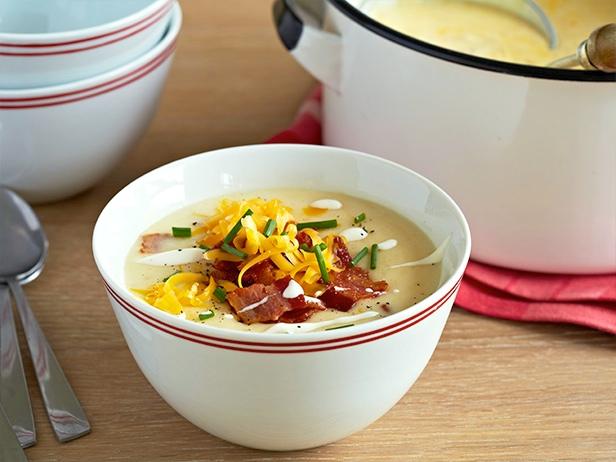 Fully Loaded Baked Potato Soup
A loaded baked potato comes with all the best fixings — sour cream, sharp Cheddar cheese and plenty of bacon — just like Guy Fieri's show stopping soup does.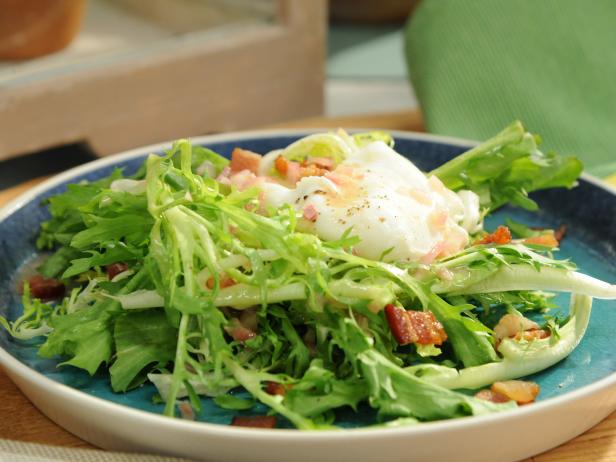 Frisee Salad with Egg and Bacon
Katie Lee's easy-to-make salad features traditional ingredients like frisee lettuce, salty bacon and a creamy poached egg.
Dinner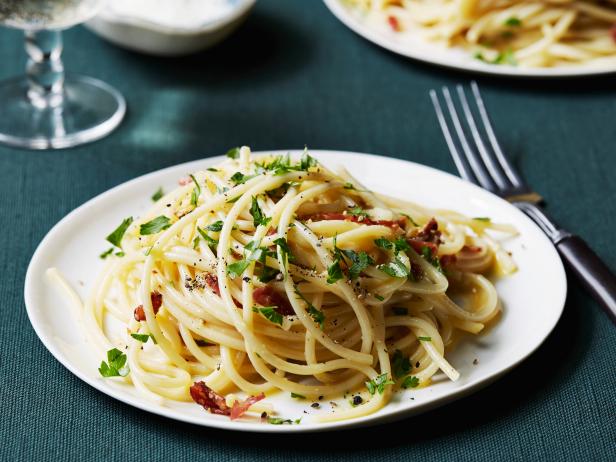 Spaghetti alla Carbonara
This Italian staple will become a go-to dinner with Tyler Florence's simple recipe. Studded with crispy rendered pancetta and tossed with a creamy sauce of eggs and Parmesan, the pasta boasts a balance of textures. Can't find pancetta? Feel free to use slab bacon instead.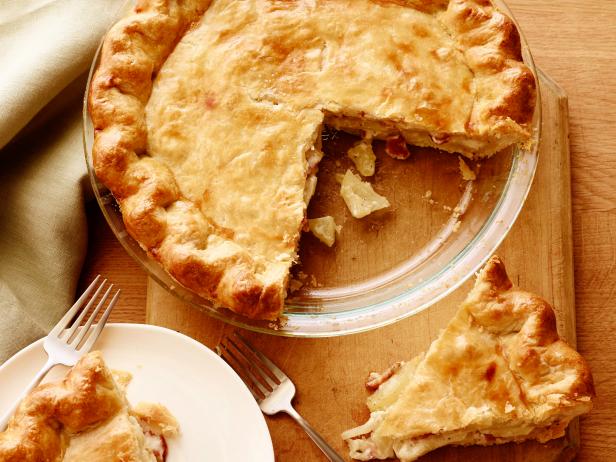 Potato-Bacon Torte
With hearty potatoes, grated Gruyere cheese and thyme-infused cream, this flaky torte is something right off the streets of Paris.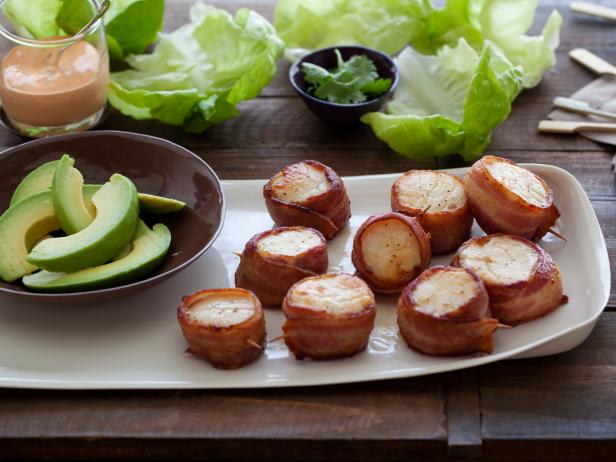 Bacon-Wrapped Scallops with Spicy Mayo
Venture into true bacon heaven with these wrapped scallops. A quick stay under the broiler is all it takes to turn out this easy yet impressive dish.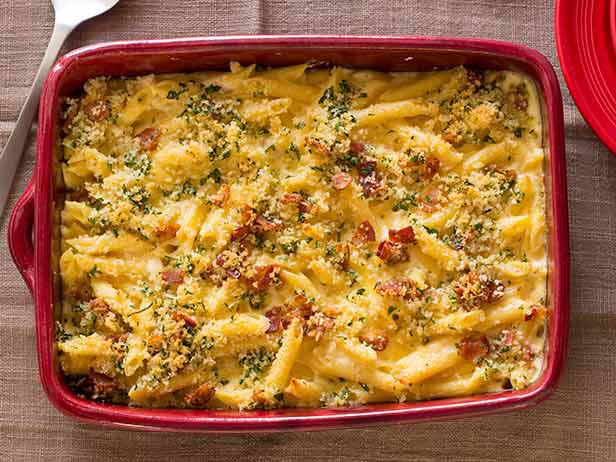 Mac Daddy Mac n' Cheese
Incorporate reserved bacon fat into the cheddar and pepper jack cheese mixture to bring in an extra boost of bacon flavor.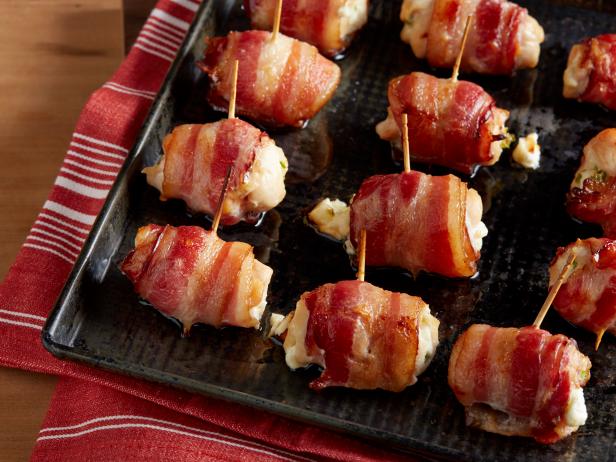 Warren's Chicken Bites
While the filling of the chicken bites (cream cheese and de-seeded jalapenos) offers flavor and texture, it's the layer of bacon on the outside that is most important. Not only does it add delicious rich flavor to the dish, but the fattiness from the bacon soaks into the chicken to keep it perfectly moist.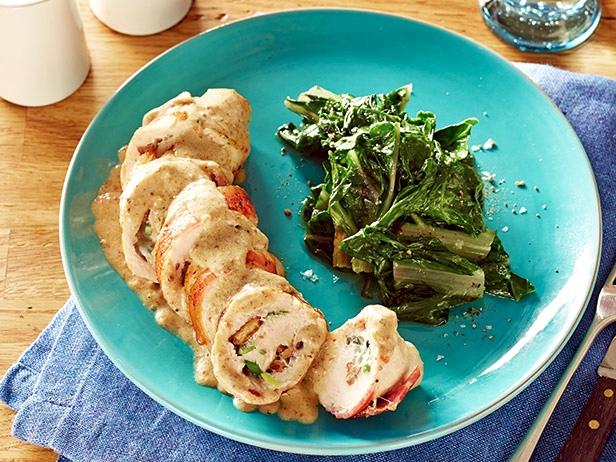 Bacon-Wrapped Chicken with Blue Cheese and Pecans
If you're feeling bogged down by typical chicken dinners, it's time to step your game up with robust flavors. Wrapped with salty bacon and filled with a bold mixture of blue cheese, pecans and green onions, these chicken breasts are anything but mundane.
Dessert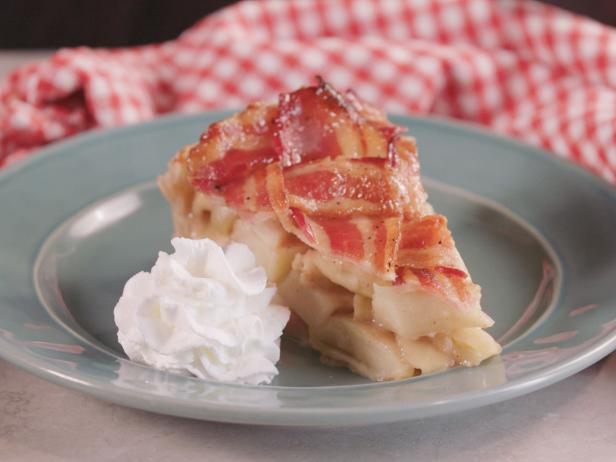 Bacon Lattice Pie
The stunning bacon weave delivers not only visual beauty, but also a savory balance to the sweet apple filling.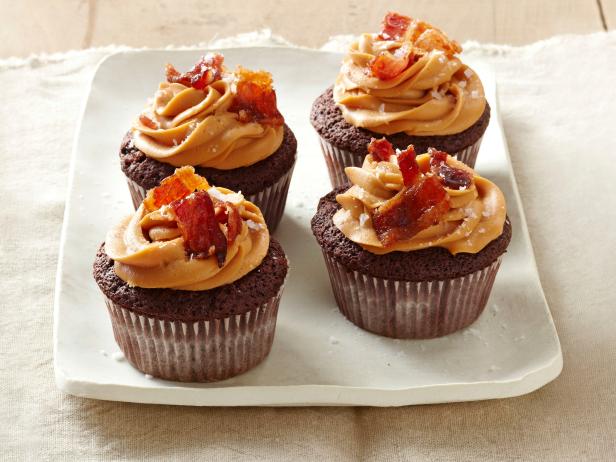 Chocolate-Bacon Cupcakes with Dulce De Leche Frosting
The sprinkling of candied bacon atop the rich dulce de leche frosting makes this treat particularly fitting for your next sweet tooth.
More posts from Rachel Trujillo.
Similar Posts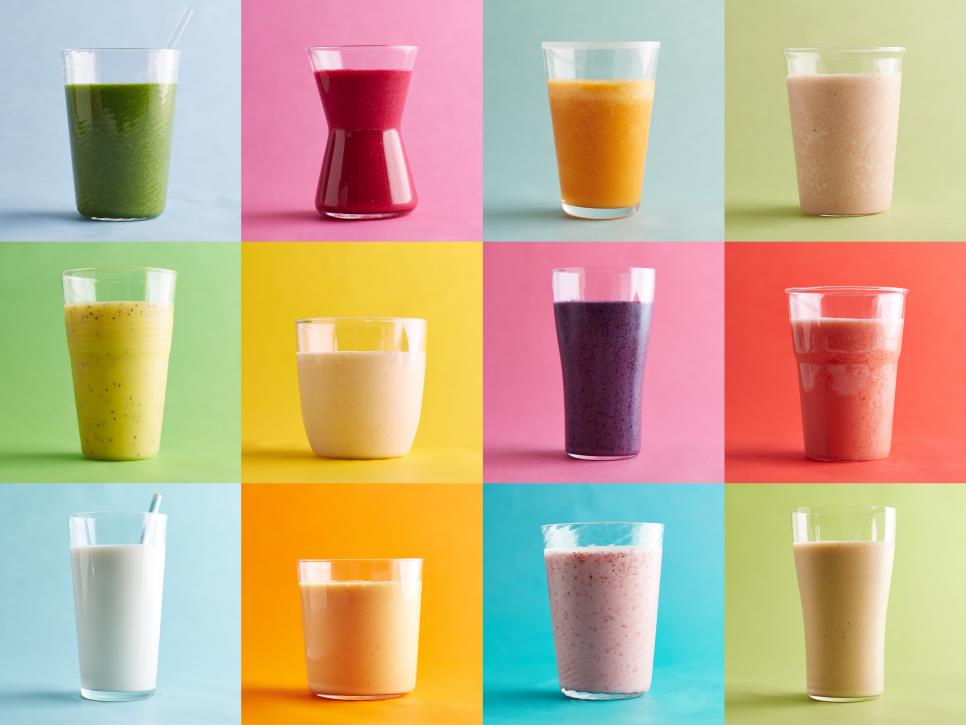 The possibilities are endless – think beyond fruit and throw in greens, oats, nuts, avocado – so you'll never get stuck in a rut. ...