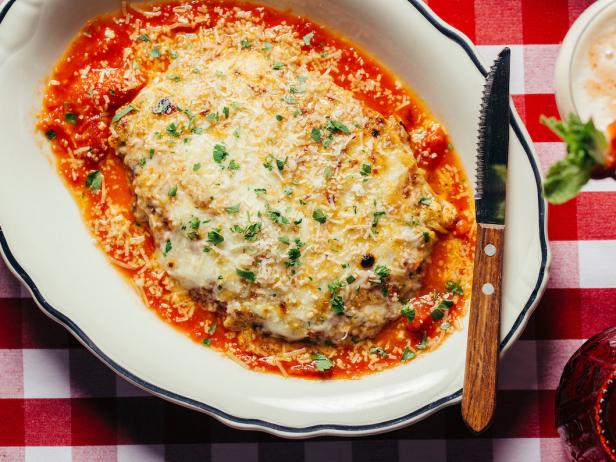 Chefs' Picks: Veggie Comfort Food
The phrase "comfort food" often conjures up visions of spaghetti and meatballs, fried chicken and other meat-centric mains that people seek out as a source of both sustenance and solace. But with more diners adopting vegetarian or vegan diets, chefs are finding new ways to prepare comfort food classics sans the meat. Pros across the country share their hearty plant-based creations capable of satisfying the stomach… and the soul.
Italian Tradition, Tweaked
Chicago's Il Porcellino has a menu filled with what you'd expect to find at an Italian restaurant — gnocchi Bolognese, pappardelle with meat ragout, giant meatballs — but when it comes to vegetarian options, the restaurant twists up tradition. In addition to the classic eggplant take on parmesan, Il Porcellino serves a version made with a cauliflower steak. "What I like about our cauliflower parmesan is that the cauliflower steaks retain some texture and the flavor of the cauliflower stands up to the cheese and marinara, says Chef Craig Degel. "It's fairly well buried in Fontina and Parmesan, but it still tastes like cauliflower."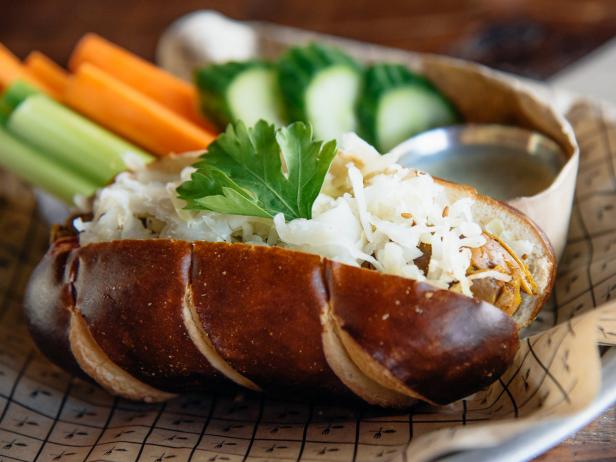 A Sausage Sans Pork
It's all about comfort food and beer at gastropub Blatt Beer & Table in Omaha, Nebraska, which means the menu is rife with burgers, sausages and other meaty indulgences. That shouldn't deter vegetarians or vegans, though. "We wanted to reach out to our vegan and vegetarian customers with a sausage version that combines flavorful ingredients and still remains true to our German-inspired menu at Blatt Beer & Table, says Chef Tony Gentile. He found a way to switch out the animal protein without sacrificing flavor, which has made the menu item a favorite with not only vegans and vegetarians, but also carnivores. "I think our Vegan Currywurst is a hit with all our customers, including meat eaters, because it maintains a meat-like texture and highlights traditional currywurst flavors such as smoked paprika, cumin and, of course, curry."
Vegan Currywurst
Serves 8
4 ounces canned pinto beans, drained and thoroughly smashed
4 teaspoons soy sauce
1 1/4 cups water
10 ounces of vital wheat gluten
1 cup nutritional yeast
2 tablespoons minced garlic
1/4 cup canola oil
1 1/4 teaspoons ground coriander
1 1/4 teaspoons ground cumin
1 1/4 tablespoons Madras curry powder
2 teaspoons fennel seed
3/4 teaspoon oregano
3/4 tablespoon smoked paprika
3/4 teaspoon black pepper
1 1/4 tablespoons kosher salt
Pretzel buns, for serving, optional
Sauerkraut, for serving, optional
Mustard, for serving, optional
Special equipment: Eight 12-by-12-inch sheets of tin foil
Special equipment: steamer pot
Combine pinto beans, soy sauce and water in a bowl. Set aside.
Combine wheat gluten, yeast and garlic in a bowl. Set aside.
Heat canola oil in a small saute pan over medium heat. Add coriander, cumin, curry powder, fennel seed, oregano, smoked paprika, pepper and salt to the pan. Toast the spices, taking care not to burn them.
Add the toasted spices to the mixture of pinto beans, soy sauce and water. Slowly add this mixture to the bowl of wheat gluten, yeast and garlic, kneading well until all ingredients are incorporated. Dough should be firm, not sticky.
Divide the dough into 8 even pieces and roll to form 6-inch logs. Wrap each separately in tin foil, twisting the side ends tightly in opposite directions.
Add water to your steamer and bring to a boil. Place wrapped currywursts into the basket, cover and cook for 25 minutes or until they are firm to the touch.
Meanwhile, prepare a large pot of water to boil. To finish, unwrap currywursts and place in boiling water for 1 1/2 minutes.
Remove the currywursts from the water and serve warm. Serve the currywursts in pretzel buns with sauerkraut and a fancy mustard, if desired.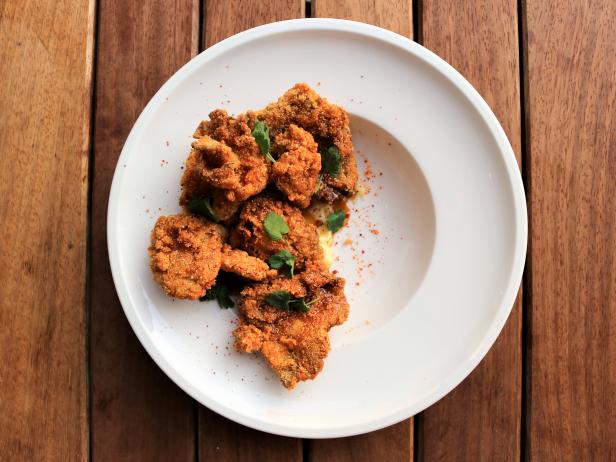 A Sumptuous Substitute
Live music isn't the only allure of Geraldine's; this Austin hotspot also attracts the crowds with its array of indulgent menu items that includes a chicken liver mousse tart and grits made with oxtail and mole negro. Even the plant-forward dishes here are decidedly decadent, including the cornmeal fried mushrooms dreamed up by Sous Chef Adam Walker. "My inspiration for the dish was the play on fried oysters," says Walker. "We source our mushrooms from Blanco River Mushroom Farm, where they produce a very great blue oyster mushroom that has the texture of a fresh oyster once cooked." Walker finishes the fried morsels with a floral garnish whose distinctive taste adds to the oyster-like flavor of the dish. "Borage flowers have a nice flavor that is comparable to a West Coast oyster — a little melon-rind-like flavor." Walker also channeled his culinary creativity when deciding on what dipping sauces to pair with the mushrooms. In addition to agrodolce, the chef serves a spreadable version of the Italian custard known as sformato.
Cornmeal Fried Oyster Mushrooms
Yield: 4 portions
Fried Mushrooms:
1 pound blue oyster mushrooms
1/2 pound oyster mushrooms
2 cups cornmeal
1 cup corn starch
1 teaspoon salt
1/2 teaspoon baking soda
1/2 teaspoon baking powder
1 pint buttermilk
12 borage flowers
1 tablespoon espelette pepper
In a large bowl, combine the cornmeal, corn starch, salt, baking soda and baking powder until thoroughly mixed. Set aside.
Pour the buttermilk in another bowl large enough for the mushrooms to fit.
Toss the mushrooms in the cornmeal mixture first to make a nice dry surface.
Coat the mushrooms in buttermilk and drain thoroughly.
Place the mushrooms soaked in buttermilk back in the cornmeal mixture and coat well with no wet spots.
Fry at 375 degrees F until golden brown.
Sprinkle the espelette pepper and borage flowers over the fried mushrooms.
Agrodolce:
1 cup red wine vinegar
1 cup dark brown sugar
In a saucepan, combine the vinegar and sugar. Bring to a simmer, then reduce the heat. Cook until reduced to a syrupy consistency.
Robiola Sformato:
8.12 ounces Robiola cheese
1 cup heavy cream
3 egg yolks
1 teaspoon salt
In a pot, bring cream up to a steeping temperature, approximately 195 degrees F.
Whisk in nuggets of Robiola in small amounts, including the rind. Whisk until cheese has been fully incorporated into the cream.
In a bowl, slowly add the cheesy cream mixture to the egg yolks, whisking the whole time. (The purpose of this is to temper the egg yolks).
Add the tempered yolk back into the pot and cook at a low heat, whisking constantly until the sauce thickens to a thick nappe.
Add salt and place into a clean container and cool.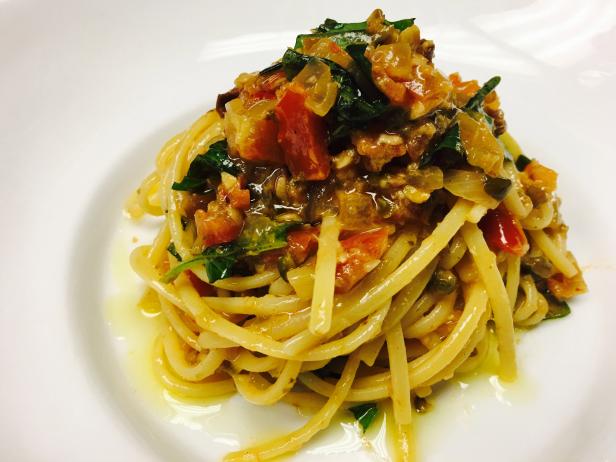 Long Winters, Warming Pastas
At The Root in White Lake, Michigan, the menu shifts with the seasons, so it's no wonder that Chef Nick Rodgers takes on winter with a warming dish to battle the cold-weather blues. His comfort food of choice during this bone-chilling season is a tweaked take on the traditional pasta puttanesca dish. "In Michigan, the winters are long and dark. Puttanesca always makes me feel warm," Rodgers says. "It carries the illusion of meat with its richness and satisfaction." In his vegan version, he veers slightly from the standard preparation, subbing out anchovies and adding flavor with onions, Dijon mustard and smoked paprika.
Vegan Linguine Puttanesca
Serves 5
1/4 cup raw garlic
1 cup olives
1/2 cup capers
1 tablespoon Dijon mustard
1/2 cup olive oil
1 1/2 onions, diced
16-ounce package of pasta (recommended: De Cecco)
1 teaspoon red chili flakes
1 teaspoon smoked paprika
5 tomatoes, medium-diced
1/2 cup white wine
2 tablespoons red wine vinegar
Salt and pepper, to taste
In a food processor, puree the raw garlic, olives, capers and Dijon mustard until smooth. Set aside.
In a large saute pan on medium heat, add the olive oil and onions. Cook until soft, about 8 minutes. While cooking the onions, prepare pasta according to package instructions. Drain and set aside.
Stir in the red chili flakes and smoked paprika with the onions. Add the puree mix, tomatoes and white wine and cook until the tomatoes are soft, about 10 minutes. Add the red wine vinegar. Season with salt and pepper to taste. Serve atop the cooked pasta.
For a deeper dive into meat-free dishes, check out Food Network's gallery devoted to vegetarian spots.
Photography courtesy of Jeff Marini, Blatt Beer & Table, Sarah Jacober and The Root
More posts from Samantha Lande.
Similar Posts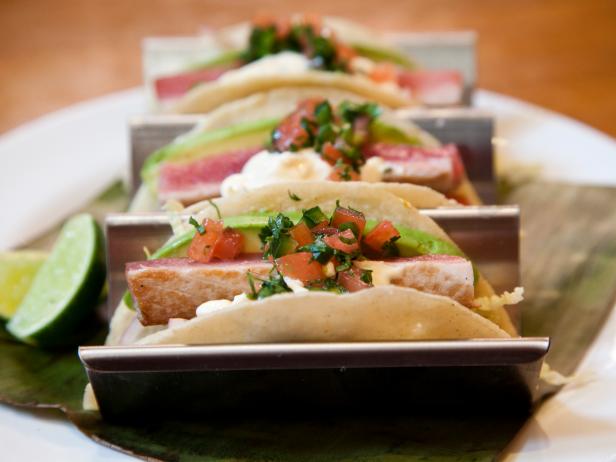 Hip spots are shaking up Magic City's Mexican-food scene with bold fillings and housemade tortillas....