Curl up on the couch this weekend and get all the latest recipes from your favorite Food Network chefs. On Saturday morning, Ree Drummond is making some family-favorite dishes like her Butternut Mac and Cheese, and she's making three dishes using Ready-to-Go Chili Packets. Then, the co-hosts of The Kitchen are sharing tips and tricks for making some of your favorite restaurant dishes at home, and on Sunday, Giada De Laurentiis is making snacks to enjoy while watching some of her friends' homemade movies.
On Sunday evening, it's Valentine's Day at Boot Camp, and the Worst Cooks recruits are making romantic date meals for Anne and Rachael. Then, everything is left to chance during a Food Pyramid frenzy on TripleG.

The Pioneer Woman: Merc Story — Saturday, Feb. 4 at 10a|9c
Ree's sharing the epic tale of opening day at her new store, The Mercantile, while making three make-ahead dinners. There's a family favorite, Butternut Mac and Cheese, and Tuscan Bean Soup (pictured). Next, she cooks up Ready-to-Go Chili Packets to turn into Chili Dogs, Chili Nachos and Chili Cheeseburgers — a trio of delicious standbys!


The Kitchen: Order Up! — Saturday, Feb. 4 at 11a|10c
The Kitchen is revealing the secrets to making your favorite restaurant food at home, starting off with Geoffrey Zakarian's tips for a delicious Shrimp Scampi (pictured). Then restaurant masters Deuki Hong and the Dos Toros Brothers stop by to share their recipes for Beef Short Rib Stew and Dos Toros Quesadillas. Plus, they share a Molten Chocolate Cake Hack and three ways to finish the meal with restaurant-quality coffee at home.


Giada Entertains: Giada's Film Festival  — Sunday, Feb. 5 at 12|11c
Instead of movie night, Giada hosts her own mini film festival. Guests are asked to create their own two minute cell phone movies on any topic they'd like, dramatic or documentary. Her decor and food is movie style, like Roman Popcorn, Open-Faced Finger Sandwiches, Blueberry Focaccia (pictured) and a Spiked Root Beer Float Bar.


Worst Cooks in America: The Proof is in the Pudding — Sunday, Feb. 5 at 10|9c
Anne Burrell and Rachael Ray bring in a special guest mentor, Zac Young, to teach the recruits how to make a decadent chocolate dessert to set the mood for Valentine's Day. Their desserts will be judged in a blind taste test, and the winning recruit will receive a special advantage for the Main Dish challenge, where they must cook a romantic meal to wow their mentors.


Guy's Grocery Games: All Pyramid — Sunday, Feb. 5 11|10c
Four courageous chefs are determined to reach the top playing three twisted rounds of the Food Pyramid. First, the pyramid picks the equipment, produce and total ingredient weight for their updated classics. Next, the chefs have to make a classic burger and fries using the meat, condiment and buns selected by the unpredictable pyramid. Then, the final two chefs confront the triangle of terror one last time, as it picks the type of dish they must make. The winner will enjoy the pinnacle of success — a shopping spree worth up to $20,000.
More posts from Joel Raneri.
Similar Posts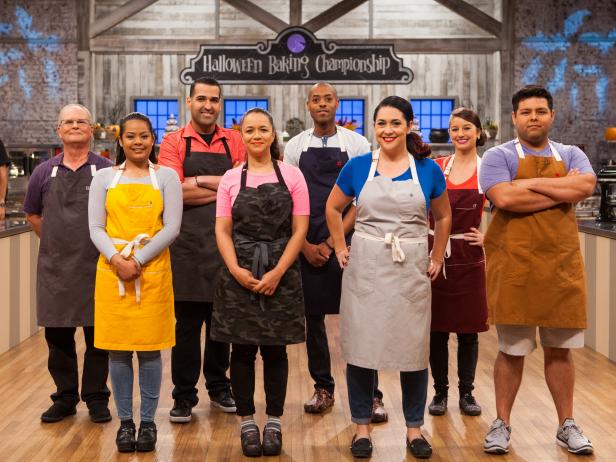 Get the details on the all-new season of Halloween Baking Championship, premiering on Sunday, Sept. 25 at 9|8c....